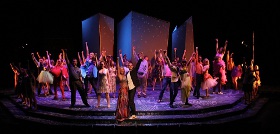 The inherent danger in seeing any production of Footloose, whether on stage or screen, is that you risk having those maddeningly catchy pop tunes trapped in your brain for days. I'm therefore pleased to report that, less than 72 hours after attending the Timber Lake Playhouse's speedy and sprightly take on the musical, I no longer have "Let's Hear It for the Boy," "Holding Out for a Hero," and the rest playing in an endless mental loop. It's actually the performances by Karl Hamilton and Elizabeth Haley that I can't get out of my head.
Of course, admitting that the figures I most responded to were the over-protective reverend and his ever-tolerant wife - rather than all those excitable teen hoofers - might say more about my generational bias than I'm comfortable with. But I also don't know if I can adequately express just how good Hamilton and Haley are in director James Beaudry's production; despite being saddled with this musical's most strident moralizing and several of its drippier songs, these superb, deservedly confident performers hit levels of emotional honesty that I didn't know could exist in Footloose. You expect great dancing from the show, and given Timber Lake's enthusiastic ensemble and the mad-talented Beaudry also serving as choreographer, heaven knows you get it. At Thursday's opening-night presentation, however, the scenes involving Hamilton's and Haley's grieving parents - with the resplendent Erica Stephan as their damaged daughter Ariel - ensured that the show was as legitimately moving as it was energetic. Tapping your toes at Footloose is one thing. Who knew, at this production, that we'd also be fighting back tears?
I ask this as someone more generally prone to tears of laughter, because 28 years after the Kevin Bacon movie, the basic Footloose outline - which finds a troubled city kid inspiring a sleepy hick burg to boogie - is just as silly as it ever was. Jumping through hoops to explain how a (non-Amish) community enacted an honest-to-God law forbidding dance, the material feels like some 1950s relic that Elvis himself might've been ashamed to star in, and the stage version is set in some unspecified, "present day" era that makes the narrative feel all the dopier. (The timeline for Timber Lake's presentation is actually rather confounding, as most of the vibrant costumes designed by Tate Ellis and Katy Freeman scream 1990s, but a Katy Perry song is performed at the top of Act II.) Yet Footloose's not-so-secret weapon lies in its almost ridiculously high spirits - you can roll your eyes at the small-town stereotypes and too-convenient plotting and still have a ball - and the joy of Beaudry's offering stems from just how much spirit is on display here.
To be sure, it's found in the dazzling moves of Henry McGinniss, whose sweet and earnest portrayal of lead Ren McCormack vibrates with infectious delight whenever he's given the chance to strut his stuff. (At one point during the actor's excellent "I Can't Stand Still" solo, McGinniss does an ecstatic leapfrog over a castmate, which doesn't sound all that impressive until you learn that his adult castmate is standing up at the time.) And liveliness and good humor are most definitely in abundance among those playing the show's endearingly eccentric teen goofballs: Kyle Branzel, hysterical as the awkward young cowpoke Willard, and never funnier than when discovering his inner Baryshnikov; Kelly Krauter, whose Rusty gazes at this adorable goober with wide-eyed awe, and who gives her hyperactive readings a delicate comic spin; Hanah Nardone and Anne-Marie Trabolski, their exceptional harmonies - particularly on the silky-smooth "Somebody's Eyes" trio - easily matched by their skills as pert, sardonic comediennes. (Trabolski, with her sensational deadpan, is more alluring in oversize glasses and a Hello Kitty T-shirt than anyone should rightly be.)
But it's Hamilton who lends this Footloose capitalized Spirit. Without ever forcing his effects or overplaying the melodrama, the actor creates a believably obstinate Reverend Moore whose bone-deep devotion and faith mask a growing panic, and Hamilton's soaring vocals - even on bland songs that don't deserve them - express in lyrics the pain that Moore can't in mere words. It's a richly textured, heartbreaking turn, and the utterly marvelous Haley is every bit Hamilton's equal; with less stage time to do it in, her Vi Moore suggests the reservoirs of patience and understanding necessary to keep her family intact, and is responsible for much of the production's gentlest, most welcome humor. (Even in her lightest moments, though, Haley never loses touch with the essential sadness at Vi's core.) With the Timber Lake program revealing that Hamilton and Haley are engaged in real life, the guest actors' exceptional work here brought to mind dozens of shows I'm now dying to see them perform together ... and if Erica Stephan managed to get cast in those shows, too, so much the better.
A radiant blond with effortless, effervescent appeal, Stephan was outstanding in Timber Lake's recent Working, and exuded an especially touching, beaten-up fragility when performing her steelworker anthem "Milltown." The role proved to be good practice for Footloose's Ariel, because for all of her preacher's daughter's sauciness and sass - and the performer's divine song-and-dance talents - it's her melancholic longing that really gets to you. (Ariel also has a literal beaten-up quality here, as does McGinniss' Ren, when the two wind up on the receiving ends of unfortunately, very obviously telegraphed smacks to the face.) Stephan makes you feel the warring impulses in Ariel's good-girl-gone-bad in her every stage moment, and against all odds, her duet with McGinniss on "Almost Paradise" emerges as the best number in the production; the actors' beautifully hushed vocals, filled with tenderness and warmth, fully transcend the song's power-ballad phoniness.
And transcendence is what this production, at its best, frequently delivers, be it in the soulful performances, or in the fantastically kinetic company dances, or in the thrillingly dynamic closer that finds nearly all of the show's 50 (!) cast members attacking the title number as though they couldn't imagine any experience, anywhere, being a better time. Timber Lake's Footloose ends, just like the movie did, with a glorious explosion of shiny confetti, and it feels like the perfect visual equivalent of the explosion of happiness happening inside you.
Footloose runs at the Timber Lake Playhouse (8215 Black Oak Road, Mt. Carroll) through July 15, and information and tickets are available by calling (815)244-2035 or visiting TimberLakePlayhouse.org.