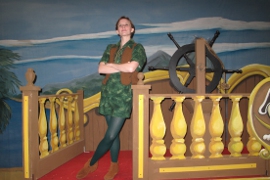 Quad City Music Guild's Thursday-night preview performance of Peter Pan - which, it should be stressed, was still technically a rehearsal - clocked in at roughly an hour and 55 minutes, making director Beth Marsoun's presentation at least a half-hour shorter than any of the four other Peter Pans I've thus far seen on stage. This proved, at alternating times, to be both a very good thing and a rather unfortunate thing. But let's start with the good.
Beginning with the opening notes heard from music director Ben Holmes' 15-person pit orchestra, an ensemble that played beautifully throughout the evening, it was clear that this take on the classic fairytale musical wasn't going to dawdle. Nothing about the overture felt rushed, but even the passages from the show's gentle "Neverland" lullaby were pleasingly peppy, as was the production's first scene featuring Darling children Wendy (Autumn Loose), John (Spencer Clark), and Michael (Nelson Lindmark). Nailing their cues with aplomb and appearing fully confident on designer Bill Marsoun's storybook set - with the grade-schooler Lindmark, in particular, looking like he was having an absolute ball - the young performers got Music Guild's J.M. Barrie adaptation rolling right out of the gate, and the snappiness continued with the amusingly broad arrivals of Jeanine Link's doting Mrs. Darling and J. Adam Lounsberry's dyspeptic Mr. Darling. (That scruffy canine nursemaid Nana is also on-hand in this sequence, and Tara Scott, who plays the pooch, is more than deserving of a solo mention. Her movements, barking, and silent reactions from within designer Cathy Marsoun's oversize puppy costume are scene-stealingly entertaining, as is Scott's brief, slithery portrayal of Captain Hook's crocodile nemesis near Peter Pan's climax.)
Yet this early scene's agreeably brisk tempo also came with a downside, because when Mrs. Darling told her husband about the odd little flying boy she'd seen peering in the children's window, and the (literal) shadow of this mysterious figure that she captured and tucked away in a dresser drawer, the information was dispensed and taken in with such speed that the wonder behind her words never had the chance to register. Link's and Lounsberry's mutual blitheness regarding the Darlings' nighttime intruder was funny, but also made it seem that Peter Pan's imminent arrival wasn't necessarily something to make a fuss over. And when Sarah Lounsberry's citizen of Neverland did glide in through the window shortly thereafter, Wendy's reaction to his presence backed up that notion; the sleeping girl woke up, noticed Peter at the foot of her bed, and asked what he was doing there with the no-biggie nonchalance of someone all too used to after-hours visitations by flying strangers in green tights. (John and Michael, in director Marsoun's staging, were allowed even less of a combined reaction to Peter's presence; after waking, the characters barely had time to look at the boy before Clark and Lindmark had to race behind the set and get strapped into their flying harnesses.)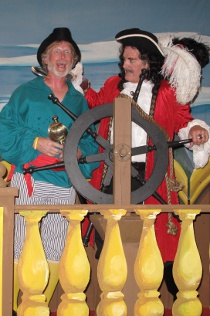 There were certainly lovely moments to be found during Peter's introductory sequence - his and Wendy's shadow puppetry during "I Gotta Crow" was an especially sweet touch - but what was missing was much sense of the material's built-in enchantment, and this paucity of true stage magic was unfortunately felt throughout Thursday's preview. (The production boasted plenty of "aw-w-w!" but no real awe.) While the laser light that "played" Tinkerbell was an enjoyable, well-executed effect, you couldn't really say the same about the flying; the obvious visibility of the wires and harnesses wasn't nearly as bothersome as the too-audible rolling of pulleys heard when characters were lifted above and across the stage, or the fact that the show's fly system, sadly, only enabled the Darling children to move vertically. (The kids didn't appear to be soaring so much as jumping really high and staying airborne.) Flying effects, though, are only employed sporadically in this musical, and so their being underwhelming here wasn't much of an issue. The true issue, at least for me, was that the production's relentless speed waylaid nearly all chances for emotional connection, and a Peter Pan without emotion - without legitimate excitement or astonishment or empathy - isn't much of a Peter Pan at all.
The radiant Sarah Lounsberry, thankfully, is a Peter Pan, and a sensational one at that. Effortlessly boyish and just as heroic, petulant, cocky, and easily wounded as you could want, this petite performer with the great big voice is just as splendid belting out Peter's "I'm Flying" anthem as she is guffawing over Tinkerbell's jealousy of Wendy and reveling in Peter's unabashed egotism. Lounsberry, however, would've been even finer on Thursday if she'd been allowed more time to breathe. Like the rest of Music Guild's cast, she leaped on her cues admirably. But Lounsberry could also have been directed to take a few thoughtful pauses here and there; the scene of Tinkerbell's potential demise - with the audience famously asked to applaud if they believe in fairies - had little impact because of how quickly Peter's lines were rushed through, and the musical's climactic scene found Peter and Wendy forced through emotional shifts so hasty that we had little sense of what was actually being said, and what it meant. Taken overall, Music Guild's preview performance was perfectly charming. But Peter Pan, for much of its length, is also designed to be moving, and with this presentation's airtight nature leaving almost no room for nuance, I left Thursday's tech/dress rehearsal feeling entertained yet moderately unfulfilled.
It's hard, though, to turn up one's nose at "entertained," and you'd have to be in a pretty foul mood to deny the many performance and vocal pleasures - and, thanks to Bill and Cathy Marsoun and props mistress Sue Woodard, design pleasures - provided by this Peter Pan. While Tom Naab's Captain Hook is never a truly threatening presence, the character's aggrieved prickliness and understated feyness yield plenty of chuckles, and he leads a comically inspired team of pirates, with particular kudos going to Greg O'Neill for his happily mean-spirited crocodile impersonation and Mike Millar for his adorable, slack-jawed interpretation of Smee. (In general, the pirates here are at their funniest when caught in a seemingly improvised bit, and Millar has a great one when Hook accidentally lights his posterior on fire and Smee, for a few riotous seconds, is seen figuratively blowing smoke up his boss' ass.) That eternal ray of stage sunshine Lauren VanSpeybroeck, lovely and focused as ever, is a wonderfully coy, subtly flirtatious Tiger Lilly - you sense that if Peter ever did decide to grow up, he could enjoy a really satisfying future with this gal - and Sunne McGinn's choreography, especially in the Indians' "Ugh-a-Wug" song, oftentimes lends the show a puckish exuberance to match its charm.
And then there are the show's Lost Boys - the majority of whom, in Music Guild's presentation, are actually girls, and all of whom are colossally endearing. Exuding more individual personality and collective high-spiritedness than you'd find in most musicals' adult ensembles, the Lost Boys are a constant joy whether shrieking at pirates or cheering Wendy's careful description of Hamlet's "happy ending," and director Beth Marsoun does perhaps her finest work with her handling of these Peter Pan tykes; on Thursday, not one of the kids looked unhappy to be there, and most looked like they were hoping never to leave. Their best number, and quite possibly the show's best number, found one young performer after another momentarily stealing the spotlight in that sprightly paean to immaturity "I Won't Grow Up." Watching the invigorating, grin-inducing spectacle of the thing, it's inconceivable that any audience member would ever want them to.
Peter Pan runs at the Prospect Park Auditorium (1584 34th Avenue, Moline) through July 21, and more information and tickets are available by calling (309)762-6610 or visiting QCMusicGuild.com.