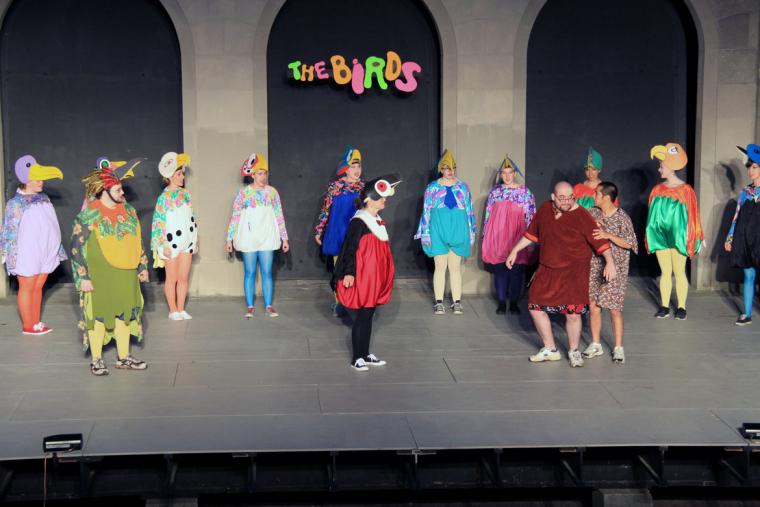 What this says about the state of America I don't know ... or maybe don't want to know. But for the first time since I started attending Genesius Guild's season-closing comedies more than a decade ago, director/adapter Don Wooten's political jabs and jokes – here in service of Aristophanes' The Birds – were less ridiculous, much less ridiculous, than current, real-world politics. I may have left Friday's opening-night performance wishing it were more biting, but in retrospect, in this particular year, playing it safe may have been the smartest way to go.
By now, I'd imagine that most area theatre-goers, and certainly Guild patrons, know that Wooten's annual ancient-Greek updates are rife with puns, wordplay, slapstick, pop-culture references, and profoundly silly, joyously low-rent costumes by designer Ellen Dixon. (Among some three-dozen outfits donned by The Birds' cast, my favorites were those worn by the birds themselves, a female chorus of 10 who frolicked through the proceedings in multi-hued leggings with caftans and bunchy blouses; the matching oranges of two featured dancers made them resemble en pointe pumpkins.) But over the years, Wooten has never been shy about also addressing local and national politics through sweetly – and sometimes not-so-sweetly – vicious put-downs and punchlines. Could this be why the attendance for Friday's production was so unusually sparse for a Guild outing, with fewer than half of the available seats filled? Have people just had it up to here with this election year, and couldn't bear the thought of 90 more minutes devoted to the unfunny sitcom that is The Trump & Clinton Show?
If so, they really needn't have worried. As Wooten himself recently told me when we ran into each other at the grocery store (true story), this 414 BC comedy about an Athenian duo's search for an idyllic community is such a tightly plotted piece of work that it doesn't require gussying up; you don't, for instance, have to turn Aristophanes' dipstick Herakles into Blazing Saddles' Mongo for the gag to land. But Wooten is also such an irrepressible comedian in his end-of-summer adaptations, and such a politically attuned wit, that you also shouldn't expect him to simply smile and get out of Aristophanes' way. Instead, you can expect nods to unisex bathrooms and Genesius Guild's fundraising efforts and the River Cities' Reader. (Thanks for the shout-out, Don!) And you can also expect a few political swipes in The Birds – just not as many as usual.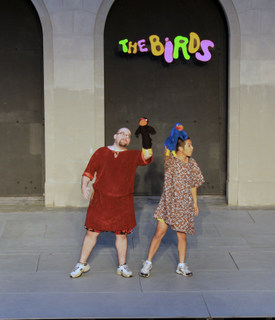 Admittedly, I was somewhat disappointed by this. As in his 2006 Birds, Wooten introduces us to protagonists Pithetairos (Doug Adkins) and Euelpides (Calvin Vo) through a lyrically modernized version of the 1932 tune "Let's All Sing Like the Birdies Sing," an amusing thematic choice for an opening number. As Adkins and Vo began their song-and-sway, however, I started to get a ticklish sensation in my gut, remembering that the chorus to that ditty is "Tweet tweet tweet tweet tweet" – and God knows "tweeting" means something far different now than it did in 1932, or even in the summer of 2006. (Though it seems like forever ago, Twitter officially launched less than a month prior to the debut of the Guild's previous Birds.) Yet as much as I might've wished otherwise, Wooten doesn't name-drop certain incessantly tweeting politicians until the song is nearly over – which diminished the joke of the "tweet" repetition and felt like something of a missed opportunity – and almost all of the other politically flavored gags are delivered in the show's first half-hour as rather sting-less throwaways. And, for Wooten, surprisingly bipartisan ones. (Both Trump and Bernie get razzed for their tweeting.)
Did the Guild founder instinctively know that this might not be the proper year for sting? Even though the reference was tame, Wooten's punchline "They'll blame Hillary" was subtly yet audibly booed by a front-row patron – though it was unclear whether this was the booing of a Democrat ("Leave her alone!"), a Republican ("Lock her up!"), or neither of the above ("Enough already!"). When our heroes suggested erecting a mighty brick wall around their city and one of them said, "Mexico will pay for it," there was a sizable groan that felt inappropriate for what I thought was a pretty solid joke. Hell, even a random mention of the Iowa legislature got groaned, and when the script took a quick poke at Rush Limbaugh, I heard a combination of laughs and grumbles, along with the seemingly defiant applause of a gentleman sitting behind me. So if Wooten was at all trying to soften The Birds' political hits in this ultra-contentious year, it may have definitely been to the good of the show. More barbs, or more pointed barbs, and the night could have turned uncomfortable, if not ugly, awfully fast.
What did we get in place of the politicking? As usual at these things, a little bit of everything, and of varying quality. My biggest complaint is that it was so hard to hear so much of it, with at least half of the cast unable to satisfyingly project over the chirping cicadas, and speaking too quickly for the gags' setups to be wholly understood. Visually, with the delightful exception of our workhorse bird chorus, the show is static; in one early scene that found Adkins, Vo, and Gary Adkins' Epops conversing in a straight line for what felt like 10 minutes, I was so tranquilized by the image (and not in a good way) that I completely lost track of what they were talking about. And while it may just have been an overall lack of confidence resulting in an overall hesitancy, the collective physical energy was really lacking on Friday. Barring occasional bursts of movement such as Tyler Henning's Messenger making a mad dash across the stage, the entrances and exits of the non-choral Cloud Cuckooland denizens felt lethargic and mostly unmotivated, and when they unconvincingly flapped their wings, the act of doing so looked almost painful. (At times, it was like watching the stage embodiment of that stale Catskills-comedian bit: "I just flew in from Chicago and boy are my arms tired!")
Still, there were perks. Returning to her 2006 role, Patti Flaherty played Zeus' daughter Iris as a bossy, entitled Jersey Girl and was easily a highlight, boisterous and fearless and practically stealing the show with Iris' retort to Pithetairos: "Alas, poor worm!" Jacob Lund was an enthusiastic Prophet and Herald, and T.J. Green a very funny Herakles, all but drooling over the sight of a blackened pig on a spit. Vo's knack for deftly hilarious underplaying was in particular evidence whenever Euelpides appeared comically mortified by dimwitted associates or his wardrobe ... although that purple feather boa did look quite fetching on him. Earl Strupp's "We Three Kings" parody garnered chuckles for the Poseidon portrayer, while Kathy Calder's fourth-wall-breaking figure, one listed in the program as "Winner," was such a crowd favorite that she received exit applause on every single one of her exits. And with Melita Tunnicliff's Choragos leading them, our 10 cheerful lady-birds – Elizabeth Buzard, Sera Calhoun, Siobhan Dunn, Brianna Gray, Sarah Loula, Katie Phillips, Shannon Ryan, Ellen Vallejo, Kathryn Wherry, and Haley Zellmer – were so charming that they fully deserve individual mention. Kudos especially for their handling of the balletic choreography, because no production of The Birds should come without a little Swan Lake.
In a first for me, though, nothing about Genesius Guild's season-ender made me laugh harder than the requisite Mack Sennett chase at the finale – not because of how manic it was, but because of how deliberately anti-manic it was. It would be unfair to spoil the routine's recurring gag, but just know that it's now official: Smart-phone obsession has now seeped into absolutely everything. Leave it to The Birds' adapter to save his finest joke for last. When I reviewed the 2006 production, which marked the first of his public retirements, I opened by saying, "Oh man, how I'm going to miss Don Wooten." Now, on the eve of his I-mean-it-this-time retirement, let me just say: Oh man, how I'm going to miss Don Wooten. Here's hoping I get to say it again in 2026.
The Birds runs at Lincoln Park (11th Avenue and 38th Street, Rock Island) on August 6 and 7 at 8 p.m., and more information is available by visiting Genesius.org.