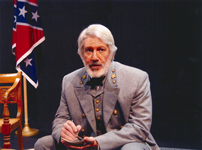 When actor/playwright Tom Dugan premiered his one-man show Robert E. Lee: Shades of Gray in Richmond, Virginia, in 2004, the packed audience at the Carpenter Center for the Performing Arts gave the production a standing ovation. Crowds were similarly enthusiastic after subsequent performances in Tennessee, West Virginia, and Georgia, and when Dugan performed Shades of Gray in Lexington mere days before his Quad Cities arrival, the show was sold-out long in advance of its January 11 opening.
Southern audiences, it seems, have been most appreciative of Dugan's historical endeavor. But what of Northern audiences?
"I'll let you know after I get through Davenport," says Dugan during a recent phone interview. "You guys - you count as the north, don'tcha?"
We certainly do.
Dugan laughs. "I'm finally invading the north!"
He is indeed. Here as Quad City Arts' latest Visiting Artist, Dugan will perform Robert E. Lee: Shades of Gray at Davenport's Capitol Theatre on January 27 - the show's first public performance north of the Mason-Dixon line.
Over the last 20 years, Dugan has enjoyed a successful career as a performer for film, television, and the stage, appearing in such movies as Bill & Ted's Excellent Adventure, Marked for Death, and The Puppet Masters, TV series including Friends, The Practice, and Curb Your Enthusiasm, and stage works Amadeus, The Man Who Came to Dinner, and Misery. Yet his role as Confederate leader Robert E. Lee in Shades of Gray is perhaps the most demanding - and terrifying - of Dugan's career.
"There's nothing as satisfying as doing a piece on stage," he says, "and I'll tell ya, once you're on stage, there's nothing as satisfying as doing a one-man show, because you get to do it all. And it's frightening because, you know, if you fail... you can't blame the playwright, 'cause I wrote the darned thing."
"They Don't Just Hand Out Roles"
Dugan grew up in the small New Jersey town of Winfield - where, during performances in grammar and high school, the fledgling actor "found a very comfortable place performing in theatre" - and eventually earned a degree in theatre from Montclair University, located in the upper region of the state. "Some people are a little taken aback that I'm doing a show about Robert E. Lee," he admits. "I'm not even from south Jersey."
In 1982, Dugan chose to pursue his performance dreams in California, and his L.A. debut turned out to be a noteworthy one. "It took me about two years," he says, "but I landed my first role in a music video called 'Legs.'" Anyone familiar with MTV in the 80's will surely recognize the significance of this popular ZZ Top number, but Dugan, at the time, didn't.
"Many people say it's, like, one of the ten classic music videos," he says of the 1984 hit, "and I didn't even know what a video was. It was all brand-new, and MTV was brand-new, and so I just thought it was just a short film and nobody would see it. But it turned out to be, you know, absolutely everywhere."
(Asked if his cachet with friends went up after he was seen serving hamburgers in "Legs," Dugan deadpans, "Oh my, yes. I was an immediate star in Hollywood.")
After years of "hard work and continuing to audition," Dugan amasssed small roles in such movies as Odd Jobs, Thunder Run, and even 1988's The Naked Gun: From the Files of Police Squad!, where Dugan's character had the distinction of shooting Detective Nordberg, played by O.J. Simpson. "He seemed like a nice guy to me at the time," remarks Dugan.
Not long afterwards, Dugan made a notable Hollywood friend in Stripes and Ghostbusters director Ivan Reitman, who would go on to employ him in Ghostbusters II, Kindergarten Cop, Dave, Beethoven's 2nd, and Junior. "I was doing The Tracey Ullman Show on the Fox network," Dugan recounts of his guest appearance, "and he liked my work so much that he called me in."
In addition to his appearances on-camera, though, Dugan performed an important task for Reitman's films off-camera, serving for years as the director's reader for casting calls. "Everyone that was in an Ivan Reitman movie - everyone that's always in an Ivan Reitman movie, no matter who it is - has to audition," he says. "They don't just hand out roles. So I had the opportunity of being the reader - every star in town that wanted to be in an Ivan Reitman movie had to read, and I got to read with them. It was an extremely valuable learning experience."
In the past 15 years, Dugan has continued to work in film and television - his résumé includes roles in Tales from the Crypt, Chicago Hope, Just Shoot Me, Party of Five, and (a personal favorite of mine) the feature film Stuart Saves His Family - yet he never abandoned his early love of theatre. "Actors always prefer stage in an artistic way," he admits, and Dugan has been able to stretch his acting muscles in productions ranging from Peter Shaffer's Black Comedy to the national tour of On Golden Pond opposite television legend Jack Klugman.
Remembering days spent on the 2002-03 tour, Dugan says, "At that time, it was the culmination of all of my research for Robert E. Lee. We did the tour in a van, and the cast was nice enough to let me have the whole back row of the van, with my 30 reference books and my laptop computer, so that I could write the first draft of this play."
Not Quite as Long as the Civil War
Before Robert E. Lee: Shades of Gray, Dugan was no stranger to one-man shows, as he had previously written and performed two solo comedic pieces: Oscar to Oscar and Confessions of a Swordfish. Yet for his next one-man outing, Dugan was looking for something a little different.
"I wanted to write a play that was popular," he says, "a subject matter that I thought people wanted to see. But I also wanted to do something that hadn't been done before ... and I happened upon the story of Robert E. Lee when I first saw Ken Burns' Civil War documentary."
What struck him most about Burns' 1990 work The Civil War, which originally aired on PBS, was how many of Dugan's conceptions about the war turned out to be misconceptions. "I was fascinated by the realization that he [Lee] was against slavery. And I thought, 'Jeez, I didn't know that. Maybe audiences don't know that as well.'" And Dugan's idea for a one-man show about Robert E. Lee was born.
With Robert E. Lee: Shades of Gray - so titled, the author says, because "it's not a black-and-white story of good versus evil" - Dugan envisioned a show that took place on "April 9, 1865, when he [Lee] appeared at the McLean house to meet with General Grant and discuss the terms of surrender. He waited for a while - I think he actually waited for something like 20 minutes - but the play takes place in Lee's mind in that room, and what might have gone through his head in how he was thinking, 'How did I get here?'"
Yet Dugan didn't want the experience to be, for audiences, a passive one. "What happens is the audience becomes a member of the cast," he says, "in the sense that I've created the audience as being, like, the judges of posterity. ... He kind of is put on trial, and the question is whether his name is going to be written into the book of patriots or traitors."
Admitting that "I didn't know very much about the Civil War," Dugan says he began preparing for the play by reading "book after book. ... I think the total was something like 30 books. I researched and I didn't write anything down for a year."
One of the most useful books, Dugan says, was the collection of the general's letters compiled by his nephew, Fitzhugh Lee. No matter what information about his subject was gathered, Dugan says,"I would never put it in the play unless I knew it was a fact."
But even after a first draft was completed, Dugan continued to strive for historical accuracy. "I sent copies of the script to the Museum of Confederacy in Richmond, the Richmond Historical Society, and the Appomattox Courthouse Museum [in Appomattox, Virginia], and I said, you know, 'Tear it up.' And they sent back the copies of the scripts with any corrections - historic corrections - that they found."
He also wanted to be sure the work "wasn't offensive to anyone," especially considering heated debate about Lee's role in history. So he called upon Mel Johnson, Jr. - an African-American performer/director who has been a Dugan friend for more than 20 years - to not only offer his opinions, but serve as Shades of Gray's director. "Being a black actor, a black director, I wanted to know what his take on a story about Robert E. Lee might be," Dugan says. "And he loved it, and he agreed to stage it, which is, you know, to my great benefit."
With Johnson on board, Dugan was ready to present Shades of Gray at a staged reading in Hollywood. "Among many other people," he says, "Jack Klugman came to see the reading. And after the reading, he came up to me - you know, he had throat cancer, so his voice is like this," Dugan rasps, "so he says to me, in front of the audience, he says, 'It's boring!'"
Klugman had, in 1984, played Lyndon Johnson in a solo performance at the Kennedy Center, and Dugan understood that the actor "really had an understanding of a one-man show. Like history, in history books, things can be very, very dry, and in theatre, stuff's gotta happen on stage right here and right now. And fighting the Civil War by yourself on stage is quite a trick. So he shared with me all that he knew about doing a one-man show, and it was invaluable during my re-writes.
"So I re-wrote it, did another reading, then re-wrote it again." All told, Dugan continues, "It took me three years to write. The writing of it didn't quite take as long as the Civil War, but close."
And in case you were curious, Dugan reveals that, after a later staging, "Jack came to see another performance of it, and came and gave me a big hug and said, 'That's the idea!'"
A Fuller Picture of History
It was in New York City, in the spring of 2004, that Quad City Arts' Performing Arts & Arts in Education director, Susan Wahlmann, first learned of Shades of Gray. "I go to a conference every year where I meet with agents from throughout the country," she says of the event, "and they suggest artists to us. And we found Tom at this conference." Every year, Wahlmann provides a list of some 25 artists who might make a good match for Quad City Arts' Visiting Artist program, after which the organization's performance-arts committee reviews Wahlmann's suggestions and "ultimately choose[s] the nine or ten that we bring in for the season."
When the committee opted to bring Dugan and his one-man show to the area, Wahlmann says, "he had not even had the world premiere," but Quad City Arts' department director, for one, knew that the show's educational components made Shades of Gray an appealing choice. "We thought the tie-in to school curriculum would be excellent, since kids as early as fourth grade study the Civil War. So we knew there would be an instant connection for teachers and principals to then - hopefully - want to bring Tom into their schools." (Wahlmann is also "really excited" that Dugan will be instructing and performing here on Friday, January 19, which marks the 200th anniversary of Lee's birth.)
During his residency as a Quad City Arts Visiting Artist - which began on January 15 - Wahlmann reveals that Dugan will speak and perform at "about 25 different sessions," but schoolchildren aren't the only ones who might receive an education through Shades of Gray.
Dugan says, "People who've seen the show have been fascinated by what they thought they knew compared to what the realities of the Civil War were," and he admits that despite its presentation of the past, the show strongly resonates with the present, as well.
"I think no matter when I do this play, it'll be relevant," he says, "but certainly with the current situation - our invading another country - it has a resounding quality to, you know, our headlines.
"There's a particular point in the play where Lee is talking to posterity" - by which Dugan means the Shades of Gray audience - "and he asks them if they've finally conquered war. And it's kind of an interesting moment where a character from history is actually asking the audience itself, you know, 'While you judge me, how are you doing?' War, unfortunately, is a universal subject."
At Shades of Gray's climax, says its author, "hopefully the audience will see a fuller picture of history."
And it's a picture that the playwright will expand upon even further in his next theatrical endeavor. In February, the Torrance Cultural Arts Center in Los Angeles will premiere the latest one-man show that Dugan has written - Frederick Douglass: In the Shadow of Slavery, which will find the current Robert E. Lee directing his Shades of Gray director Johnson as the famed abolitionist, and which is already scheduled for performance during Quad City Arts' 2007-8 season.
" This time," laughs Dugan, "I get to win the Civil War."
Tom Dugan will perform Robert E. Lee: Shades of Gray in a free public performance at the Capitol Theatre at 7 p.m. on Saturday, January 27. For more information, visit (http://www.quadcityarts.com).