If the goal of Happy Days: A New Musical - making its Midwestern debut at the Circa '21 Dinner Playhouse - is to have the feel of the 1970s TV series, then playwright (and series creator) Garry Marshall and songwriter Paul Williams are working against each other. The book is reminiscent of the sitcom, with similar character dynamics and situations, but it comes across as a caricature of the TV show - purely wholesome, without the slight edge and hints of rebellion present in its televised incarnation. Williams' songs, meanwhile, don't suggest the series at all; it's as if the tunes were taken from some other 1950s-themed musical, and plopped into an episode of Happy Days without consideration for whether they fit the characters.
In this manifestation of the forever-in-reruns favorite, the Cunningham kids and their friends are trying to save Arnold's diner from being developed into a mall. Rather than having the Fonz jump cars on his motorcycle, money to purchase the property will be raised with a dance contest and a wrestling match. And along the way, there are several romantic subplots, one of which, of course, could be spun off into Joanie Loves Chachi: A New Musical.
Nowhere is this Happy Days' disconnect with the TV series more evident than in the character of Arthur Fonzarelli. During Friday's opening-night performance, Courtney Crouse did an admirable job of embodying the too-cool-for-school biker while making Fonzie his own, without the aloofness Henry Winkler originally brought to the role. Yet while Crouse's singing is dreamy, the lyrics and melodies don't strike me as anything that would ever come out of Mr. Fonzarelli's mouth. The songs aren't bad, but they're too wholesome - too emotional and outspoken for this suave man. While he's notable in this familiar role, I'd rather see the character that Crouse creates in his musical numbers played throughout the show, with his impersonation of Winkler's Fonz dropped altogether.
I kind of feel the same way about the show as a whole: Strip away the expected character conceptions, removing the whole Happy Days idea entirely, and we'd be left with a workable, coherent musical. (Conversely, strip the stage show of its songs, and we'd have the Happy Days we remember.)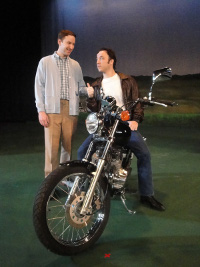 Obviously, that won't happen, and it's too bad that Circa '21's production - with its musical accompaniment on CD - can't benefit from having the tempo picked up on a few songs. Perhaps it's because they're 1950s-themed tunes that, with the exception of the ballads, mostly sound the same, but the score is rather dull and monotonous. Musical director Christopher Babbage has done a fine job of interpreting the pieces, but I wish he had increased the speed of a few songs, or maybe added more drums, to add a little punch, and to help differentiate one number from another.
Despite the show's shortcomings, however, director Ann Nieman and her cast and crew do an impressive job of staging it. Scenic designer Keith Mitchell's sets - from Arnold's photo-covered wall to the Cunninghams' kitchen - are notable for their simplicity and their impressive 1950s feel. Nieman's choreography also includes the requisite dance steps for the era, mixed together in a fun way that makes you want to get out of your seat and join the dancing. And costume designer Gregory Hiatt proves he's still one of the area's best creators of iconic stage clothing.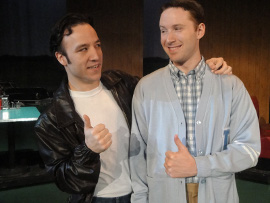 I'd be remiss not to verbally applaud the actors, and as there isn't a poor performance in the bunch, there are too many to cite individually. Among the most noteworthy, though, is Brad Hauskins, who stepped into the role of Arnold just three days before opening night; his amicable Arnold tells simple jokes that are made funnier through Hauskins' tempered silliness. Tommy McDowell, as Jumpy Malachi, stands out for his goofball line deliveries and consistent physical tics, his shoulders jerking up and his head quickly cocking to the side. And with the possible exception of Crouse, Marc Ciemiewicz comes closest to embodying his character's original actor; portraying Howard Cunningham, Ciemiewicz has a vocal tone similar to Tom Bosley's, and boasts the same smile and slightly gruff, but always likable, demeanor.
Still, if the sitcom hadn't already jumped the shark, I'd argue that Happy Days: A New Musical might've been that jumping point in the show's history. If not for the mismatched songs, then for the wrestling match between the Fonz and the Malachi brothers. And if not that, maybe for the sight of James Dean and Elvis appearing before Fonzie and offering advice. And if not that, maybe for Marion Cunningham's tap number.
For tickets and information, call (309)786-7733 extension 2 or visit Circa21.com.