I've seen plenty of stage sitcoms over the years, but based on Over the Tavern and its sequel, King o' the Moon - currently playing at the Richmond Hill Barn Theatre - Tom Dudzick appears to be that rare stage-sitcom creator with soul.
When you watch a piece by Neil Simon or Ken Ludwig or the late Larry Shue, you can enjoy the zany/cute setups and relentless punchlines but you don't necessarily feel anything. (Personally, I find even these authors' most acclaimed works pretty hollow.) And Dudzick does share their fondness for easily recognizable characters, conveniently resolvable stage complications, and a cannily placed wisecrack.
Yet his works are lighter, more off-handedly funny, and more honestly poignant than those of his more famous predecessors. I oftentimes laughed my head off at director Susan Simosky 's King o' the Moon - which I caught at a preview performance last Wednesday - and when I did, it was deeply affectionate laughter, the sound you make when a beloved family member does something so wonderfully, atypically silly that it startles you into giggling. When I wasn 't laughing out loud, it was because I was busy smiling. Such is the effect of the production as a whole.
If you were fortunate enough to catch Richmond Hill 's production of Over the Tavern in 2005 - which Simosky also directed - you'll instantly recall King o' the Moon's clan of squabbling, proud Polish-Catholics, the Pazinskis. The year is 1969, a decade after the events detailed in Tavern, and with the exception of grouchy patriarch Chet (five years dead when Moon opens), the principals are the same: ever-harried mother Ellen (Angela Rathman, revisiting her 2005 role), now romantically attached to Chet's best friend, Walter (Bill Hudson); eldest son Eddie (Chris White), newly wed to the pregnant Maureen (Jessica Nicol) and heading, none too enthusiastically, to Vietnam; mentally challenged younger son Georgie (Matt Gerard), still happily entertaining himself at home; daughter Annie (Ryan Mosher-Ohr), bitterly sarcastic and stuck in a loveless marriage; and youngest son Rudy (Ryan Anderson), whose stand-up-comic aspirations have only slightly abated since - in a deathbed promise to his father - he agreed to join the seminary and become a priest.
But if you 're planning to see the show but missed out on Over the Tavern, don't sweat it, because story-wise, nothing that happens in King o' the Moon is all that surprising. Being a stage sitcom, arguments will be had, hearts will be broken, Life Lessons will be learned, and everything will invariably turn out for the best. (Thankfully, we don't attend a theatre piece of this sort for ingenuity; we want familiarity, and if the production happens to be ingenious, too, so much the better.)
Yet Dudzick, to his great credit, appears less concerned about story than about texture and tone in King o' the Moon; the show is charming and hilarious not because of what its characters do, but who they are. The playwright has a rather extraordinary gift for throwaway dialogue that's funny about three beats after it's delivered - you're so caught up in the family dynamics that you're not expecting punchlines. The jokes, as they are in most families, are simply baked into daily conversation.
And Dudzick's unapologetic sincerity, especially in such a traditionally synthetic stage genre, is unexpected in the best possible sense; conversations that could - and should - be unbearably treacly are handled with refreshing dignity and a sharp sense of humor. (Rudy routinely, gently tweaks the family's Catholicism: After a reference about Jesus being a carpenter, the youngest Pazinski, in mock wonder, says, "Just think ... if Jesus ever stepped on a rusty nail, he could have cured his own lockjaw.")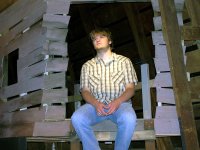 It would be easy to say that Matt Gerard walks off with the production - he gives a continually imaginative and almost absurdly sweet performance, as thoroughly detailed as Leonardo DiCaprio's in What's Eating Gilbert Grape? - but that wouldn't suggest how selfless his portrayal is. In a role that could easily lend itself to showboating, Gerard never steals focus. Not that, considering this ensemble, that would be easy.
Rathman's honesty and natural authority are invigorating; together with Simosky, the actress keeps Over the Tavern 's spirit alive for us. Watching the tentative romance blossom between Ellen and Hudson's terrifically appealing Walter is a continual delight, and Nicol, after her dramatic triumph in last summer's Proof, reaffirms that she's also a sprightly, inventive comedienne.
White, with his ferocious comedic urgency that can turn tragic in a flash, is beautifully matched against Anderson's good-natured, affectlessly relaxed Rudy; their antagonistic brotherhood, with its hidden reserves of emotion, feels absolutely real. And I couldn't have been happier about seeing Ryan Mosher-Ohr, MIA from the area theatre scene since her splendidly daffy performance in Richmond Hill's You Can't Take It With You in 2005. Blessed with a voice that adds a delicious comedic curlicue to her every line reading (she's like a Jennifer Tilly whom you don't want to smack), Mosher-Ohr is so ceaselessly in character - and, in her dramatic moments, so effortlessly moving - that you find yourself missing her whenever she's not around.
These seven play off one another as though they'd been doing it all their lives, and Simosky deserves credit not just for the performers' thrillingly unforced interpretations, but for her attention to silence and nuance and the impact of a perfect physical gesture. King o' the Moon's loveliest recurring bit finds the characters routinely taking the time to recognize Georgie - who's on stage constantly yet nearly always tangential to the action - by tussling his hair or diverting him with Paddle Ball. Even when the script ignores Georgie, Simosky makes sure her actors never do.
Working from Dudzick's beauty of a script, Simosky hasn't just created a topnotch stage sitcom with King o' the Moon; she and her supremely talented performing ensemble have created an utterly believable family. After two-plus hours spent in their company, it's a family that you may not be ready to say goodbye to.
For tickets, call (309) 944-2244.