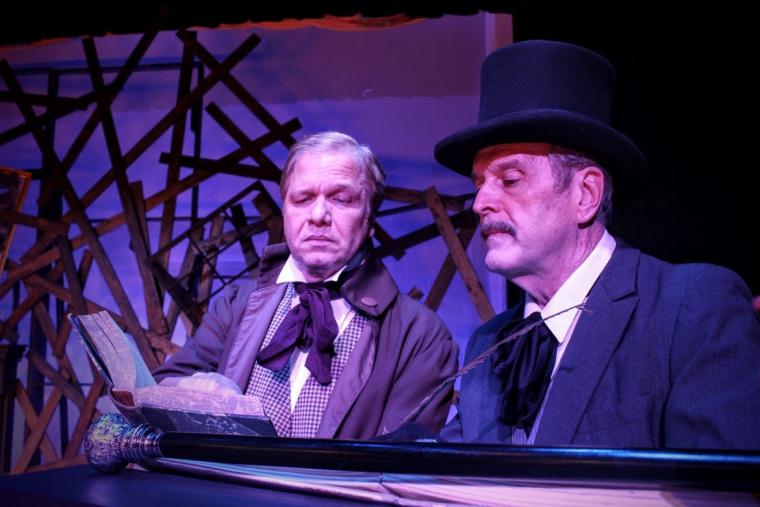 I love the Charles Dickens story A Christmas Carol. You know: The one about Ebenezer Scrooge – that cantankerous old skinflint who defined the term "hostile workplace" by treating his lone employee (and everyone else, for that matter) like the dirt beneath his well-worn shoe? To save his soul, the spirit world sends three ghosts on Christmas Eve who unveil aspects of Scrooge's life, and the lives of those around him, that facilitate a much-needed change in his withered, cold heart. Because of this experience, he transforms into a man of enlightenment and generosity, helping his community and those closest to him.
I've read the book more times than I can recall, and I've seen nearly every version made for film or TV (My favorite is the George C. Scott version, although I also adore the Alistair Sim and Reginald Owen adaptations; I've even seen the one starring Henry Winkler.) However, as I sat in the audience at Quad City Music Guild's Tuesday-evening dress rehearsal of their musical production of A Christmas Carol; it struck me that I had never seen the story performed live on stage.
According to director Mike Turczynski's program notes, this particular Christmas tale holds a special place in his heart as well, and it certainly shows on stage. It was clear that Turczynski and team worked hard to find layers in the characters to help the audience understand how old Scrooge could be so cold when it comes to Christmas. With its music by Alan Menken, and lyrics and book by Lynn Ahrens and Mike Ockrent, this Christmas Carol also delves a bit deeper than Dickens into Ebenezer's past relationships, and why he becomes such a nasty old goat.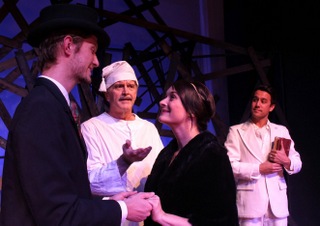 Joining the club of distinguished actors who have played the leading role is local theatre veteran Tom Naab, whose singular take on the character seemed more internal and less boisterous than most. I greatly appreciated his restrained yet evident facial reactions when viewing some of the more painful scenes from Scrooge's past.
In a manner reminiscent of The Wizard of Oz, the three spirits who visit Scrooge on Christmas Eve are introduced early in the story as common London folk. Playing the Ghost of Christmas Past/Lamplighter is Tommy Ratkiewicz-Stierwalt, who displays a sense of comedic wit paired with stunning vocals. Inhabiting the characters of the Ghost of Christmas Present and Sandwichboard Man, David Miller utilizes his contagious energy and resounding voice to guide the audience (and Scrooge) through the present lenses of those whom he takes for granted. And as the show's Ghost of Christmases Yet to Come and Blind Hag, Leigh VanWinkle plays her roles delicately, like a dark angel, rather than as a traditional foreboding wraith. (I must admit, though, that I struggled to understand the costume selections for both of VanWinkle's figures, and wished there were more distinct differences between them.)
Portraying Scrooge's deceased partner Jacob Marley, Adam Sanders depicts the ghostly version of the character as more angry than ethereal, which I found to be a shocking and refreshing take on the role. One of my favorite scenes on Tuesday occurred when Marley died in the arms of a young Ebenezer (Zach Hendershott) on a bygone Christmas Eve, allowing the audience to witness the reaction of Naab's older Ebenezer mirroring the reaction of Hendershott's younger Scrooge.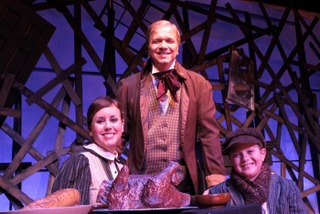 Of particular note in Music Guild's production is Sara Tubbs, who plays Scrooge's young love interest Emily and his niece-in-law Sally. Her performances are vibrant and full of life, and I only wish the roles allowed her more stage-time to showcase her dynamic talent. Also enjoyable to watch is Tom Morrow as Mr. Fezziwig. I don't know of another area actor who demonstrates how much fun it is to be on stage, and Morrow's exuberance and passion for theatre shine brightly and make for a warm Christmas welcome.
Unfortunately, the script does not pay nearly enough attention to the secondary story of Bob Cratchit and his family. This is particularly disappointing because it is Scrooge's treatment of poor Bob that defines the audience's opinion of the old curmudgeon. For this production, it's also challenging, because at the show's emotional catharsis – when the Cratchits meet the new and improved Scrooge – there just wasn't enough emotional investment in the characters to fully appreciate the celebration. But Kevin Peiper and Jen Sondgeroth, as the married Cratchits, at least do an admirable job with the material they're given, and Alex King, as Tiny Tim, is perfectly suited to provide the voice of a Christmas angel.
Designed by Turczynski, the show's unit set is an intentionally distorted crosshatch of weathered boards with doors, chairs, picture frames, and other props and set pieces sticking out from its nightmarish, Thunderdome-like cage structure. It's definitely a unique design concept for this story, and one that I appreciated very much.
Having seen this tale told in many variations with many different performers; it's safe to say that if one loves A Christmas Carol as much as I do, then it must be experienced on stage to appreciate it at a whole new level. And while this version may not be perfect, it is rich with a warm and beautiful holiday spirit for all ages to enjoy.
A Christmas Carol runs at the Prospect Park Auditorium (1584 34th Avenue, Moline) through December 4, and more information and tickets are available by calling (309)762-6610 or visiting QCMusicGuild.com.