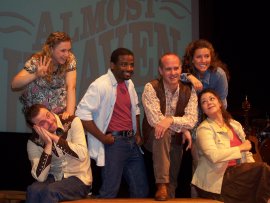 On Sunday morning, I started writing my piece on the musical revue I'd seen the night before, and here's how I began my first draft:
"Let me preface by saying that Saturday's production of Almost Heaven: Songs of John Denver at the Circa '21 Dinner Playhouse received an enthusiastic standing ovation ... ."
But something about that introduction troubled me. Was it the sense of déjà vu? I returned to some previous writings to see if I was, indeed, repeating myself, and I eventually found it: Except for the show title and venue, it was a nearly verbatim duplicate of the opening sentence from my June review of Always ... Patsy Cline at the Clinton Area Showboat Theatre.
Wow, I thought. I need to find new ways of breaking the bad news.
Not that it's any kind of excuse, but at least my repetition was understandable. Like the Patsy Cline show, Almost Heaven is a greatest-hits pastiche that the crowd seemed to enjoy immensely, that showcased some first-rate vocal performances and musicianship, and that wound up being, in my opinion, a pretty complete botch. And, as with the Cline revue, my frustration can't really be blamed on the production's cast or director; Almost Heaven appears so thoroughly, incoherently conceived that even its one seemingly foolproof element - the John Denver songs themselves - offers little consolation. Despite its earnest presentation and the considerable talent involved, the show is a mess.
Ironically, this has nothing to do with the fact that not one of the production's six ensemble members - backed by an excellent four-piece band - looks, sounds, or acts remotely like John Denver. Composed of three men (Adam Clough, C.K. Edwards, and Brad Hauskins, who occasionally joins the band on guitar and harmonica) and three women (Sarah Amandes, Kimberly Furness, and Lina Kernan), the sextet is there not to imitate the artist but, instead, pay tribute to his music, and their personalized takes on Denver's discography are, without question, the best things about the show.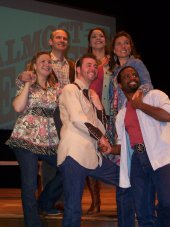 Kernan delivers what is probably Almost Heaven's highlight, with her soulful, passionate rendition of "Leaving on a Jet Plane," but happily, director Tony Parise gives everyone here a chance to shine. Edwards offers a stunning falsetto on his "Calypso" intro and continues the number with understated grace; Hauskins' energy while belting out "Rocky Mountain High" builds to a rousing climax; and although it takes a while to adjust to Denver tunes being sung in Clough's powerful baritone (he brings to mind an opera star slumming), he provides a positively joyous "Thank God, I'm a Country Boy" - it's one of the few times in the show that a country song stays a country song - and his wide, inviting grin is infectiously charming.
Furness matches Clough's smile - she exudes unfettered, unceasing happiness - and matches him vocally, too; her performance of "Annie's Song" is an honest, bewitching take on the Denver classic. And Amandes has a delicate, flower-child appeal that makes her lead on "Sunshine on My Shoulders" (with her co-stars providing gorgeous harmonies) intoxicating; she alone seems truly connected to Almost Heaven's oft-referenced spirit of the '60s. Considering the gifted vocalists and Parise's almost invisibly effective staging - the compositions alter with subtle elegance, like images in a kaleidoscope - it's easy to see what Circa '21's audience was responding to in Almost Heaven. But the show itself is a confusing, oftentimes maddening compilation of shortcuts, clichés, and maudlin sentimentality.
The running commentary that links the numbers blends biographical factoids with baseless opinion - we're told that Denver was considered "a contradiction," but never told, exactly, why - yet its delivery is nonsensical; the actors alternately narrate to us, speak to each other, and enact letters purportedly written to Denver by his fans. (Personally, I never bought this last part, especially when Furness read a letter from a Chinese girl who condescendingly claims that Denver's music helped her people "feel more open and more human.") With Almost Heaven's presentational format changing at random, the show never establishes a concrete style, and since the actors (when not singing) have nothing to do but impart information, they have no chance to emerge as individuals. The show is depressingly light on personality.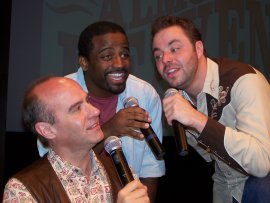 And then there are the slides. Located center-stage is a 16- by 20-foot screen on which runs a continuous, all-too-literal-minded torrent of projections to accompany the narration: the briny blue for "Calypso," the headstones of fallen Vietnam vets for "What Are We Making Weapons for?", images of the sky and the mountains and the prairie for ... just about every other number. (There's also an Act II medley that's accompanied by a parade of Denver's album covers.)
Thankfully, the singers are so vibrant that you can do a pretty fair job of ignoring this onslaught; the slides are more innocuous (and irritating) than damaging. But the representations only serve to intensify themes and attitudes that are already blatantly obvious in the performers' lines and lyrics, and the visual appendage sometimes seem designed to make us forget about the performers completely. Late in the show, the slides give way to a brief film clip of Denver singing and playing guitar on a beach, and it seems rather unfair to the hardworking cast members; why does the show go out of its way to "re-invent" the man's output only to remind us about how the numbers were originally meant to sound?
That clip also underscores the big thing missing from Almost Heaven: Denver's spirit. Everything that was amiably low-key and lighthearted about the musician is replaced, here, by heavy-handedness and sanctimony; the show's book feels less like a celebration than a fervently sincere history lesson. (It could have used a lot more laughs.) I have nothing but respect for the talents behind Circa '21's latest endeavor. I just wish they weren't forced to outclass their material.
For tickets, call (309) 786-7733 extension 2.