Narrowing down 2009's sensational stage portrayals into a list of 12 "favorites" is a hopeless task, really, so don't take this as any kind of last word on the subject; you'll find mention of amazing stage work all throughout my year-end coverage. Still, here's hoping you were able to catch at least a few of the following performances, which helped underline just how crazy with theatrical talent our area actually is.
James Bleecker, Thom Pain [based on nothing]. In author Will Eno's stunningly original one-man show at the Harrison Hilltop Theatre, Bleecker's tortured young man delivered reminiscences that were abandoned before their completion, told jokes with no discernible punchlines, interrupted his addresses to the audience with random non sequiturs ... . For the life of me, I can't figure out how Bleecker memorized that role. More pointedly, I can't figure out how he played it so well. All throughout, the actor's empathetic intensity, imagination, and control bordered on the astonishing; if it sometimes felt as though director Tristan Tapscott's play was crumbling in front of you, Bleecker's prodigious talent allowed you to watch this theatrical breakdown certain that everything was transpiring exactly to plan.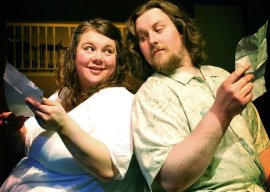 Cait Bodenbender, Much Ado About Nothing. For a group with admittedly limited financial resources, the Prenzie Players sure do deliver some impressive special effects. Consider, for instance, Shakespeare's acerbic Beatrice, as played by the sensational Bodenbender. For much of (Reader employee/)director Stephanie Burrough's piece, this playful, wickedly smart performer was quick-witted and cheerful, even if her character was occasionally argumentative with the excellent Aaron E. Sullivan's Benedick. Yet when his love for Beatrice was unknowingly revealed to her, and Bodenbender expressed disbelief, confusion, and long-dormant ecstasy through a few simple yet poignant brushstrokes, suddenly - and miraculously - Bodenbender's already rich work exploded with newfound vigor, and Beatrice appeared a full decade younger than she did when the scene began. Take that, Benjamin Button!
Bruce Carmen, The Producers. Quad City Music Guild's show-biz farce was lousy with talent playing lousy talent, a show joyously chockablock with gifted performers intent on chewing the scenery. In his role as producer huckster par excellence Max Bialystock, though, Carmen didn't just chew director Kevin Pieper's scenery: He feasted on it, digested it, spit it up, and devoured it all over again. Forgive the disgusting imagery, but there are few analogies appropriate for the voracious energy with which Carmen - in his Music Guild debut, no less! - enacted his song-and-dance charlatan. His character's show-stopping Act II tirade, "Betrayed," was a tumult of pissed-off verbiage, but thankfully the words "too big" and "too broad" were not in Carmen's vocabulary.
Brittany Church and Tom Walljasper, Peter Pan. How did Walljasper, who has been comedically brilliant in dozens of Circa '21 Dinner Playhouse shows over nearly two decades, somehow manage to top himself as the villainous Captain Hook? And how did visiting performer Church, in a title role that you'd think wouldn't have any surprises left in it, somehow manage to match him? I didn't ask; I just happily reveled in their thunderously fine storybook performances. Church, with her magnificent vocals and nimble physicality, delivered all the Broadway brio you could ever want in a Peter Pan, yet also ensured that her boy who refused to grow up was always that - a boy, impetuous and playful and easily wounded. And the actress' heartening realism was countered by Walljasper's deliriously over-the-top inventiveness, which was made even more effective by the actor filling the role with actual malice; Captain Hook may be a cartoon, but in Walljasper's hands, he was also legitimately threatening. (The actor also played Mr. Darling in director Jim Hesselman's production... and to perfection.) Someone get these two into a National Tour stat.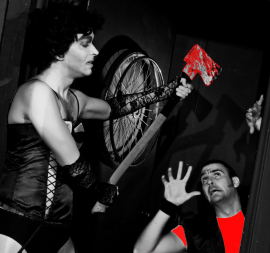 Steve Lasiter, The Rocky Horror Show. Musical-comedy characters don't get more recognizably iconic than the sweet transvestite Frank 'N' Furter, and in the Harrison Hilltop's gloriously nutjob take on this cult classic, Lasiter was most definitely that, channeling Tim Curry's insidious, vowel-elongating cadences to perfection. Yet the grander joy of this fearless, powerhouse performer's work lay in Lasiter's emotional commitment to the character; his belting was off-the-charts good, but it was Frank 'N' Furter's quiet, touching tenderness and faraway sadness that truly lingered. Blessedly, Lasiter is scheduled to return to the role when the Harrison Hilltop re-stages director Dave Mahl's show next October ... and we didn't even have to "beg for it, bitches."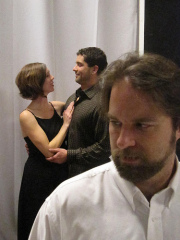 Adam Michael Lewis, The Winter's Tale. Discussing Lewis' frequently anguished, wildly inspired performance in director J.C. Luxton's Prenzie Players offering, an actor friend told me she was blown away by his work because "he does everything that you're taught not to do as an actor, and somehow makes it work." Hell, yeah, he does. In his role as the pathologically jealous Leontes, Lewis spoke a mile a minute, tossed off choice Shakespeare dialogue from beneath his breath (sometimes even mumbling it into his hands), ranted and cackled and ran his fingers through his hair as though trying to squeeze his brains out - and not for a minute was he anything but electrifying, soulful, and unwaveringly honest. If what Lewis is doing is wrong, why would anyone bother doing it right?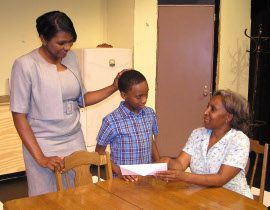 Shellie Moore Guy, A Raisin in the Sun. I love my mother, but if she ever decides she's fed up with the whole matriarch thing, I'm going to Shellie Moore Guy's house first. After her subtly wrenching 10 minutes in the Green Room Theatre's Doubt: A Parable, audiences were given 10 times that amount in the Playcrafters Barn Theatre's Lorraine Hansberry drama, and the performer emerged as the occasionally vexed, unyieldingly patient, wondrously good-humored mom of your dreams. The love that her Lena Younger expressed for her children felt infinitely larger than Moore Guy's frame could contain, and it was to our great benefit that it wasn't contained; during the curtain call for director Fred Harris Jr.'s piece, you didn't want to applaud the performer so much as enwrap her in a bear hug.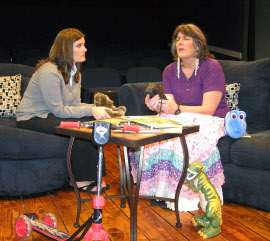 Jessica Nicol White and Susan Perrin-Sallak, Rabbit Hole. Both Nicol White and Perrin-Sallak have been so frequently fantastic over the years that their performances in the Richmond Hill Barn Theatre's David Lindsay-Abaire drama shouldn't have been all that unexpected. But, man oh man, were they ever. As the grieving mother who masks her pain behind humor and incessant baking, Nicol tamped down her usual warmth and expressiveness and forced you to read the emotional subtext behind her intentionally chilly veneer, only to knock you sideways when that chilliness gave way to sudden outpourings of emotion. And portraying her mother, Perrin-Sallak navigated both high comedy and understated tragedy with superb delicacy and control; her bone-dry comic deliveries made you weep with laughter, while her nuanced heartbreak made you weep period. Oscar winners Nicole Kidman and Dianne Wiest will be playing Nicol White's and Perrin-Sallak's characters in 2010's Rabbit Hole movie, and as someone who's now seen director Bryan Tank's offering, I'd say they have their work cut out for them.
Jessica Sheridan, Bash. It takes oodles of nerve and confidence for an actor to risk coming across as not just unlikable, but downright despicable, especially when that actor is as young, beautiful, and endearing as Sheridan. (Her Sister James in the Green Room's Doubt: A Parable was a heart-melter of the highest order.) But in the Phoenix Theatre Company's trio of Neil LaBute pieces, the performer's frightening, raw, intensely human portrayal of a nightmarishly vengeful mother was as nervy and confident as they come. Her depiction of unimaginable evil was a tour de force of conflicting emotions and half-hidden hysteria, and all throughout director Rachel Mayer's offering, Sheridan's penetrating stare seemed to bore directly into your soul.
Jerry Wolking, The Boys Next Door. In a play boasting many outstanding performances (and Jason Platt's may have marked a new career high), Wolking's work as Lucien, the most physically and mentally challenged of author Tom Griffin's "boys," was hugely chancy and positively revelatory. His coiled physicality and high-pitched, strangled line deliveries were so startlingly effective that several friends told me they were utterly convinced that Village Theatre director Lora Adams had hired a mentally challenged actor for the role. Until, that is, Lucien was freed from his infirmities in one of Griffin's momentary turns toward the surreal, and the heart-stopping beauty and sadness of the transformation made you realize just what a colossal acting feat Wolking's truly was.