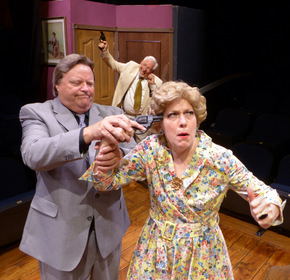 The opening scene in the Richmond Hill Barn Theatre's The Robin Hood Caper is one you've likely sat through, in different iterations, in numerous stage comedies over the years. It introduces us to the young, flummoxed journalist Richard Collins, who, as his conversation reveals, is dealing with all manner of personal crises: shaky finances; an underhanded mayor with plans to shutter Richard's newspaper; a fiancée demanding a wedding date. Richard's Aunt Flora, meanwhile, takes this all in with a sympathetic ear and an occasional, dotty reminiscence of her own, and routinely shifts her focus back to her needlepoint.
It's easy to watch this scene and think you know the score: Poor, put-upon Richard is our befuddled leading man, and Flora is the lovable supporting eccentric who'll randomly pop in for warmhearted laughs, or for other characters to pelt with exposition, or both. Consequently, it's a pleasant surprise - in a production boasting pleasant surprises galore - to see that author Fred Carmichael is one step ahead of us. It's actually Richard (Ernest Toutant III) who vanishes for large portions of The Robin Hood Caper, and Flora, played by the delightful Jackie Patterson, who emerges as the show's heroine.
Carmichael, who passed away in 2009, was the author of dozens of crime-themed theatrical farces, their cheeky titles including All the Better to Kill You with, Out of Sight ... Out of Murder, and Done to Death. (He'd written so many of these things between the '50s and '90s that I had to check Carmichael's credits before committing to this review's headline, to make sure he didn't beat me to it.) Yet while the playwright's unthreatening tales of gentle homicide have made his name synonymous with a certain brand of perhaps-too-easily-digestible entertainment - double-sized Murder, She Wrotes with fewer mysteries and more punchlines - you gotta give him credit: He knew his audience. And with The Robin Hood Caper, he clearly knew that audience would be elated, as Richmond Hill's Thursday-night crowd appeared to be, by a tale of four aging ex-cons who robbed from the rich and now give to the poor.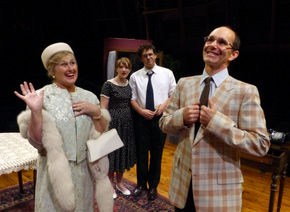 Once nephew Richard leaves the premises, director John Donald O'Shea's outing kicks into winningly goofy gear with the arrival of Flora's pals-with-mug-shots. Failed actor and successful grifter Jason Bosley (Ray Rogers) is presently in disguise as a minister. Phillip Mullins (Robert Grueskin) is a world-class forger whose invented letters from Napoleon to Josephine once netted him 23 grand. The talents of Emily Jordan (Diane Greenwood) include robbing parking meters with hairpins and enduring 17 marriages, several of them simultaneously. As for Flora, she's a former pickpocket nicknamed "Fingers," and she's assembled her cohorts to Richard's Wisconsin home for (without his knowledge) a meeting of the Charities Anonymous Club, through which the larcenous quartet decides what worthy cause - maybe Richard? - should benefit from their stashed ill-gotten gains.
Personally, I'd hoped for Carmichael to provide a few more obstacles en route to The Robin Hood Caper's (no Spoiler Alert necessary) Happily Ever After. Once the seniors put their comically contrived plan into motion, the path to its success, barring a couple of mild interferences, is remarkably breezy; when the lights come up for intermission, you could conceivably smile, think "Well, that worked out nicely!", and head to your car. And while this 1962 script was almost surely going to display some retrograde attitudes, I was still disheartened to see the lovely Mallory Park stuck in that sad stereotype familiar from graying stage comedies: the needling fiancée who insists that her waffling beau get his act together and marry her already. (Part of my disappointment here stems from Park looking so much like Elisabeth Moss on Mad Men - given her wide-set eyes, beguiling prettiness, and period wardrobe courtesy of costumer Suzanne Rakestraw - that I wanted Park's Jessica to demonstrate the self-sufficiency of Moss' Peggy.)
But Park, with her infectious natural laugh and spirited emotional fire, doesn't make you dread Jessica's scenes. Quite the opposite, actually; you're happy to put up with the aggressively marital-minded Jessica because that just means more time spent with Mallory Park. And O'Shea's entire production is like that: Even when Carmichael's jokes and more strained situations fail it, the cast manages to elicit hearty grins throughout, and even to inspire the occasional cackle.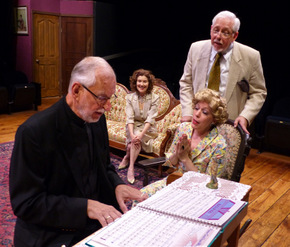 Despite some visible uncertainty about her lines on Thursday, Patterson is a dream of a lovingly solicitous, and secretly level-headed, doddering aunt, her maternal affection sharpening to a knife point whenever Flora is given a three- or four-word comedic retort that the performer delivers with juicy precision. (Although Patterson has definite presence, we do briefly lose Flora when she sits on a floral-patterned couch in a floral-patterned dress, and she suddenly looks like a disembodied head.) While most of the play's straight-man responsibilities fall to Toutant, the actor is both funny and endearing here, especially during Richard's panic attacks, in which he's simultaneously frustrated, embarrassed, and deeply pissed by his involuntary stutter.
Rogers may be somewhat oddly cast as a notorious stage ham, considering he plays even Jason's broadest shtick close to the vest, yet his deft understatement, and the sneaky laughs it prompts, make the character something unusual in Carmichael's farce: an amusing, believable human. As for Greenwood's teetering, pop-eyed, excitable Emily, she's the opposite of human. But you (or at least I) don't want human from Diane Greenwood. You/I want a dizzy, rib-tickling cartoon of a human, and the continually effervescent performer - who never looks as though she's having anything but the time of her life - remains the stage-comedy equivalent of a friendly tickle.
With Don Hazen exuding supple, oily villainy as the odious mayor and Jason Schaad providing entertaining (if maybe geographically inappropriate) Noo Yawk cadences as a political henchman, O'Shea's production moves with smooth confidence. His theatre-in-the-round staging, meanwhile, features just the right amount of appropriate movement; there's no aimless wandering, but wherever you sit in the Richmond Hill barn, you won't be stuck staring at the backs of heads for very long. (On Thursday, the only time the stage composition seemed awkward was when one of the elders, meant to be unseen by the mayor, leaped out of a closet right in front of him, and Hazen had to pretend not to notice.) The Robin Hood Caper is a real treat, and that's without yet specifying my absolute favorite element of the show: the laugh-out-loud-riotous Robert Grueskin, whose soft-voiced sweetness, innocent grin, and devastating timing make him the rare boffo comedian you're dying to hug. According to his program bio, this is the actor's first stage appearance in 40 years. That's four decades of Grueskin performances we've been denied, but I'll try not to hold that against him.
The Robin Hood Caper runs at the Richmond Hill Barn Theatre (600 Robinson Drive, Geneseo) through July 19, and more information and tickets are available by calling (309)944-2244 or visiting RHPlayers.com.