No childless adult should feel the least bit silly about attending the Countryside Community Theatre's madly enjoyable production of Seussical.
But just in case the thought of a family-friendly evening of candy-colored costumes and rhyming couplets gives you pause, know that by missing this production, you'll miss what might stand as the musical-comedy performance of the year. As the Cat in the Hat, Nathan Meyer is giving the sort of fiercely committed, ceaselessly inspired portrayal that feels like the reason God invented musical comedy.
Not that I won't try, but it seems nearly impossible to describe just how good Meyer is here. In this tune-laden amalgam of Dr. Seuss characters and storylines, the Cat in the Hat is designed as narrator and tour guide, like Pippin's Leading Player crossed with Our Town's Stage Manager ... if the Stage Manager had chosen to spike George's and Emily's ice-cream sodas with rum. The character is both playful and more than a little nuts, and under Shellee Frazee's exquisite direction, Meyer inhabits the part with such fearless abandon, and is so inventive, that he can make the simple act of sliding down a 10-foot pole feel like a fully formed comedy routine.
Meyer is a first-rate singer and superior dancer - he handles Frazee's frequently demanding choreography with a precision to make Fosse proud - and with his graceful movements and sweetly lunatic expressions, the performer feels exactly like the physical embodiment of Dr. Seuss' character.
Yet I had no way of anticipating just how funny Meyer would be here. (On more than a few occasions during Friday's presentation, the actor had me laughing until I cried.) Whether waking the boy JoJo (Jay Whitmore) from a nap with a maternal, high-pitched coo, blithely (and hysterically) auctioning off the melancholy elephant Horton (Jack Sweeney), or wailing through the auditorium aisles in faux misery at the onstage goings-on, Meyer is, simply put, remarkable. If you had seen this Seussical on Broadway, Meyer would have made your $80 ticket price seem like a bargain.
Very little about this production wouldn't have. Jalois Crotty's costumes, in all of their eye-popping hues, are almost ridiculously imaginative; they honor the spirit of Seuss without feeling beholden to him. And working on Tom Goodall's ingenious set, and amidst husband Brad Frazee's effervescent lighting designs, the director orchestrates the gleeful nonsense with an energy that never wanes and with spectacular attention to detail. No matter where your eye lands on the North Scott High School stage, Shellee Frazee gives you something weirdly wonderful to look at, and the dance numbers in Seussical's group scenes are joyously kinetic without seeming hyperactive.
They're also, nearly across the board, being performed with a joy to match their creator's. From the "Oh, the Things You Can Think" opener through the "Green Eggs & Ham" finale - which, on Friday, was delivered after an ecstatic standing ovation - Frazee's jubilant routines are happy explosions of color and sound, with the on-stage orchestra (conducted by Keith Haan) playing exceedingly well and the ensemble of some three dozen appearing to delight in the kicky revelry. (It's unthinkable that anyone - cast or audience member alike - could leave this Seussical in a bad mood.)
Christina Marie Myatt, as the haughty, untrustworthy Mayzie La Bird, employs her dynamic singing voice in the service of marvelous broad humor; bustling about in a wondrously tacky feather boa, she's Liza with a May-zie. The blue-wigged Ayla Favati and Emily Briggs perform terrifically enthusiastic silent comedy as Thing One and Thing Two, and Andrew Benson, Jordan Haugland, Kaleb Stebens, and Sam Wagner are fantastically appealing Wickersham Brothers. As the sweetly nerdy Gertrude McFuzz, the gifted, subtly ironic Shae Colett is more touching than anyone wearing Tina Fey glasses and a vibrant purple wig should be.
And as Horton, the magnificently sincere Jack Sweeney is close to perfection. Big-hearted and selfless beyond measure, Horton could easily be a drag on the show (as Sweeney, stuck in a bum script, probably discovered as the title character in Circa '21's 2005 production of Winnie the Pooh). But the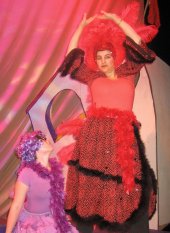 actor's hushed concentration and fervent truthfulness are so engaging here that you focus on Sweeney even when he's tangential to the action, and his vocals are beautifully done; he makes Horton's "Alone in the Universe" refrain (Seussical's prettiest piece of music) more moving every time you hear it.
It was understandable yet unfortunate that many of Friday's youngest audience members were at their most vocally active during Sweeney's numbers, but even the kids' occasional restlessness during the production couldn't dilute this childless grown-up's pleasure. The youngsters may not be aware of it, but if they're starting their theatre-going experiences with Countryside's Seussical, they're starting them well.
For tickets, call (563) 285-6228.