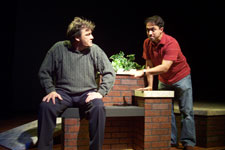 Theatre can be a great escape, but it can also be so much more. In 2006, most of the area's challenging works were presented by the New Ground Theatre, My Verona Productions, and the Prenzie Players, and over the past year and a half, I've had the pleasure of interviewing the impresarios of these organizations: New Ground Artistic Director Chris Jansen, My Verona producers Sean Leary and Tristan Tapscott, and Prenzie founders Cait Bodenbender, John Luxton, Aaron Sullivan, and Denise Yoder.
So, as I'm on a first-name basis with all of them, permit me to direct a few holiday cards their way:
Seasons Greetings, Chris!
Gotta say, so far as my reviewing duties are concerned, what I love most about New Ground is that your play selections really give me the chance to analyze the text, which is often pointless in an area where many audiences have already seen (or at least heard of) most of the shows produced. Of course, that occasionally leads to reviews like the one I wrote for Jacob Marley's Christmas Carol, which was such a bizarre combination of reader's theatre and theatre theatre that the cast looked right to be confused by the goings-on. (I certainly was.)
Yet while I thought the scripts for Boy Gets Girl, String Fever, and The Winning Streak all had their share of problems, too, they were definitely thoughtful, and frequently funny, and sometimes adventurous ... and they certainly gave their actors plenty to work with.
Man, you employed some strong performers this year! The ensembles for Boy Gets Girl and String Fever were uniformly wonderful (with props to Lora Adams and Corinne Johnson, respectively, for the plays' superior direction), and I thought that you guided Pat Flaherty and Jason Platt to exceptional portrayals in that terrific two-man show, The Winning Streak; despite looking and sounding nothing alike, they created one of the most convincing father-son match-ups I've seen in ages.
Overall, I thought it was a topnotch year for the organization, and I can't wait for more in 2007 ... just so long as we don't have to endure Marley 2: Revenge of the Bogle. (Sorry, but that show was seriously nutty.)
Happy Holidays, Sean and Tristan!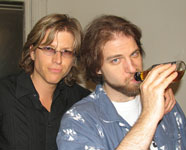 If I have a Christmas wish for you guys, it's that some wealthy theatre-lover will materialize and offer to spring for a venue that isn't ComedySportz. I love the place, too, and I think it's ideal for My Verona productions such as last year's Closer and September's The Nonconformists Double Bill, in which Adam Lewis did a wholly believable Bill Hicks in It's Just a Ride: A Tribute to Bill Hicks, and Jason Conner did an unfortunately less believable Eric Bogosian in Sex, Drugs, Rock & Roll.
But in the past, the venue's narrow space made such works as Your Favorite Band and the Dingo Boogaloos awkward; having action occur throughout the available space is fine, but asking audiences to crane their necks or do a 180 in their chairs to experience it is a bit much. All in all, it seems that your biggest handicap is the venue, which forces the Friday and Saturday performances to begin after 10 p.m., and which didn't give you the technical leeway to present The Pillowman as, perhaps, it should've been.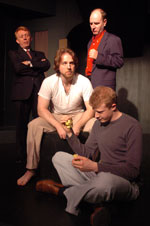 But, hey - any excuse to see The Pillowman is a good one, and damn but that was a superb rendering of Martin McDonagh's script! When you get to see performances the likes of which were delivered by Adam Lewis, Chris Browne, and Tom Walljasper - and your work in the show, Tristan, was amazing - complaints about the space and a late starting time are irrelevant.
So thanks for bringing The Pillowman to the area - and nice job on premiering it several months before Chicago did! I was sorry to have missed Blue City: An Evening of David Mamet, and I didn't catch November's The Santaland Diaries, as I saw it - with the same cast - last November. (It might be a little early in your history for revivals.)
And speaking of early, I'm completely looking forward to April's production of Tuesdays with Morrie, but I beg you not to make us wait until after 10 p.m. to see it. Trust me: Your audience for this show - and I'm one of 'em - is generally in bed by 10.
Forsooth, Prenzies! Thy most joyful of seasons is nigh! Odds bodkins!
(Introductions like this are the reason I don't audition for you guys.)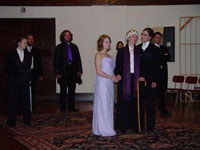 I'll just say it: King Richard the Second was the most extraordinarily fine time I had at the theatre in 2006. Stephanie Burrough gave a dexterous, achingly emotional performance (the best I saw by a female actor all year), the other cast members followed her lead splendidly, and the show itself was an almost absurdly engaging blend of tragedy, comedy, action, romance - everything we go to the theatre for. And, with that clock radio that awakened Richard and his lovers during the prelude, there were even songs!
Richard was so spellbinding that it's almost easy to forget it was your second masterful offering in 2006. But A Midsummer Night's Dream was sublimely passionate and even erotic, and filled with more laugh-out-loud moments than most of the year's other comedies.
In short, I'm so awed by your talents and interpretive skills that I'm in danger of becoming a sycophant, if I'm not one already. So just keep up the beyond-good work with 2007's continuation of The Henriad, and keep experimenting with the seating arrangement at the Masonic Temple, which I thought was sensational for Richard. As exquisite as your shows are, audiences shouldn't be put in the position of having to miss a thing.