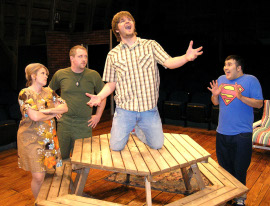 So enough of my opinions already. The following are reflections by Derek Bertelsen, Tyson Danner, Kristofer Eitrheim, Kimberly Furness, Jennifer Kingry, Mandy Landreth, J.C. Luxton, Jackie Madunic, Angela Rathman, Jalayne Reiwerts, Susan Simosky, and Doug Tschopp - local-theatre artisans who enjoyed a memorable 2007.
Two years after director Susan Simosky's and performer Angela Rathman's participation in Richmond Hill's comedy Over the Tavern, they returned to the lower-middle-class world of the Pazinski family for its sequel, King o' the Moon, which - Rathman excepted - featured returning Tavern characters being played by new actors.
Angela Rathman: I was thrilled to find out Richmond Hill Players was producing King o' the Moon, the sequel to Over the Tavern. I love playing Ellen Pazinski. Oftentimes, the thrill of acting lies in playing a character unlike yourself and playing it well. With Ellen, it is more like playing an extension of myself.
It was easy to fall back into the role. I understand her. I respect her. However, there were some difficulties for me during King o' the Moon. I came into the show with a fully fleshed-out character, as well as a firm idea of who Ellen's children were ten years later. My interpretation of the Pazinski children didn't always match the interpretation of the adult actors playing them.
As a mother I have watched the dynamics of my own family over the years. I have different relationships with each of my three very different children, but there has been continuity within each relationship. Ellen and her kids are the same, and I wanted to really sell that continuity in the second show. As an actor, I had to work hard to find reasons (that Ellen could believe) that would justify the changes that were brought by other actor's methods and beliefs. I had to let go of some of my preconceived notions and allow the Pazinski family to recreate itself as an ensemble. In the end, I feel we did that successfully and I'm proud to have been a part of it.

I sincerely hope Richmond Hill includes the last show in the trilogy [The Last Mass at St. Casimir's] in its 2009 line-up. If they do, I'd love to be part of that family again... in one way or another.
* * * * *
Susan Simosky: I love the Pazinski family! Every time I create a world for them to interact in, I feel like I'm coming home to my own family. From the very beginning of these projects it has been vitally important that the actors cast to portray the Pazinski family feel the same way, and actually become a family.
King o' the Moon was an extension of Over the Tavern, and I think that we created a more mature family to work with the darker themes in the sequel. This show was an honor to work on, and it was exciting to see different actors bring these same characters to life in ways that were different, but still totally Pazinski.
At the heart of these stories, regardless of who plays the characters, is a family that is flawed and crazy and one that you want to be a part of. I hope I get the chance to bring to family to life again in the final installment of the trilogy, The Last Mass at St. Casimir's.
Among several designs for the recent production of Charlotte's Web at St. Ambrose University, associate professor and scenic artist Kristofer Eitrheim created a 12-foot by 12-foot web for actress Emily Christiansen to crawl on.
Kristofer Eitrheim: The web design for Charlotte's Web began as a discussion that I had with the director Madeline Dudziak. She told me that she wanted Charlotte to actually climb around on her spider web. My original idea was a painted, two-dimensional web that could light up and be a reflective surface for the stage lights. After Madeline suggested a three-dimensional sculptural web, I got excited about the prospect of having students welding a number of steel structures.
The process for the steel web started with the size. I worked through several looks for the web and ended with a 12-foot square frame with the web coming from the center outward. The web also had to move around stage for the fair scene, so as much as I wanted to secure it to the floor, I couldn't. It was mounted to a rolling platform and heavily weighted so as not to flip over while Charlotte was working on the web.
Part of the design had to also include the words that Charlotte writes in the web. Initially, the director wanted the actress to create the words by hanging yarn or some other material. We quickly decided that was not practical. So lights permanently mounted on the web was the decision that became final, hoping that we could disguise the lights well enough to fool the audience for a while. The stage lighting became important for the web as well. We used moving lights to accent the steel lines and colors to help the painted web look less industrial. The moving lights with colors really helped the web to take on a fun psychedelic appearance.
It was also great that Emily Christiansen was able to work and sing on the structure without any fear - a 12-foot-tall steel ladder on weird angles would be daunting for anyone.
Prior to her performance as Hamlet in Scott Community College's The Complete Works of William Shakespeare [abridged], 18-year-old Mandy Landreth made her debut at the Playcrafters Barn Theatre in another role not undertaken by many young actresses.
Mandy Landreth: For theatre, this has been my best year so far, because I had the chance to not only work with some very amazing people, but also to play two very unusual roles: Sylvia, a dog, and Hamlet, a Dane.
In Sylvia, I played a dog, a very challenging role, yet really fun. I actually had to observe my dog for weeks to get the right energy going. As for my favorite part, I got to do a scene where I freaked out on a cat across the street. Although we did cut some of the more colorful words that Sylvia yelled at the kitty. However, kids and adults alike seemed to thoroughly enjoy the show.
The Complete Works of William Shakespeare [abridged] was a whole different story. Besides the awesome cast, our fabulous director, and our rockin' stage manager (and only technical member), rehearsals were more like a bunch of deranged lunatics running around with limbs cut off throwing words and props everywhere. It was the most energetic play I have done, and if given the chance I would totally do each play over again!
J.C. Luxton wrote the adaptations for the three works in the Prenzie Players' series of Henry plays, titled The Henriad: October, 2006's King Richard the Second, February's King Henry the Fourth, and May's King Henry the Fifth.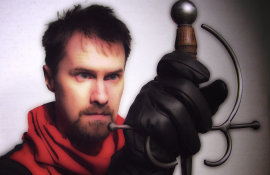 J.C. Luxton: My favorite memory of the whole Henriad was at twenty minutes to curtain on the opening night of King Richard the Second. From behind one of the styrofoam screens used to define our space, I hit the "play" button on a remote control and The Fray's "Over My Head" blasted out of the alarm-clock radio beside the royal bed where King Richard, John Bushy, and Henry Greene lay soundly sleeping. At that, the wind-up toy of our play lurched to life, as if our weeks of rehearsal has been a slow ratcheting of tension until the show had trembled in my directorial grasp like a mechanical bird, crazily straining to escape, and now our whole play, our whole Henriad, had skipped loose at last, kicked itself into motion through and around our audience, to swerve and chatter, strive and die, right up to the applause seven months later at the final curtain call of King Henry the Fifth. That's what hitting that button felt like.
This past summer, recent college graduates Derek Bertelsen and Tyson Danner opened a new theatrical venue, The Green Room, in the District of Rock Island. Their first production was an intimate take on Stephen Sondheim's Into the Woods; their most recent a re-thinking of Rodgers & Hammerstein's Carousel, staged as a performance in the German concentration camp of Theresienstadt.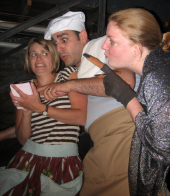 Derek Bertelsen: Opening night for any production is hectic, stressful, and exciting as hell. But the opening of a business! Well, the adjectives used to describe that probably can't be printed here.
Tyson and I signed the lease to the "old Brew & View" on July 9, 2007 and our inaugural production of Into the Woods opened at The Green Room on August 10, 2007 - giving us a month to get the theatre ready for our opening-night audience.
At first, it surprised me how the Into the Woods company took ownership of the project; donating tools, supplies, and their own time and energy to help us get the space ready. But I soon realized that in this day and age, people need to be a part of something, some sort of community where they can contribute their talents for the betterment of others. That idea remarkably paralleled Into the Woods: a group of individuals coming together to better their community.
Whenever theatre can do that - reflect the themes and ideas of the society we are living in - it makes for an amazing experience. I couldn't have asked for a better show to present as our opening production.
* * * * *
Tyson Danner: When we made the decision to add Carousel to our first season at The Green Room, we did so partly because it carried a lot of popular recognition in the general public. That being said, you might think it insane that we decided to implement such an extreme concept as setting the show in a World War II concentration camp.
When making a bold decision in any art, I believe it's important to determine whether or not the choice is justified. In my experience, such choices can be successful when they highlight the foundation of any dramatic work: relationships.
As anyone who saw Carousel will tell you, the relationships and situations in the show were part of what made it so heartbreaking. Could we have produced Carousel the "normal" way? Sure, but why not experiment and bring something new to this living art?
For St. Ambrose University's debuting production of Crème de Coco, Broadway director Phil McKinley - a native of neighboring Avon, Illinois and an Augustana College alumnus - was recruited to direct, and area actress (and St. Ambrose graduate) Kimberly Furness portrayed Chanel.
Kimberly Furness: In the spring of 2007, I was thrilled to get a phone call from my friend Denny Hitchcock at the Circa 21 Dinner Playhouse. He informed me that his former student, Philip William McKinley - the Broadway director of The Boy from Oz, with Hugh Jackman - was coming to the Quad Cities as a guest artist, to direct a new play based on the life of Coco Chanel. He then put me on a 3-way conference call with Phil, who asked me to come and audition for the leading role. Within 48 hours I had auditioned and been cast as Coco Chanel in the World Premiere of a new play titled Crème de Coco that was being produced by the St. Ambrose University theater department.
This project was one of the most challenging and fulfilling experiences of my career. I was working on a brand new piece of literature by acclaimed playwright William Luce, who had written The Belle of Amherst, which starred Julie Harris. It was such a delight to have the playwright available to me to answer questions and help me develop the character. Because the play is still a work in progress, I was often given new lines and scenes throughout the course of the rehearsal period, and even performances.
Phil McKinley was one of the most challenging and brilliant directors I have ever worked with. Phil is truly "an actor's director." His approach to material is very organic. Although he has his ultimate vision, he encourages his actors to explore and play in order to find the essence of the character.
It was challenging playing a character who was an actual person. Phil and I spent a lot of time watching film footage of Coco Chanel and reading documented accounts and interviews in order for my portrayal of her to be truthful and believable. Phil spent lots of time just working with me on her voice and her posture. Although I am physically similar to Coco, our body language is vastly different. Phil kept telling me, "Stop being so damn feminine, this woman had BALLS!" So, I spent a lot of time learning to walk, talk and even smoke like her.
The other challenge came from playing her age. Through the course of the play she ages from 20 to her late 70s. Phil taught ways to develop a character from the outside to the inside. Once I felt comfortable with her physically, the character's inner being and internal struggles came much more easily.
I learned a tremendous amount as an actor through the course of this project and I am able to use it with my own students who I teach as a private acting coach. I am so grateful for the time I had to work with both Phil and Bill. I feel like they gave me the kind of experience every actor craves... a challenge. I feel I am better and stronger at my craft for having had this experience.
Genesius Guild founder Don Wooten retired from active duties after the organization's 2006 season, leaving executive director Doug Tschopp to fill many of his off-stage duties... and an important on-stage one.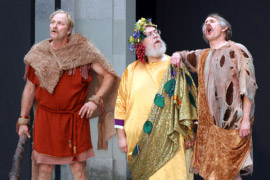 Doug Tschopp: Anyone who has attended a Genesius Guild play over the past 50 years knows that someone (mostly Don Wooten) comes out at the beginning of the play to give an introduction to what you are about to see.
Though I had done some of these intros in the past, 2007 was my first year to do them for every show. I speak in front of audiences often, so I was not nervous, but I knew I would be adjusting the regular audience to my style of delivery - more of a monologue that shapes itself each night on the audience's reaction to my comments and dry humor.
On the opening night I had two shout-outs from the audience, including someone asking, "Who are you?", to which I responded with my name, and that I was their tour guide for season. That is when I knew it was going to be a great season.
In Richmond Hill's production of The Best Christmas Pageant Ever, Jalayne Riewerts found herself directing more than two dozen grade-school participants at any one time, and employing a useful tool in the process: A whistle.
Jalayne Riewerts: The worst part of directing The Best Christmas Pageant Ever was having 61 children audition and having only 15 speaking parts! The hardest thing to do was to break little hearts by not being able to cast them, because every child auditioning had such a look of hope - wanting to be a part of the show - in their eyes.
Crazily enough, I cast 33 children from the age of 5 years to 12 years old. With such an age range, I knew I had to establish specific parameters, so each child signed a contract and knew that when my whistle blew - it really didn't whistle, it shrieked! - it was time to pay attention! (I really hated blowing the whistle, because it probably hurt my ears more than it did theirs!) And I never could have had such a successful production without the fantastic support that I had from my cast's parents.
Before joining Quad City Music Guild's Beehive ensemble this past spring, Jackie Madunic was most recently seen in Playcrafters' production of The Nerd in 2005. In 2007, though, she made up for lost time.
Jackie Madunic: This past year has been nothing short of phenomenal for me. I have learned and grown so much and have met so many wonderful people. I was in five shows, in three different venues (Quad City Music Guild, Playcrafters, and The Green Room). I got to play roles I never DREAMED I would play, from Tina Turner and Dorothy Lamour to a hearing-impaired deaf-mute chef, a classic Tennessee Williams faded Southern belle, and finally, and most recently, I was double-cast as an evil carousel owner and a loving motherly figure in Carousel. This past year has literally been a dream come true for me as an actor. I have loved every minute of it, and I would say to anyone out there who has ever thought about auditioning but thinks they are "too old" or won't get cast... GO FOR IT!!!
The busiest participant in area theatre may well be Jennifer Kingry, a frequent behind-the-scenes participant for the Playcrafters Barn Theatre (where she currently serves as Operations Manager), the Richmond Hill Barn Theatre, Quad City Music Guild, and the Prenize Players.
Jennifer Kingry: After overbooking myself in 2006 (directing one show and lighting eleven), I promised to cut down in 2007. I did, sort of... lighting only nine shows officially, helping on others, acting in one for Prenzie Players, and directing two. But those two shows - Tom Stoppard's Arcadia at Richmond Hill and A.R. Gurney's Sylvia for Playcrafters - had overlapping rehearsal schedules. A serious lapse of judgment on my part! I'd reasoned that, because I had directed Sylvia some years earlier, most of my homework was already done. (Foolish girl.)
I think of Arcadia as the "toughest show I'll ever love." Stoppard is a clever and literate writer who doesn't slow down for the audience. A few of his shows have left me cold, but I've adored Arcadia from first glance. The action takes place in two centuries - ideas developed in one time period are fulfilled in another, and there's back-referencing from future to past. I find it incredibly elegant, witty and, well, satisfying.
Alas, not everyone in the audience felt the same way! We probably had more intermission walk-outs than I've ever seen. But we also had some very enthusiastic comments from people who did appreciate it. Most importantly, the show was gifted with an incredibly talented cast who "got it" themselves and gave their all. I was extremely proud of the production.
Still, it was some relief to turn to Sylvia, a far more straightforward show. The joy of that script is that it's extremely funny without being stupid, it's clever and even poignant. And it's not tough on the audience! It was reassuring to hear the audience laughing out loud. (Doing an Arcadia can leave you wondering, "Okay... am I just way out in left field here?") Again, I was lucky enough to have a great cast and the show was a hit with patrons.
My most significant memory of 2007, however, is not really theatrical. In the midst of the Arcadia/Sylvia madness (on the day of the Sylvia read-thru, in fact) my mother passed away, after over 14 years of Alzheimer's disease. My mom loved the theater and played a large role in helping me get involved as an adolescent. Even after she was afflicted with Alzheimer's, she enjoyed going to shows with me... until she eventually simply couldn't follow them any longer. I was grateful to be able to dedicate two shows I dearly loved this year to someone I loved so dearly.