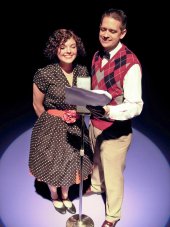 It may seem like an odd thing to praise right off the bat, but in Swinging on a Star - the musical revue currently playing at the Playcrafters Barn Theatre - director/choreographer Cindy Ramos-Parmley delivers some absolutely first-rate scene transitions.
A celebration of famed lyricist Johnny Burke, whose output includes such titles as "Pennies from Heaven," "Misty," and "What's New?", Swinging on a Star finds its seven-person cast performing some three-dozen numbers in a variety of locales, among them a Chicago speakeasy, a '30s-era radio soundstage, and the set of the Bing Crosby/Bob Hope comedy The Road to Morocco. The production's locale switches, though, aren't marked by extravagant set pieces, and, on a couple of occasions, don't even take place during blackouts - and this is where Ramos-Parmley does her wittiest, most cleverly understated work.
The "Annie Doesn't Live Here Anymore" number, for example, is set in a Depression-era urban street, and opens with the male ensemble performing a love ditty to a woman who won't give them the time of day. But over the next few minutes of song, through a wonderfully fluid series of entrances and exits, the scene transmogrifies into that radio-show setting, complete with new characters and wardrobe changes for those already on stage; it's a deceptively simple, ingeniously executed sequence.
Similarly, the Act II conversion that turns a swanky ballroom into the Road to Morocco set is impressively handled: An off-stage director (perhaps Ramos-Parmley herself?) requests that stagehands quickly remove the tables and chairs on the set, as "Bob and Bing" are about to begin shooting - and, while they're at it, could someone please bring on the camel?
These sequences are pulled off with an easy, relaxed rhythm that you don't often experience in jukebox musicals of this sort; Ramos-Parmley's transitions are graceful, polished, and committed. And I'm spending an inordinate amount of space discussing them because they're among the precious few moments in this production that do feel this way. Playcrafters' presentation has charm and technical acumen and loads of goodwill attached to it, but it's all-too-rarely alive; "swinging," sadly, is exactly what the show isn't.
Not that it doesn't have wonderful moments, especially when Jackie Madunic is on stage; of Swinging on a Star's septet, this electric performer is clearly having more fun than anyone else. She delivers sensationally energetic renditions of "Rocking Horse Ran Away" and "Imagination," and her passionate vocals on "Sunday, Monday, Always" prove dazzling - Madunic hasn't fully shaken off the Tina Turner cadences she employed for the Quad City Music Guild's recent Beehive, but in this show's context, you certainly wouldn't want her to.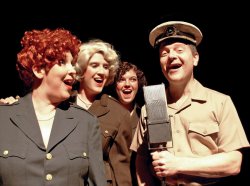 The other cast members are nothing if not genial. Todd Weber, with his endearingly sleepy-eyed grin, is a dapper, lighthearted presence - he's quite nicely cast as Crosby - and Joe Urbaitis has an expressive stage face and even more expressive moves; his best bit finds him as a dancing waiter, happily (and wordlessly) shuffling around his speakeasy patrons. Gregory Golz's clear high tenor and Sara Shaw's perfectly pretty soprano are occasionally put to fine use, while Golz's wife, Jan, starts the show on a good-naturedly bawdy note. (Jan Golz is something area theatre can always use more of: a true, unapologetic dame.) And Alysa Grimes - a hoot in Black Hawk College's fall production of Laundry & Bourbon - has a slinky comedy style and, like Urbaitis, proves a terrific dancer; her Act II ballet routine lent the revue an unexpected grace note.
Individually, the group isn't without skill, even though - at Friday's opening-night performance - numerous solos were waylaid by disastrous pitch problems. (The vocals on more than a half-dozen songs were so flat I found myself literally gritting my teeth.) But the bigger problem is that the ensemble members almost never connect with one another.
Roughly half of Swinging on a Star finds the cast performing solo, but whenever they're asked to perform in a group (even a group of two), the actors don't look particularly comfortable with one another; their frozen smiles look a little desperate. There are exceptions - Jan Golz and Weber have an enjoyable give-and-take on "Doctor Rhythm," and in the one moment that's all theirs, the Golzes smile at each other with obvious, touching affection. But as of Friday, the cast seemed barely to have been introduced to one another, and this deficiency was even more pronounced during the show's rare dialogue sequences; the radio-program and Road to Morocco shtick, with achingly long beats between the actors' badinage, became rather tough to sit through.
It must be said that the show's on-stage band - composed of Jennifer Krogmeier, Christie Laleman, Travis Lopez, and Pete Philhower - played Burke's tunes spectacularly well; their efforts, and the lyricist's oeuvre itself, were reason enough for a visit. And the costumes, coordinated by Kevin Pierce, were occasional scene-stealers, and not for the first time in a Playcrafters production; hardly a show goes by when I don't hear someone in the audience go "Oooo ... !" at the sight of a new gown.
But, Madunic's solos excepted, there was only one number in Swinging on a Star that proved truly thrilling, and fittingly, it was "Swinging on a Star." An explosion of arms, hands, and high spirits, the Act I closer sent the audience into intermission on a joyous note; it was the first number in the production to show the ensemble really clicking as a team. I wish it hadn't also been the last.
For tickets, call (309) 762-0330.