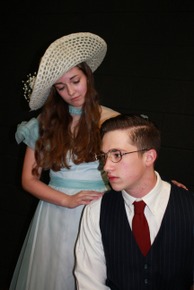 Was it justice or discrimination? That is what you'll likely be asking yourself after leaving St. Ambrose University's production of Parade. It takes a mature, professional cast to pull off a musical centered around racism, bigotry, and murder, but these actors do just that. Director Daniel Rairdin-Hale brings the true story of the trial of Leo Frank and its aftermath to life in such a way that I entirely forgot I was at a student production, and Thursday night's dress rehearsal was as close to show-ready as possible.
This emotional musical tells the tale of a 1913 killing in Atlanta, Georgia. We are taken on the journey of Leo Frank, a Jewish man from the north, and follow the events leading up to and following his trial for the murder of 13-year old Mary Phagan. The role of Leo is one of extreme depth, and actor Sam Jones hits all of its marks. So believable was his confusion and sometimes frenzied emotion that I felt for him with each line of dialogue, and he dominates Jason Robert Brown's challenging score and his role's high vocal register with ease. Jones' most impressive moment, for me, was when Leo snapped into another version of himself - the man as seen from the perspective of a character testifying against him. This change in demeanor was so drastic in contrast with Leo's introverted, nervous true self that all I could say was "Wow." (You will know exactly when this moment comes.)
Parade's main character is guided along by his loyal wife Lucille, played by Kayla Lansing, whose yearning determination is accompanied by a floaty yet supported vocal tone. On Thursday, there was a moment or two in Lucille's solo number "You Don't Know This Man" that just missed the height of power the song could achieve, but Lansing's gorgeous duet with Jones in the second act completely redeemed her and crushed any doubts about her abilities.
The show also provides several perspectives and opinions on who was responsible for the murder of Mary Phagan, giving us nice little snippets of talent throughout St. Ambrose's production. Amelia Fischer plays the teen victim and is both sweet and pitiable, as she should be. Jordan McGinnis' smooth voice and cocky air stands out, for me, as Jim Conley, the night watchman who makes quite a transition by the end of the show. Vince Solis brings a bright, clear tone and raw emotion to the role of Mary's teenage friend Frankie Epps. And Jordan Webster-Moore, who portrays lawyer Hugh Dorsey, is one of the most confident actors on stage, boasting a solid voice and stage presence that demands our attention.
Aaron Hook's lighting design, on Thursday, was "spot"-on, delivering a memorable scene in the second act in which the actors' silhouettes were highlighted on the walls of the theatre. (I lo-o-o-oved this creative frosting on Parade's cake!) Kristofer Eitrheim did an excellent job on the technical side of things with the simple, elegant scenic design, and the timing on all of the set changes was efficient; Eitrheim's use of curtains and rolling pieces kept the pace moving quickly, which was much appreciated. The show's sound, employing microphones and recorded accompaniment, was clear and strong. Although it can be argued that these aspects take away some of the genuine feeling of live theatre, I believe they gave Parade's actors a consistent, clean base from which to work, and the consequent ability to concentrate on the challenging vocals in Brown's score. Meanwhile, Music Director Thea Engelson no doubt helped highlight the vocal strengths of her leads while creating a nice blend within the ensemble.
Parade is a powerful musical that reminds us of the struggles our country's criminal justice system has faced, and continues to face today. It's rare to come across a collegiate show with all of its pieces in place, but Rairdin-Hale's presentation, even at its final dress rehearsal, had all the elements one hopes for when attending theatre. The participants' undeniable talent and professionalism, added to Parade's poignant true story, create a polished, classy production you won't want to miss.
[Editor's note: Author Heather Herkelman will be contributing reviews alongside the Reader's other new local-theatre correspondents Jeff Ashcraft, Dee Canfield, Victoria Navarro, and Brent Tubbs. Welcome, all!]
Parade runs at St. Ambrose University's Galvin Fine Arts Auditorium (2101 North Gaines Street, Davenport) through October 11, and more information and tickets are available by calling (563)333-6251 or visiting SAU.edu/theatre.