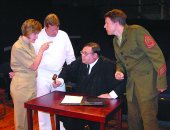 Imagine an episode of TV's The West Wing performed at half-speed, and underwater, and you may begin to approximate the experience of the Richmond Hill Barn Theatre's opening-night performance of A Few Good Men.
I'm exaggerating, of course. But I'm also trying to indicate just how spectacularly Aaron Sorkin's military courtroom drama has been botched with this production; a work that screams for speed and conviction has been presented with neither. The fact that director Joe DePauw's show runs nearly three hours isn't, in itself, a detriment. Your being able to feel every second of those three hours is.
To be fair, this isn't exactly Sorkin's finest offering. Written years before the author honed his talents on Sports Night and The West Wing, A Few Good Men - which concerns an upstart Navy lawyer who defends two Marines accused of murder - is a patchy combination of melodrama and wisecracks, too portentous to be a crackling good time, and too smart-alecky to be taken seriously. It does, however, showcase the playwright's gifts for precisely delineated characters and snappy banter, and features the sort of juicy, barking monologues that performers love to deliver. Sorkin's script isn't a great work, but it's still a pretty great work for actors.
Unfortunately, no one seems to have conveyed that to the Richmond Hill cast. At Thursday's presentation, none of the show's 16 ensemble members appeared happy about being there; line after line was read with dutiful, earnest competence (or less), but with little performance relish and almost no sense of what the dialogue meant. As A Few Good Men neared its climax, the production didn't build in intensity so much as people merely started shouting their lines.
To take the heat off the actors for a moment, the presentation itself was mostly a mess. Technically, A Few Good Men seems an extraordinarily difficult piece to perform in the Barn, as its continual locale changes and occasional flashbacks require both more space and more specific lighting effects than the venue's theatre-in-the-round allows. And you can sense the fluid style that DePauw is going for here, with actors freely traversing between scenes (and time periods), and new locations marked by subtle lighting cues.
Yet on Thursday, those cues were handled so ineffectively that it was often difficult to gauge where and when the characters were at any given time, and a few goofs were impossible to ignore. During one character's monologue, down-lights shined on both him and a front-row audience member on the opposite side of the stage, so we weren't initially sure which of them we were meant to focus on. And the lighting effect that closed Act I - a backlit tableau of an officer standing guard - was so tardy that what was intended as dramatic punctuation practically turned into its own scene.
Slowness, in truth, was the show's running motif. I had a foreboding as to what we were in for before the dialogue even started, with a doleful recording of "The Halls of Montezuma" signifying Seriousness and Importance and A Three-Hour Running Length right off the bat. But I wasn't anticipating the deathly sluggishness of the dialogue rhythms themselves, which wound up killing the gags and neutering the drama. Sometimes it seemed that actors had been directed to speak as deliberately as possible - the weighty utterances of Nicholas Waldbusser, as the accused Lance Corporal Harold Dawson, were so consistent that they eventually felt right for the character - but in most cases, the torpor didn't feel intentional. It felt like the actors were in mortifying fear of forgetting their lines.
I have no way of knowing whether cast members were as ill-prepared for opening night as they appeared. But nearly actor for actor, all you could sense was the panic behind the readings; even when deliveries felt committed - and they occasionally did - the pauses between exchanges gave them away. (Everyone here seems to have barely memorized the material.) The performers, none of whom made a true connection with their co-stars, displayed a discomforting lack of confidence, and I watched the show with apprehension and dread not because of Sorkin's script, but because I was waiting for a dropped line to stop the show cold.
Let it be said, at least, that Greg Kerr and Don Hazen had relaxed and conversational moments, and Renaud Haymon's delivery of the line "Ten minutes is up" was so naturalistic that, in this production, it seemed like a mistake. I'd call his reading the most honest sound in this A Few Good Men, except it was topped by the ones coming from the gentleman sitting two rows in front of me. He was snoring.
For tickets, call (309) 944-2244.