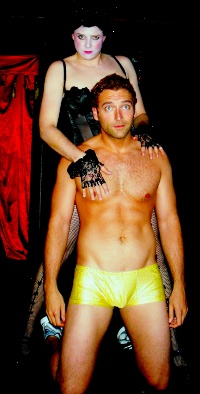 I had a great time at Thursday night's performance of The Rocky Horror Show at the Harrison Hilltop Theatre. I laughed, quite hard at times, and sang along (in my head, so as not to annoy those around me), and almost jumped to my feet to do "The Time Warp." The group of 50- and 60-year-old men and women in the crowd did dance along, as well as throw rice, toilet paper, and other items at the appropriate times, all of which upped the fun ante. Still, Harrison Hilltop's show could use a bit more of something to take it over the top and make it more memorable. Actually, it's more accurate to say it needs to lose something: inhibition.

Director Dave Mahl's production certainly exudes its own personality, with several deviations from the norm, in its telling of the familiar sci-fi, B-movie horror tale of a decadent transvestite who makes a boy toy for himself and unleashes sexual freedom in two goody-goodies. Cast members shout some of the traditional audience-participation lines (which helped on Thursday night, as the group that threw things vocalized only one such line during the show.) And almost all of the costume designs are distinctly unique to the Hilltop's offering, as are some of the characterizations - particularly Annie Walljasper's Columbia, who emerges as a strong-willed but sentimental woman, rather than a weirdly voiced airhead.

While the production is raucous fun, though, it's not decadent enough. Most of the cast members seemed close to the edge of completely reveling in the debauchery that is Rocky Horror, but few were able to fully do so beyond a moment here and there, if at all. They certainly seem to be enjoying themselves, belting their way through writer and composer Richard O'Brien's much-loved tunes. Barring a few moments, however, the actors here hold back just a bit, almost as if they're unwilling to let go of that last little piece of self-conscious ego and turn themselves over to absolute performance pleasure, taking their characterizations into chaotic, sensual, uninhibited territory.


Cari Downing, as Janet, reaches that point while performing the song "Touch-A-Touch Me." Aided by Kelly Lohrenz's almost too-effectively-sexual choreography, Downing's characterization climaxes with a strong sensuality that's quite, well, hot. (And it helps that the Rocky Horror she's manhandling - with his jaw-dropping musculature, tanned skin, and gorgeous face - is played by Justin Droegemueller, who nails Rocky's dimwitted nature.) Reader employee Chris Walljasper pulls off the one-note nerd-boy, Brad, fantastically well, and gets extra points for spending much of his time on stage in nothing but his tighty-whiteys. Lohrenz, Bryan Tank, and Sara King are among the best singers I've heard cast as Magenta, Riff-Raff, and Eddie/Dr. Scott, respectively. (Lohrenz's "Science Fiction/Double Feature" and King's "Eddie's Teddy" are particularly notable.) Yet even given their sensational moments on stage, the cast is, overall, just slightly subdued, and not quite fully committed to the cult classic's lasciviousness.


Except, that is, for Tristan Layne Tapscott, who manages to attack the role of Frank 'N' Furter with true abandon. I'll admit that I had concerns when I first heard Tapscott was taking on the iconic role. His usual brand of comic delivery is one I admire, with its touch of awkwardness and pinch of ad-libbed moments. Yet while Tapscott was notably good as Riff-Raff in last year's Harrison Hilltop production of Rocky Horror, I feared he wouldn't be a good fit for Frank. In hindsight, my fears were unfounded, as Tapscott enters the stage with a high energy that doesn't diminish for a moment until his character's demise. His Frank is his own, as Tapscott seems to relish being in heels and corsets, enjoying the freedom to put it all out there and revel in the character's indulgent nature. (Tapscott also manages to fit in quite a few of his own additions to the script, with retorts - pre-planned or otherwise - that had the audience in stitches.)

While the Harrison Hilltop Theatre's The Rocky Horror Show could be more remarkable than it is given a fuller, more consistent lack of inhibition, it's still quite thrilling. I certainly had fun watching the show... as did that older group sitting in front of me.

For tickets and information, call (563) 449-6371 or visit HarrisonHilltop.com.