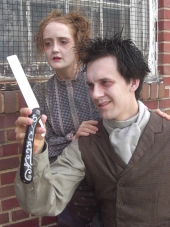 There were a fair number of shocks at Saturday's presentation of the Clinton Area Showboat Theatre's Sweeney Todd, the Demon Barber of Fleet Street. But one of the biggest came before the show even started: When the house lights dimmed, I looked down from my chair in the Showboat's balcony, and gazed upon ... nearly a half-dozen rows of completely unfilled seats.
My first reaction was bewilderment verging on exasperation: Oh, come on, I thought, it's Sweeney Todd, people - where the hell is everyone? (If forced to choose, I'd name Stephen Sondheim's and book-writer Hugh Wheeler's 1979 collaboration my favorite musical of the past 50 years.) Yet my initial surprise at the modest turnout was nothing compared to my surprise after the show ended, because after its Thursday-night debut, I couldn't believe that news of just how astonishing this production was hadn't caused every last ticket to be snapped up immediately.
Maybe you think an evening of complex harmonies, tongue-tying lyrics, and questionable meat pies won't be your cup of tea. Maybe you think there's no way the Showboat can do justice to this musically (and scenically) intimidating masterpiece. Maybe you're merely Sweeney Todd-ed out after the release of Tim Burton's film version. But there are still two weekends left in the run, and if you have even the faintest interest in musical theatre, you owe it to yourself to catch director Craig A. Miller's hugely entertaining, altogether remarkable take on this stage classic. (And if your only familiarity with Sweeney Todd is through Burton's movie, you owe it to yourself to hear what Sondheim's score sounds like when it's sung properly.) During his pre-show announcements, Miller acknowledged a patron who'd returned that night for his third viewing of the Showboat's production, and the gentleman's devotion makes perfect sense: It's the sort of thrilling experience you want to see, and share with others, as many times as possible.
I may as well begin with the set, and as extraordinary as scenic designer Jesse Dreikosen's achievement is, I could also easily end with the set. A fantastically functional three-tiered playing area, Dreikosen's creation is both utilitarian (the top floor doubles as Sweeney's barber shop and Johanna's bedroom) and, despite the squalor, unexpectedly lovely (an asylum window appears as if from a dream), and it boasts applause-worthy details; the means by which Sweeney's victims slide from the attic to the basement is a bit of scenic-design genius. With Gary C. Echelmeyer's moody, startlingly effective lighting and Sonia Elizabeth Lerner's ravaged, Victorian-gone-to-seed costuming adding to the air of morbid decay, Sweeney Todd outdoes any of the 20-odd Showboat productions I've seen for sheer visual splendor. The stage may be intimate, but the designers lend it previously unimagined grandeur.
The performances are every bit as grand. No roles here may be tougher to execute than those of young lovers Anthony and Johanna - surrounded by such exhilarating decadence, these sweethearts can come off as simps - but Joshua Estrada and Alison Luff, with their bewitching vocals and magically unforced sincerity, are never less than captivating. Christina Stroup offers a powerhouse turn as Sweeney Todd's mysterious beggar - her pitch-perfect, anguished belting shakes the theatre - while Zach Borja's Pirelli, Ryan Nelson's Beadle Bamford, and Karl Wolf's Judge Turpin revel in their unapologetic sleaziness. (Wolf's self-flagellation scene, though, could stand to be more violent; Turpin's whipping looks less painful than ticklish.) Mitchell Grego delivers a well-sung and spectacularly well-acted Tobias, never better than during the heart-wrenching "No One's Gonna Harm You," when his slow-witted urchin senses the depths of Sweeney's depravity.
And what glorious depravity! Echoing two of his famed precursors in the role, Blake Adams' Sweeney provides the macabre stillness and chiseled handsomeness - and Susan Sontag-y wisp of gray hair - of Johnny Depp and sounds uncannily like George Hearn, but he exudes a malevolent lunacy all his own; Adams listens to others with half an ear, as if distracted by eight different conversations going on in his head, and his quick, bright smiles pop out of nowhere. It takes a while to adjust to the actor's shrewd underplaying, yet once you do, he's riveting, and Dallas Milholland's Mrs. Lovett is even more than that - the adjective that comes most readily to mind is "flawless."
Physically inventive, outrageously funny, achingly poignant, and a musical-comedy dynamo, to boot, Milholland is beyond exquisite. The moment when Mrs. Lovett realizes what must be done about the too-curious Tobias is a miracle of conflicting thoughts and emotions, and her renditions of "The Worst Pies in London," "By the Sea," and, with Adams, "A Little Priest" are breathtakingly fine. I wouldn't be surprised to learn that she was the reason that three-time attendee attended three times.
But with its terrific live orchestra, its ensemble lending passionate support, and Miller's supremely evocative and fluid staging making 170 minutes absolutely fly by, it's hard to imagine what about this Sweeney Todd wouldn't be deserving of a return trip.
For tickets, call (563) 242-6760.