BILLY ELLIOT
Billy Elliot, the British coming-of-age comedy/drama that has finally opened wide after a successful art-house run, is for anyone who longs to see a strong, simple story finely detailed and exquisitely performed.
And coming at the tail end of a uniquely terrible year for movies, is there anyone who doesn't? Though it triumphs over its basic set-up - the movie has been described by some in the press as Flashdance meets The Full Monty, and as dreadful as that sounds, it's not entirely inaccurate - it's an easy film to over-praise, leading people to expect a masterpiece when it's merely a slight, touching tale very well told. I urge you to see Billy Elliot, but be aware that the movie isn't necessarily above the Hollywood norm (well, this year it is); it's what should be the Hollywood norm.
Set in Northern England, the film introduces us to 11-year-old Billy (Jamie Bell), a working-class youth who grudgingly heads off to boxing lessons each week at the insistence of his father (Gary Lewis), who, along with his eldest son Tony (Jamie Draven), is suffering through the financially disabling 1984 coal miners' strike. One day, though, Billy espies a ballet class in the gym, and a whole new world opens to him; Billy finds himself enchanted by the joy and grace of it, and begins taking secret lessons with the gruff, chain-smoking Mrs. Wilkinson (Julie Walters). The drama in the film comes from Billy's internal struggle over whether or not his love of dance, particularly in the eyes of his father and brother, makes him a "poof"; the film's comedy comes from there, too.
This situation, while hardly novel, is brought to often-rhapsodic life by first-time director Stephen Daldry. Daldry has, I think, the good sense to film Billy's dance scenes with a slightly heightened touch; they feel unreal, like something out of a '30s musical, and contrast sharply with the ugliness of Billy's real life of squalor. You can see in an instant what dance means to Billy, and why he's willing to sacrifice his home life for the chance to practice it. Credit for this goes to Daldry, of course, but even more to Jamie Bell, who proves to be a wonderful dancer and a rather extraordinary young actor. He has a face that can contain all the misery and frustration in the world, and when he smiles - due to the nature of the material, not as often as you might hope - it's a sight of uncommon euphoria. He's marvelously free of the cloying fakery that hinders so many child actors, and he roots the film in realism. (He's a British Haley Joel Osment.)
The most undercooked aspect of Billy Elliot is the script by Lee Hall, which can't quite rise above its underdog-success-story clichés, but he writes a lot of funny, snappish dialogue for the actors to work with, and Daldry has assembled a first-rate ensemble. Julie Walters hasn't had a big, audience-pleasing role like this since 1983's Educating Rita, and she's a joy to rediscover, tough-as-nails and no-nonsense. Gary Lewis and Jamie Draven flood their roles with anger and heartache. The coal miners' strike might be a subplot, but it affects their every nuance and gesture; the two actors even manage to make their eventual, somewhat unbelievable changes of heart feel believable. Despite the script's glitches, Billy Elliot is a sensational entertainment, filled with the joy of dance, which isn't all that different from the joy you can occasionally get from movies like this one.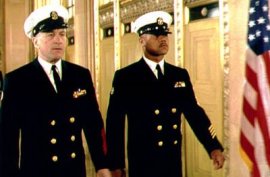 MEN OF HONOR
God love him, but Cuba Gooding Jr. is so busy emoting his heart out in the Navy drama Men of Honor that he doesn't allow the audience to feel an honest emotion for themselves. Playing Carl Brashear, America's first African-American master diver, Gooding suffers, sweats, cries, rails against his ranking officers, and above all, stands resolute in his moral superiority as he faces one personal and professional challenge after another. None of this is inappropriate given Brashear's circumstances; however, Gooding works at the role so strenuously that you quickly realize it's beyond him. He's often an ingratiating, likable performer, but he's saddled with a rather pipsqueaky voice and no sense of authority. In Men of Honor, he's trying to play an honest-to-God hero, a man of staunch conviction and integrity, and the trying is all you see; nobility and fortitude just don't come easily to him. Terrific in comedy, Gooding was most ideally cast opposite Tom Cruise in Jerry Maguire because, skin color aside, they're basically the same actor - competent, overly eager to please, and more than a tad predictable.
That pretty much describes Men of Honor, too. In his slightly fictionalized docudrama about the real-life Brashear, director George Tillman Jr. lumbers from one rite of passage to another - the initial contempt Brashear's Naval colleagues have for him, his near-superhuman strength and endurance in physically grueling tests, his courtship with a fetching, fey young woman (Aunjanue Ellis), the grudging respect eventually bestowed on him - and no matter how true-to-life these situations might be, they feel pulled directly out of Screenwriting 101. The movie, like its star, isn't all that bad; it has a few moments of excitement, particularly when Brashear braves a near-fatal accident, and its heart is most definitely in the right place. (Bill Cosby is one of the executive producers, and with the exception of the bad guys' harsh language, you feel his warm 'n' fuzzy hand guiding the film throughout.) But the only times I really perked up were when Robert De Niro, as commanding officer Billy Sunday, took over the screen.
Most everyone agrees that De Niro hasn't had a really, really good role since the days of Taxi Driver and Raging Bull, which made him justifiably legendary, but it's still amazing what he can do with a bare-bones role when he wants to. His Billy Sunday is a purely stock character - the vile, piggy racist who goes on to have a change of heart - but De Niro invests him with so much history, barely masking a brittle, wounded pride and contempt for changes in his Navy, that it's a minor miracle, proof of what a great actor can bring to a stereotypical role. (In a few brief scenes, he's almost matched by Charlize Theron, finally showing some Angelina Jolie-esque fire as Billy's miserable, drunken trophy wife.) Men of Honor might have been intended as a Cuba Gooding Jr. showcase, but De Niro is the one you end up saluting.