Friday, September 24, 11:30-ish: I attend a morning screening of You Again, and pretty much know what I'm in for as soon as the Touchstone Pictures logo appears: a brightly lit, jauntily scored, aggressively manic entertainment with plenty of "heart" and no laughs whatsoever. (I half-expect a Tim Allen cameo, but instead get a Dwayne Johnson cameo, which probably should've been more expected.)
It turns out I'm wrong. There actually are a few laughs, courtesy of Sigourney Weaver, doing a witty riff on her Working Girl monster, and Kyle Bornheimer, delivering a rehearsal-dinner toast that's simultaneously poignant, pathetic, scary, and hysterical. The rest of director Andy Fickman's comedy of warring (former) high-school rivals is a broad farce lacking in energy and invention; the slapstick ranges from tired to embarrassing; and most of the performers - including Kristin Bell, Jamie Lee Curtis, Victor Garber, Kristin Chenoweth, and Betty White (who should really give it a rest already) - simply go through the motions. I am, however, caught off-guard by the scene that finds Weaver and Curtis waging war in a swimming pool. With the stars of Aliens and True Lies submerged in water, and Weaver previously described as looking "computer-generated," were You Again's filmmakers not-so-subtly sucking up to James Cameron?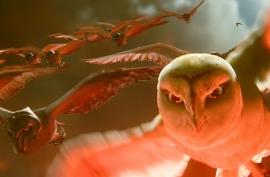 1:15-ish: I'm not seeing it in 3D (aw, crap!), but it's time for the animated adventure Legend of the Guardians: The Owls of Ga'Hoole. I'd write more about the experience, but the title has eaten up much of my word count. Jesus, this movie is weird. I'd read the film described as "Happy Feet meets Lord of the Rings," but it's more "Happy Feet meets 300," which shouldn't be surprising considering its director is Zack Snyder. You might not think the swords-and-sandals auteur would find much opportunity for clanging metal and stylized, slow-motion, CGI violence in a "family-friendly" tale of feisty owls battling for avian domination. Yet that's exactly what's in store; given the portentous dialogue, blaring soundtrack, and almost unremitting grimness, Ga'Hoole is like a cartoon 300 without Gerard Butler and homoeroticism. There are a few arresting images, and the animation is extraordinary, but my brain turns to mush upon hearing silly yet humorless bromides ("Follow your gizzard") spouted by winged characters named Ezylryb and Otulissa and Kludd, and I only manage to stay alert by playing Guess That Celebrity Voice. Geoffrey Rush, Sam Neill, and Helen Mirren? No problem. Jim Sturgess, Hugo Weaving, and True Blood's Ryan Kwanten? Who knew?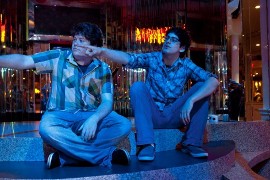 2:45-ish: Its trailer was awful, but I'm still curious to see The Virginity Hit, in which writers/directors Huck Botko and Andrew Gurland fashion a raunchy teen sex farce exclusively through (staged) documentary-style footage. Hey, if it worked for The Blair Witch Project and The Last Exorcism, it might work for this ultra-low-budget outing, right? Wrong. You may not realize how much filmmaking savvy - or even competence - is required in an American Pie-esque lark until you sit through one without it; barring a few clever interjections by the debuting Zack Pearlman (reminiscent of a schlubbier Jonah Hill), The Virginity Hit is terribly lit and composed, which was to be expected, and terribly written and timed, which wasn't. (Among the producers are Will Ferrell and Adam McKay, founders of the comedy Web site Funny Or Die. This film Dies.) I credit Botko and Gurland for trying something new with an over-familiar genre, but the movie is no more impressive for being sort-of-novel, and gets docked extra points for making viewers - at least this viewer - as shallowly beauty-conscious as its leads. The movie's girls are cute, but the guys made me long for the rugged Hollywood handsomeness of Seth Rogen, Martin Starr, and Jay Baruchel. Yeah, I know.
5-ish: After a quick bite, I'm catching Wall Street: Money Never Sleeps. And I don't know if the sandwich and momentary escape from the cineplex helped, but I find Oliver Stone's sequel smart, gripping, and a really great time - which is pretty unanticipated, considering how little of it I actually understood. But if you, too, find your eyes routinely glazing over during lengthy discussions about finance, know that this tale of corporate chicanery in post-Gordon Gekko America is blessedly easy to follow (Shia LaBeouf = Good Guy, Josh Brolin = Bad Guy, Michael Douglas = Good Bad Guy) and directed by Stone with thoughtfulness, speed, and exquisite visual panache. Like too many women in Stone films, the lovely, eternally teary-eyed Carey Mulligan is a serious drain on the fun, but there are sensational supporting turns by Frank Langella and Eli Wallach, and Douglas' confidence and élan in his iconic role is truly something to see; although his Gekko is less of a bastard than he was 23 years ago, Douglas' obvious sense of actorly joy is as ripe as ever. In the end, Money Never Sleeps is a talky movie that plays like a thriller, and it's a total kick.
7:30-ish. I arrive home, grateful that I'm done with movies for the day ... and find my Netflix rental of Michael Douglas' Solitary Man sitting in my mailbox. I'm seriously tempted.