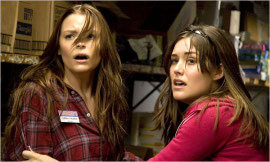 MY BLOODY VALENTINE 3-D
You can assume you're in good hands at a modern horror movie when, within its first couple of minutes, that grizzled, '80s-scare-flick veteran Tom Atkins (he of The Fog and Creepshow and Halloween III: Season of the Witch) shows up as a scowling local sheriff. You pretty much know you're in good hands when the very first thing that Atkins growls, upon finding himself ankle-deep in holiday-themed carnage, is "Happy fuckin' Valentine's Day!" And if, by some miraculous happenstance, you get to watch this seminal genre moment occur while wearing 3-D glasses, to boot... . Well, I've seen better movies than My Bloody Valentine 3-D recently, but bless its forcibly-removed heart, I can't remember the last one that made me feel - in a good way - like a 13-year-old again.
It's easy to wish the movie were scarier. Based on a 1981 slasher pic of the same name, director Patrick Lussier's revamp finds a pickax-wielding psychopath mowing down the populace in the God-fearing town of Harmony (in the film, a TV newscaster actually calls it "the God-fearing town of Harmony"), and the jolts, many of them incorporating rather unconvincing CGI, are pretty obvious ones. Yet what MBV3D lacks in intensity is handily made up for in cheerfully demented fun - from the wickedly outré opening killings to the sequel-ready perfection of the closing shot - and in a great surprise, it's beautifully photographed and more-than-acceptably acted; Jensen Ackles, Jaime King, and Kerr Smith, all of whom are blandly pretty, make for an unexpectedly potent and empathetic leading trio. (For his part, Smith appears to be having a terrific time channeling Leonardo DiCaprio.)
And then there's the motel scene. I'm not sure if you've heard about the motel scene yet, and I certainly don't want to be the one to spoil its effect, but suffice it to say that the sequence in question involves the killer, a trucker, a dwarf, and a naked woman running through a parking lot in stilettos, and that for five solid minutes, the film goes beyond mere (comic) exploitation and enters an almost surreal realm of horror-trash performance art. In a few years, it's entirely possible that Lussier's movie will barely be remembered. But it's going to be awfully tough to forget the sight of Selene Luna dangling from an overhead light fixture, or Betsy Rue - in all her 3-D splendor - warding off a murderer while wearing nothing but heels; for fellow genre fans, My Bloody Valentine 3-D is a film to make your inner 13-year-old positively rejoice.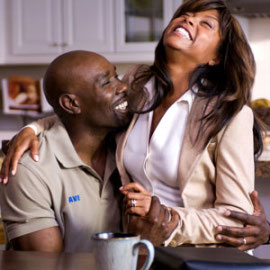 NOT EASILY BROKEN
Director Bill Duke's comedy/drama Not Easily Broken - in which an unhappily married couple reassesses their relationship after a violent car crash - is oftentimes like an African-American take on American Beauty, complete with numerous scenes of unrequited romantic longing, an unexpected fatality, and an erotic dream sequence that finds its lead showered with red rose petals. (Seriously.) And there are certainly moments during the movie when you feel it trying a little too hard to snare a Best Picture Oscar, or at least a Golden Globe, of its own; there are angry outbursts and grief-stricken caterwauls and copious amounts of tears, and a climactic mother-daughter face-down that would shame the producers of Terms of Endearment. Yet taken on its own, proudly non-secular terms, Not Easily Broken is perfectly fine, and given its cast, oftentimes better than fine.
Morris Chestnut is so commanding and charismatic, and such an effortlessly strong actor, that it's difficult to understand why he hasn't become a bigger Hollywood star. Playing the limited stereotype of the unfairly wronged saint, Chestnut nevertheless holds the film together with authority, style, and deep sincerity, and although her character never really makes a lot of sense, Taraji P. Henson provides him with a fantastically robust sparring partner. (Audiences familiar with Henson only through her turn as Benjamin Button's adoptive mama should check out Not Easily Broken - or, better still, Baby Boy and Hustle & Flow - for a true sense of the dynamism she's capable of.) Jenifer Lewis, in her umpteenth role as a harridan, is a mostly shrill, unappealing presence, but Eddie Cibrian and Maeve Quinlan offer honest, admirable support, and Kevin Hart, portraying a henpecked husband prone to inappropriate crying jags, is really something, an unfailingly hilarious presence in a movie that too often slips into melancholy. Whenever Hart shows up to shake the sentiment out of this modestly engaging, overly earnest tale, nothing about the movie feels the least bit broken.
DOLPHINS
The latest big-big-big-screen adventure at the Putnam Museum & IMAX Theatre is the MacGillivray Freeman edu-tainment Dolphins, and you may be wondering if the movie's any good. Does it matter? It's 45 minutes spent swimming with dolphins and hanging out in tropical climates - in January. Why aren't you at the Putnam right now?
But, yes, actually, the movie is quite good. (And I'm apparently not alone in this opinion; Dolphins' current Putnam engagement is the result of its being named the "Quad Cities' Choice" during last year's "Everyone's a Critic" series.) Directed by Greg MacGillivray, it's an informative, incredibly genial piece of work, and a stunningly well-photographed one; the underwater shots, in particular, have an almost thrilling clarity. Yet it's the dolphins themselves that make this nature doc such a continual treat. Whether playing ball with marine biologists or communicating through a fascinating series of chirps and clicks, these gloriously photogenic creates are endlessly watchable, and you might find yourself giggling at just how freaking smart they appear to be; the sequence wherein two dolphins "collaborate" on a new Sea World routine, which they pull off to perfection, makes them appear considerably more intelligent than many stars of major motion pictures. Boasting some first-rate animation and a happily bouncy score featuring songs by Sting - which, given the artist's "I Need You Like This Hole in My Head," was likely a fait accompli - Dolphins did take its sweet time getting here, as the film received an Oscar nomination for Best Documentary Short eight years ago. It was definitely worth the wait, though, and the film will likely prove a particular pleasure for those convinced that humans are more like dolphins than any other mammal; the movie's narration tells us that "adult females vocalize three times as often as males," and that males perform the mating ritual so speedily that "if you blink, you'll miss it." Well, duh.