25TH HOUR
I wish my schedule had allowed me to catch Spike Lee's 25th Hour sooner, as I would have happily spent the last two weeks extolling its merits to everyone I saw. (It ends its run at the Quad Cities Brew & View on April 17.) The film, wherein a convicted drug dealer (Edward Norton) spends his last free day in New York tying up loose ends among family and friends, is probably Lee's most passionate, exemplary work since 1989's Do the Right Thing. Though the movie showcases Lee's trademark anger, profane humor, and uncommon vibrancy, what sets the film apart from his usual fare is its sadness; it has an aura of melancholy that keeps the director's more bombastic impulses in check. (He even pulls off a beauty of a lullaby ending, one which, in lesser lands, could have been disastrous.)
The genius of 25th Hour is that it isn't just a eulogy for misspent youth, but, as it takes place in a distinctly post-9/11 universe, for New York City itself. There's an astonishing one-take scene in the film where Norton's best friends, played by the superb Barry Pepper and Philip Seymour Hoffman, have a conversation in an apartment that directly overlooks Ground Zero - Lee's exquisite framing makes you unable to take your eyes off the destruction site, but the point of the sequence is that Hoffman's character, seen at the side of the screen, can't take his eyes off it either; this is clearly a city still in shock at the chaos it has endured, and that chaos affects everything the film's characters say and do. (Documentaries aside, 25th Hour is the most honest depiction of the city we've seen in recent cinema.) In addition to Pepper and Hoffman, the film is splendidly performed by Norton, Rosario Dawson, Brian Cox, and Anna Paquin, whose familiar child-whore routine has never been more biting; David Benioff's screenplay, based on his novel, is terse and terrifically structured; and all throughout, Lee's direction is eloquent and surprisingly self-effacing. Whether on video, DVD, or in its last days at the Brew & View, it's unmissable.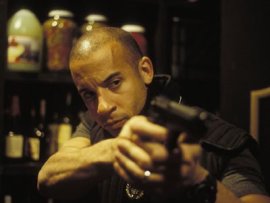 A MAN APART
A movie like 25th Hour can make you feel incredibly grateful to be living in an area where the best films of the year oftentimes make their debuts the following year. Here's a list of 2002 titles that first hit Quad Cities screens in 2003: Chicago, Bowling for Columbine, Adaptation, The Hours, Confessions of a Dangerous Mind, Real Women Have Curves, Far from Heaven, The Pianist, Rabbit-Proof Fence, Talk to Her ... can you name a 2003 release that, in overall quality and entertainment value, even comes close to matching them? We all know it's customary for studios to unleash their blockbusters in the summer and their prestige pics in the winter, but even given that, this year has been ridiculous; until the arrival of that crackling little thriller Phone Booth (which, ironically enough, was scheduled for release long before January), my favorite film of 2003 was Final Destination 2, and that just ain't right. (And this doesn't appear to be mere critical snobbery, either; among friends and acquaintances, even bona fide hits such as Daredevil and Bringing Down the House have been met with a collective shrug.)
In entertainment-starved times, it's ridiculously easy to over-praise; what other excuse could there be for my leaving a screening of A Man Apart and saying to myself, "Hmmm ... not bad"? Well, of course it's bad - F. Gary Gray's revenge melodrama incorporates every hackneyed plot device in the book and invents a few more along the way - but Lord knows it could have been worse. The film displays sharp editing and Gray elicits nice work from Timothy Olyphant, Geno Silvia, and particularly the live wire that is Larenz Tate; A Man Apart is harmless, kinetic genre trash. It would have been even better - yet probably never released - had anyone other than Vin Diesel played the lead. I understand that many people love this action stud, and I have no beef with that, but unfortunately this role also calls for him to express inner turmoil, despair, and a despondency-induced madness, and ... well, let's just say that inner anything calls for a level of subtlety Mr. Diesel doesn't yet possess. His anguish is another actor's constipation.
DYSFUNKTIONAL FAMILY
Audiences can have similar "Hmmm ... not bad" fun at Eddie Griffin's DysFunKtional Family, even though the movie is a mess and Griffin's material isn't very strong. This taped concert performance features way too many reaction shots of audience members doubled over laughing - always at the exact moments Griffin's routines are at their least amusing - and the interspliced scenes of Griffin returning to his boyhood home continually interrupt the movie's flow. However, these off-stage scenes of Griffin and his family give DysFunKtional Family a warmth that's unexpected amidst all the dirty jokes, and you wind up liking Griffin more and more as the film progresses. And even though his standup is pretty tired - some Pryor here, a little Eddie Murphy there - there's no denying that Griffin performs his act with a verve and abandon that's enormously winning. I didn't laugh a lot at the film, yet I smiled far more than I would have expected.
ANGER MANAGEMENT
But enough of lukewarm responses; from where will full-fledged cinematic greatness come these days? For many, it will be from Adam Sandler and Jack Nicholson and their new comedy Anger Management. This movie is so High Concept it's practically celestial: Sandler's repressed, put-upon dweeb is assigned to attend therapist Nicholson's anger seminar, and before long, poor Adam is stuck with crazy Jack 24/7. You can imagine the studio's money-crunchers tallying up the movie's profits before filming even began, because even for someone who generally can't stand Sandler's comedies, this one sounded close to inspired.
And close-to-inspired it remains. Every element of the Sandler oeuvre that I hate - the predictability, the dopey gags, the overbearing score, the unfunny cameos from nonactors, the embarrassing denouement - is in its place, and Peter Segal's direction is beyond amateurish; it's as if he's never seen a movie, let alone directed one. But against all logic, this one nearly works. This is due, in no small part, to the premise, but also because, for once, Sandler isn't the whole show. Nicholson employs his full-throttle, deranged Jackness here - he can even make his pronunciation of "wildebeest" hilarious - and appears to be having a high old time, and the fine supporting cast is well-used; Marisa Tomei is dreamy in the token-girlfriend role, and Kevin Nealon, John C. Reilly, Lynne Thigpen, Heather Graham, Woody Harrelson, John Turturro, and Luis Guzman are all allowed their laughs. And coming from someone who'll probably never find Sandler himself funny, I must admit I watched his performance in Anger Management and thought: Hmmm... not bad.