GROWN UPS
In basic outline, director Dennis Dugan's Grown Ups is similar to last autumn's Couples Retreat, that witless, odious comedy in which a gaggle of Hollywood stars enjoyed a luxury weekend on a tropical isle and demanded that audiences pick up the tab. (More than $100-million worth of ticket buyers actually did. Staggering.) Beyond their locales, though, the main difference between them is that Couples Retreat starred Vince Vaughn, Jason Bateman, Jon Favreau, Faizon Love, and Malin Akerman, while Dugan's film top-bills Adam Sandler, Kevin James, Chris Rock, David Spade, and the entertainment vacuum known as Rob Schneider. Was this Happy Madison production - written by Sandler and Fred Wolf - going to pull off the borderline-miraculous feat of being the lesser of the two movies?
Surprise! It's not. Bigger surprise! It's not even terrible. Grown Ups is just run-of-the-mill poor, which, given the film it could've and probably should've been, has to be considered a major victory.
The plot, for lack of a better word, finds its comic quintet experiencing varying degrees of mid-life dissatisfaction: Sandler's Hollywood agent is the father of three over-privileged kids and husband to a brittle fashion designer (Salma Hayek); James' unemployed schlub has two kids of his own and a spouse (Maria Bello) who cheerfully breast-feeds their four-year-old son; Rock's stay-at-home dad is under the dictatorial thumb of his pregnant wife (Maya Rudolph) and flatulent mother-in-law (Ebony Jo-Ann); Spade's scuzzy lothario is frequently drunk and occasionally (and unfortunately) pants-less; and Schneider's New Age weirdo is thrice divorced, the absent father of three daughters, and newly married to a septuagenarian (Joyce Van Patten). Following the death of their beloved middle-school basketball coach, these five lifelong pals - with all of their spouses and kids in tow - decide to share a lakeside cabin in New England over the Fourth of July weekend. Let the hilarity ensue!
Need I tell you that the hilarity doesn't? Even if you're the sort that's predisposed to cackle at granny's farts and Rudolph getting squirted with breast milk and the sight of Spade's bare ass, you may be thrown by how badly Dugan stages the farcical shenanigans, and that's when he bothers to stage them at all. (When the director isn't killing time with endless scenes of the cast playing basketball or hurtling down water slides, long, long minutes are devoted to his actors just, you know, sitting around.) And while, for a movie co-produced by Sandler, there's a refreshing absence of gay-baiting here, you'll still have to contend with most of the expected Happy Madison tropes: the requisite, mawkish sentiment; the continual stream of lame jokes; acts of bone-crushing violence that characters recover from in record time; the almost satirically shameless product-placement for a fast-food franchise. (The beneficiary of Sandler and company's attentions here? Kentucky Fried Chicken.) As its obviously ironic title suggests, Grown Ups is every bit as juvenile - and amateurish and stupid - as you'd expect.
But here's the rub: It's also sorta sweet. Not "sweet" as in "touching" or "moving," despite the film's aggressive attempts (beware the little girl's realization that there's no Tooth Fairy), but sweet in a pleasant, genial way that proves rather disarming. Grown Ups is likably dumb-ass. One-upping and casually insulting each other with relaxed affection, the four former Saturday Night Live co-stars share a loose yet spiky rapport, and Kevin James - in the role that, had he lived, would surely have been played by Chris Farley - fits in with no noticeable strain; even when their material and improvisations are weak, and they frequently are, the stars' byplay is confident and winning throughout.
And while their roles are horribly drawn, the movie's comediennes manage to more than hold their own. After a shaky start, Hayek proves as charming as she was partnering Alec Baldwin on 30 Rock, Bello transcends her character's obscene running gag with a goofy, beatific grin that's utterly irresistible, and Van Patten does something even more astonishing - she blithely ignores the film's contention that old folks are ridiculous when viewed as sexual beings, and emerges as the smartest, sanest, and damn near sexiest one onscreen. (Rudolph, meanwhile, is typically engaging, although after A Prairie Home Companion, Away We Go, and this film, she seems to be carving out an incredibly specific and unusual niche, playing heavily pregnant women who don't give birth during the course of the movie.) The guys, even Schneider, are fine, but it's Grown Ups' women who make the movie as bearable as it is. "Nothing's going on here," says Hayek late in the film, "and I love it." Well, I didn't love it, but happily, and with great relief, I sure didn't hate it.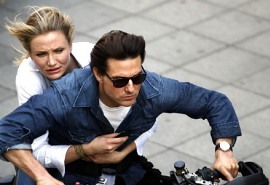 KNIGHT & DAY
My not detesting Grown Ups was a huge surprise, but in an equally sizable shock, I actually enjoyed James Mangold's action comedy Knight & Day. I call this a shock not only because the trailers for this Tom Cruise/Cameron Diaz lark made the movie look frenetically busy and unfunny - and not only because I just saw its formula performed (atrociously) by Ashton Kutcher and Katherine Heigl in Killers - but because a day after seeing the movie, I'm still pretty annoyed by it. The CGI and green-screen effects in this globe-trotting espionage caper are, simply put, terrible, almost as distracting as those hopelessly phony background shots you'd see whenever characters drove around in '70s cop shows. The film's disinterest in supporting players Peter Sarsgaard (with a grossly inconsistent accent) and Viola Davis is maddening. The plotting in Mangold's and Patrick O'Neill's screenplay is mostly incoherent. The banter is mostly forced. And through it all, the film's leads - co-stars in 2001's Vanilla Sky - don't exude much in the way of romantic or sexual chemistry, and are forced to fill canyon-sized holes in their characters through charisma alone. (It was just over a decade ago that Cruise and Diaz, respectively, were chomping on meaty roles, and giving strong performances, in Magnolia and Being John Malkovich. Does anyone think their careers are in better shape now than they were then?)
Yet in its senseless, summertime-diversion way, Knight & Day is still quite a bit of fun. Mangold may be overly reliant on really close closeups of his beaming stars, but he choreographs several action sequences with enormous wit and gusto - he's especially inspired whenever background figures silently zip into view from the top of the screen - and the comedic montages that find a drugged Diaz slipping in and out of consciousness are unfailingly clever. (During one particularly hilarious one, she wakes up in a warehouse, passes out, wakes up in an airplane, passes out, wakes up in a boat, passes out, and wakes up on a beach.) Paul Dano delivers a brief knockout turn as an eccentric genius with a yen for Hall & Oates. And best of all, Cruise's Roy Miller and Diaz's June Havens, despite not truly connecting with one another, connect with us just beautifully. Quick-witted and flaky, Cruise looks to be having a blast - it's been an awfully long time since the actor's signature grin didn't appear to be working on autopilot - and Diaz radiates the kind of fizzy ebullience that's been lost in such recent bummers as What Happens in Vegas ... and The Box. (At one point, after her character has been administered a giggle-inducing truth serum, Diaz manages to steal a scene and score a big laugh merely with a perfectly cadenced "Hi, Roy!") It's nothing to get terribly excited about, but Knight & Day is spirited and lively, and combined with Grown Ups, offers a most welcome respite at the cineplex: Did you realize that this past weekend marks the first one without a new sequel, remake, or TV adaptation since (drum roll, please) the last weekend in April? This summer - hell, this year - that's definitely cause for celebration.