Friday, October 10, 10:05 a.m.-ish: My latest quartet of screenings starts with an adaptation of the beloved children's book Alexander & the Terrible, Horrible, No Good, Very Bad Day. It's a shame that the title has already eaten up about half my word count, because I now have far less space in which to rave about this surprisingly fantastic family comedy whose unforced cheerfulness is matched by its completely unexpected wit.
Taking his inspiration not from author Judith Viorst so much as from Big, screenwriter Rob Lieber has poor, put-upon Alexander (Ed Oxenbould) making a birthday wish that the rest of his family would experience just one day as rotten as all of his. Magically, the wish comes true. Yet the clan's collective bad fortune proves heaven-sent for us, with well-matched screen parents Steve Carell and Jennifer Garner providing winning slapstick apoplexy, screen sibs Dylan Minnette and Kerris Dorsey as confident and funny as their folks, and the script delivering roughly 10 examples of verbal or narrative cleverness for each word in the film's title. Director Miguel Arteta keeps the antics peppy and friendly throughout; even the currently requisite pee, poo, and puke jokes are (almost) gracefully handled. But beginning with Alexander's early, awestruck description of a classmate ("He's a really cool kid with a hot tub and ADHD!"), it's Lieber's contributions that wind up tickling me most. Unless, that is, Viorst's book also features Dick Van Dyke at a comically humiliating PR event, a Peter Pan staging with its lead loopy on cough syrup, and a hilarious birthday-party finale showcasing the exotic dancers of Thunder from Down Under. It has been decades since I read it.
11:30-ish: Alexander leaves me in such a good mood that I'm not even dreading the experience of Dracula Untold, even after its intensely pompous and foreboding voice-over prelude ("In the year of our Lord 1442 ... ") promises little in the way of fun. Ninety minutes later, it proves to be a promise very well-kept. Would those of you who've been losing sleep wondering how and why Bram Stoker's Dracula first became a bloodthirsty vampire kindly raise your hands? All four of you, then, might delight in director Gary Shore's Game of Thrones-y origin tale, a turgid and deeply unnecessary bore that casts Luke Evans' titular count as an anguished superhero, right down to the red cape flapping in the wind. Shore's fantasy, with its conspicuously well-groomed cast, isn't completely worthless or humorless; the explosions of bats that Dracula controls, and occasionally turns into, add some visual interest, and Charles Dance is decadently creepy as the bony monster responsible for our hero's vampirism ... who turns out to be the long-undead Roman emperor Caligula! (Was Malcolm McDowell not available for the role?) Yet Dracula Untold is still a tedious slog with a silly comic-book storyline and incoherently staged battle scenes, and although it's kind of ridiculous to ask for logic here, too much of the movie is resoundingly senseless, to boot. At one point, we're shown that Evans' Dracula has the power to change weather patterns, and can instantly block the sun with ominous clouds. Well, damn, if he can do that, why is he so freaking afraid of daylight?!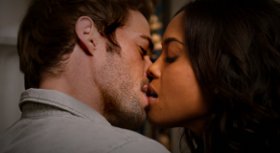 1:25 p.m.-ish: From all evidence, Tyler Perry had no involvement in the making of director Bille Woodruff's Addicted, which was adapted from a fiction by the erotica novelist Zane. But if doing so weren't incorrect and libelous, the filmmakers should've just called the movie Tyler Perry's Addicted. That way, we'd at least know up-front what we were in for: a deeply earnest sex-addict drama that buries a fine cast (principally Sharon Leal, Boris Kodjoe, and Tasha Smith) in an avalanche of soft-core clichés, nuance-free dialogue, genital-free lovemaking, moralistic reprimanding, and a ludicrous twist that would be embarrassing even on an especially lame telenova. (For good measure, our heroine's trouble-making paramour, portrayed by William Levy, is a frequently shirtless Latin who wears his pants nearly a foot below his navel.) But at least Addicted's badness inspires a few unintentional chuckles, as opposed to ...
4-ish: ... The Judge, which proves so stupefyingly awful that I have to routinely suppress the urge to boo. Robert Downey Jr., playing the prototypical Robert Downey Jr. type, is a fast-talking, wise-ass Chicago lawyer forced to return to his Indiana hometown and defend his estranged, ailing father (Robert Duvall) in a murder case, and the only enjoyment I get from the film comes from trying to determine what about director David Dobkin's effort I hate most. Downey's lamentably lazy performance? The nauseatingly rigged plotting? Pop's failing health used for cheap pathos? The younger brother's mental impairment used for cheap punchlines? The waste of poor Vera Farmiga as the Old Flame Who Never Left Town? The queasy subplot involving Downey possibly making out with his adult daughter? (I am not joking.) So shameless in its anything-for-a-reaction pandering, and so tonally inconsistent that it almost defies belief, The Judge should have the book thrown at it - preferably by co-star Billy Bob Thornton, whose nattily attired prosecutor is the only figure on-screen reminiscent of an actual human. Case closed.
6:35-ish: Much as I'd love to Meet the Mormons, the day's continually downward trajectory suggests that I should just go home. Thomas Monson's a forgiving man, right?
Follow Mike on Twitter at Twitter.com/MikeSchulzNow.