I remember a time, not so long ago, when I actually looked forward to movie trailers. Getting the chance to see what certain performers and directors had coming up next; witnessing the artfulness of the preview itself, which has to build anticipation with three minutes of footage; experiencing that happy rush when an entire audience simultaneously reacts to a trailer with a feeling of "I can't wait to see that"? I ate it all up.
And there are still a few that manage to do their jobs terrifically well. Tthe current previews for the Lord of the Rings trilogy and Pearl Harbor look appropriately grand and stirring (the Pearl Harbor trailer is just about perfect, in a shameless Titanic-y way, until the words "from Jerry Bruckheimer and Michael Bay" appear ... an omen of bum jokes, sticky romance, and witless plotting to come), and for my money, all you need are a few seconds of Morgan Freeman speaking with his astonishing blend of authority and compassion to be somewhat stoked about the Kiss the Girls follow-up Along Came a Spider.
But it appears that more and more trailers are forgoing mystique and subtlety for the chance to either give away every element in the plot ? romantic comedies, like What Women Want and The Wedding Planner, are especially guilty of this or lead you to expect something you're not going to get, like the pratfall-filled trailer for the quietly humane comedy Keeping the Faith, or the wacky-crooks-in-polyester preview for the new 3000 Miles to Graceland. This particular trailer would have you anticipating a rollicking, farcical robbery flick; what you actually get is what might result if Peckinpah directed Blue Hawaii. Yes, it concerns a group of cons who plan a big-time casino heist during an Elvis convention, and yes, it allows Kurt Russell to, all too briefly, encore his justly celebrated impersonation from the 1979 tele-movie Elvis. But the movie itself is frenetically violent and lazily plotted; it tries for the pumped-up trickiness that screenwriter Christopher McQuarrie brought to The Usual Suspects and The Way of the Gun, but fails on almost every level. And director Damien Lichtenstein aims for John Woo-style slo-mo staging, but seems to have no gift for it (and his attempts at comic violence are merely sickly). The movie descends into just one ultra-loud, generic shooting spree after another; at the screening I saw, I felt pity for the elderly couple who left halfway through, saying "I didn't expect that."
It's bad enough that the movie is a bummer, and that it wastes the talents of the leads and a crew that includes Christian Slater, Courteney Cox, David Arquette, Kevin Pollak, and Thomas Haden Church; if you've seen the film's previews, you'll realize that they were intentionally deceptive about Graceland's tone, and that can really anger you. (And yes, I do realize that harping on a film because of what it's trailers indicate is unfair, but with or without previews, 3000 Miles to Graceland would still suck.) That's part of the reason many of us seek out smaller, specialty films on video and DVD; I think it's safe to say that almost all movies benefit from not having their previews shoved down your throat. So, in lieu of anything good opening at the cineplex in the past few weeks, and particularly if you haven't yet caught Traffic, Crouching Tiger, Hidden Dragon, or O Brother, Where Art Thou?  (and shame-shame if you haven't yet), here are three recent video releases that deserve your attention:
The Virgin Suicides: Sofia Coppola was a national joke when she appeared in her dad's The Godfather Part III in 1990, but her abilities might have just been misapplied ? on the basis of this debut feature, she may be a helluva director. Bringing Jeffrey Eugenides' beloved novel about the deaths of five sisters in the mid-1970s to the screen, Coppola displays a keen gift for romanticism and dread. Through impeccable staging and beautiful imagery, she creates a whole, hazy world where nothing is easily explained, least of all the suicides of the title, and everything is mysterious and oddly erotic: it's the cinematic equivalent of falling in love for the first time, and being terrified of it. James Woods and Kathleen Turner are brilliantly cast against type, playing the girls' ineffectual father and subtly domineering mother, and as the most confused daughter, the radiant Kirsten Dunst is a revelation as the very epitome of teen sensuality. She fills her role with curiosity, confidence, and heartbreak; it's a thrilling performance. It's sometimes a tough film to endure because you really don't want the inevitable to occur. But it's a rich, exhilirating, and, in the end, emotionally devastating piece of work. Brava, Ms. Coppola.
Saving Grace: Shame on me for missing this lovely little oddball when it made a brief appearance on area screens last fall. Brenda Blethyn plays a recent widow who resorts to growing and selling pot to save her estate, with her estate's caretaker (Craig Ferguson, who co-wrote the script) taking care of the business end until Blethyn's character takes over that, too. What could easily have been a one-joke affair becomes a real kick through sheer charm, detail, and the inspired interplay between the leads ? Ferguson has a delightfully naturalistic deadpan, and Blethyn tones down her usual boisterousness (she was wonderful in Secrets and Lies, but has become increasingly mannered in works such as Little Voice and RKO 281) and comes through with a shaded, touching, and highly comic portrayal. The finale disappoints and the visuals are barely adequate, yet it retains a sweet sensibility and oozes likability; it's the perfect curl-up-on-the-couch-with-a-movie movie.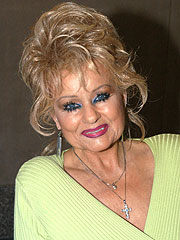 The Eyes of Tammy Faye: A documentary about the notorious religious personality, and as entertainingly over-the-top, silly, and sincere as the woman herself. You know you're not in for the usual docu-drama when the narrator is RuPaul and the film's individual segments are introduced by hand puppets. Though the film details Tammy Faye's numerous trials and tribulations, they're held in check by the cheekiness of the presentation, and what's incredible is that the film never comes across as mean-spirited or judgmental. Lord knows Tammy Faye has had a rough time, particularly in the press, over the last two decades. But filmmakers Fenton Bailey and Randy Barbato walk such a fine line between the grotesque and the good-natured that you feel neither abject pity nor mockery for their subject, and when Tammy Faye makes a late-career comeback toward the film's end, you might find yourself fighting back a tear or two. Supremely enjoyable throughout, The Eyes of Tammy Faye is worth catching even if you have little interest in the woman herself. Maybe especially if you have little interest.