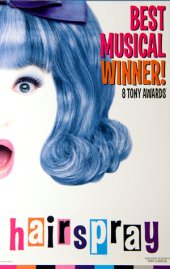 On August 17, the Richmond Hill Barn Theatre's production of Tom Stoppard's Arcadia marked the last theatrical production I'd see this summer - the 29th show I caught over the span of 12 weeks - and in truth, I'm kind of bummed that the season is over. But it will be nice to have a few days when I'm, you know, not working, so I'm also looking forward to the fall, when instead of 29 shows, theatre-goers only have the opportunity to see ... 38.
Granted, a bunch of them are taking place outside the immediate area. Iowa City's Riverside Theatre presents the musical relationship pastiche I Love You, You're Perfect, Now Change (September 7-30), and a one-woman show involving goats titled ... goat show (November 23-December 2). In the city's Arts a la Carte space, Dreamwell Theatre presents the 9/11-inspired That Day in September (September 7-15) and Kimberly Akimbo (November dates to be determined), about a 16-year-old girl whose body is aging at four times the standard rate. The University of Iowa delivers an edgy take on Shakespeare's A Midsummer Night's Dream with A Perfect Wedding (October 11-21), plus the zany farce Anton in Show Business (November 29-December 9), which concerns the backstage goings-on during an ill-fated Texas production of Chekhov's The Three Sisters. (And they say there are no original ideas.)
Similarly intriguing titles are being offered in area burgs other than Iowa City. Anamosa's Starlighters Theatre produces the dramatic thriller Veronica's Room (September 21-30), while the Amana Colonies' Old Creamery Theatre delivers a pair of farces: Wife Begins at 40 (September 7-October 7) and Michael Frayn's Noises Off (October 12-November 18). Theatre Cedar Rapids stages a trio of titles with built-in audience awareness in The Sting (September 28-October 7), The Rocky Horror Show (October 31-November 3), and Seussical (November 23-December 9), and Galesburg's Knox College presents the dramatic Andrea's Got Two Boyfriends (October 5-6), Euripedes' The Bacchae (October 26-27), and the Caryl Churchill duet Vinegar Tom (October 19-20) and Cloud 9 (October 31-November 3).
Yet plenty of stage entertainment can also be found a little closer to home, especially now that school is back in session. Alphabetically, let's begin with Augustana College - see how sneakily I got my alma mater in there right off the bat? - which will produce the Shakespeare comedy The Taming of the Shrew (October 26-November 4). Black Hawk College stages Christopher Morgan's assemblage of monologues, Going Underground (November 8-14). And St. Ambrose University not only presents Arthur Miller's classic All My Sons (October 12-14) but a pair of edgy dramatic comedies in the Galvin Fine Arts Center's black-box theatre space: Martin McDonagh's The Beauty Queen of Leenane (September 7-9) and Melissa James Gibson's [sic] (November 9-11). Seriously. That's the title of the play. It's won awards and everything.
Among post-graduate venues, the Adler Theatre brings in a trio of enormous musical hits with Evita (September 29), Hairspray (October 24), and Annie (November 14). After its current comedy Don't Dress for Dinner finishes its run, the Circa '21 Dinner Playhouse gets back in the musical game with the revue Almost Heaven: The Songs of John Denver (September 19-November 3). And a word to the many Circa '21 patrons who, during the years I was working there, remarked on my resemblance to the artist: No, I will not be appearing in it. (I swear. Every freaking night.)
Just a few blocks away, Rock Island's fledgling theatre venue The Green Room follows its sold-out production of Into the Woods with another scaled-down version of a hugely ambitious musical: Rodgers & Hammerstein's Carousel (November 30-December 9). First, though, it'll house Tennessee Williams' timeless memory play The Glass Menagerie (October 12-21), just one of several fall productions designed to capture your interest in a nonmusical manner.
At the River Music Experience, Davenport's New Ground Theatre invites audiences to a reading of the tolerance-themed play Afternoon of the Elves (September 13). Five months after the group's triumphant Henriad trilogy, the Prenzie Players return with Shakespeare's tragedy Othello (October 12-20). Richmond Hill follows Arcadia with something considerably less, well, Stoppard-y: Neil Simon's California Suite (October 4-14). And for humor pitched somewhere between Stoppard's esotericism and Simon's wisecracking, the Playcrafters Barn Theatre offers A.R. Gurney's Sylvia (September 14-23), detailing the love affair between a man, a woman ... and the guy's dog.
Finally, what would the fall be without a healthy dose of holiday spirit? (My answer: the fall.) Playcrafters' presents Uh Oh, Here Comes Christmas (November 9-18), adapted from the songs and stories of Robert "All I Really Need to Know I Learned in Kindergarten" Fulghum, while Richmond Hill has a yuletide-themed adaptation of its own, with Barbara Robinson's The Best Christmas Pageant Ever (November 15-25). Quad City Music Guild delivers a Miracle on 34th Street (November 30-December 2) on 34th Avenue, as Moline's Prospect Park auditorium houses the stage adaptation of the beloved movie. Circa '21's holiday gifts are A Christmas Carol (November 23-December 23), which the theatre last staged in 1998, and Irving Berlin's White Christmas (November 7-January 5), which the theatre last staged ... earlier this year. (Hey, any excuse to hear Bing Crosby hits and get director Ann Nieman back is fine by me.)
The Riverside Theatre will beat the other venues to the seasonal punch with the comedy-drama The Long Christmas Home, which runs October 18 through November 14. And what's this? Another production of A Christmas Carol opening in November? Yup: The Old Creamery delivers its take on the Charles Dickens classic November 24 through December 22. That makes a collective total of seven holiday-themed productions before December 1. But remember, as Charles Dickens himself wrote: "I will honor Christmas in my heart, and try to keep it all the year." Considering that the Timber Lake Playhouse just produced Irving Berlin's White Christmas four weeks ago, it appears that area theatres are aiming to, as well.