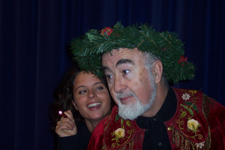 After attending the New Ground Theatre's production of Jacob Marley's Christmas Carol, I wasn't much surprised to learn that Tom Mula's play has been broadcast on NPR numerous times now; a dramatization of Charles Dickens' Christmas Carol story through Marley's point-of-view, the show, with its blend of performance and frequent narration, seems tailor-made for radio. What I can't understand, though - at least based on New Ground's presentation - is what makes it a good fit for the stage.
Despite some beautifully written passages, Mula's work seems a rather awkward concoction: a combination of high emotion, low comedy, and metaphysical hooey. But that already-sticky mix is made even more obnoxious by the playwright's - or perhaps director David Bonde's - decision to have the show's quartet of performers interrupt the action through commentary; roughly half of the tale is performed as a proper narrative, and half is merely narrated, with the actors frequently stepping out of character to deliver a "Marley said" or a "Scrooge exclaimed," or sometimes to recount an entire episode being left to our imaginations.
This conceit not only makes the show feels grossly under-populated, but, considering the staging, makes little sense, as those telling the story and those enacting it are given equal prominence - who, exactly, are we supposed to focus on? Those doing the narration or those doing the pantomime? With the actors working on the same stage plane, gauging where our attention should lie proves almost absurdly challenging; it's easy to become confused about what, exactly, is going on, and for the show's humor to get lost. New Ground's Marley - with the actors dressed all in black - feels more like a grad-school experiment than an entertainment, and it's occasionally effective as one, but when I read reviews of previous Marleys that describe the show as "delectably zany" and "filled with laughs," I don't know what the authors are talking about.
It's not that Mula's jokes aren't apparent here; it's that they're not playing as jokes. Of course, the script is already such a tenuous blend of the goofy and the deadly serious that it's difficult to determine how the roles should be performed, but on Thursday afternoon, at least, you could sense the actors' hesitancy about making strong choices, perhaps for fear of making the wrong ones. The cast didn't convince me that they could separate Mula's tragic from Mula's ridiculous, and if the performers are this uncertain about the playwright's intent, what chance do we have? None of Marley's actors comes off badly, but they're not trusting the material enough (and, it seems, with reason) to play it to the hilt.
Well, that's not entirely true, as more often than not, Claire Richards is. The young actress - a St. Ambrose University student who was fantastic in the school's A Lie of the Mind (also directed by Bonde) and The Threepenny Opera - is cast here as Ebeneezer Scrooge, and her performance is easily Marley's highlight. Lending the role a comically dyspeptic sneer and wonderful growl, Richards burrows deeply into Scrooge's meanness and incredulity, and Scrooge's repentant transformation is wholly believable; she makes you wish she were playing the role in a legitimate production of Dickens' story. But just as Richards is getting a rhythm going, Mula's (or Bonde's) conceit of having the actors perform their own narration pops up again, and the actress is forced to step out of character to deliver another audience aside. Richards is pretty great in Jacob Marley's Christmas Carol, but how great would she have been if she weren't asked to continually waylay her own performance?
Two other St. Ambrose students - Jacob Kendall and Jessica Denney - appear here, and occasionally look like they're having some fun. In several roles, Kendall displays good-natured comic bluster, but the actor's narration is hindered by his being the only character who reads the narration; Kendall carries with him an enormous ledger and delivers half of his exposition while staring into it. Given his role as "The Record Keeper," this makes sense, but watching Kendall's recitations doesn't do much for an audience; it just looks like he didn't bother memorizing his lines.
As for Denney, she plays an impish sprite named The Bogle - this creature serves as Marley's Jiminy Cricket - and the actress, with her explosion of hair, has a feisty, appealing zest, even though she looks unsure about what The Bogle's purpose is. (Mula has a thing for saddling his spiritual and supernatural characters with silly monikers. In his Almighty Bob, which the Circa '21 Dinner Playhouse produced in 2003, the Angel of Death was named Joey Jojo, for no discernible reason.)
Earl Strupp, meanwhile, has a sensational voice for Marley, and a good thing, too, as his performance is all about the voice. Marley shrieks, he begs, he laments, and Strupp does all this with aplomb. What he doesn't do, though, is connect himself to the material physically. You hear the emotion in his readings, but it doesn't match with the actor's deliberate movements, and while the play seems to dictate that Marley get a little roughed up during the proceedings, Strupp is treated awfully delicately here. Ignoring a few tardy cue pick-ups, though, the actor certainly sounds committed to his portrayal; it would be a nearly perfect performance for radio.
And perhaps on the radio, the overt cutesiness of Jacob Marley's Christmas Carol is less egregious. The show ended with a perfectly predictable burst of Dickensian sentimentality, but I was far more annoyed with the Act I finale, when the Bogle asks Marley what his plan for Scrooge's redemption entails, and Marley turns to the audience and says, with a smirk, that all will be revealed ... after the intermission. I couldn't help but notice that, on Thursday afternoon, several audience members opted not to return. Sadly, I can't say I blamed them.
For tickets, call (563) 326-7529.