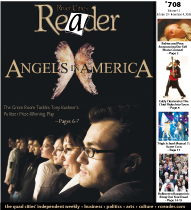 Playwright Tony Kushner's Angels in America begins its run at The Green Room Theatre on October 31, and to hear artistic director Tyson Danner describe it, he and executive director Derek Bertelsen couldn't have chosen a more appropriate production to open on Halloween.
"It's a monster," says Danner.
He isn't kidding. Kushner's self-described "gay fantasia on national themes" is actually two plays - Millennium Approaches and Perestroika - that clock in at just over three hours each. They feature a cast of eight assuming more than two dozen roles between them. They tackle such subjects as AIDS, religion, politics, and American life in the 1980s; they freely drift between fantasy and reality; they include scenes in which the living Roy Cohn converses with the deceased Ethel Rosenberg, and a "mentally deranged, sex-starved, pill-popping housewife" (her words) chews down a pine tree with her teeth.
Oh, and an angel descends from the ceiling.
So yeah, The Green Room's Angels in America is a monster, even for the Rock Island venue (located at 1611 Second Avenue) that has previously taken on such intimidating, large-scale works as Into the Woods, Carousel, and Assassins. And like many monsters, it just might scare a few people off.
"Some people aren't going to want to see it," admits Danner, who is also featured among Angels in America's cast. "And some people probably aren't going to come back to the theatre because of, you know, 'the agenda we're pushing.' But there's a point at which there are important things to be said, and theatre is one of the most incredible ways to speak to people."
"And there's no reason Quad City audiences should be deprived of that," says Bertelsen, who will direct both Millennium Approaches and Perstroika (opening December 5).
"It's a fantastic script," Danner adds, "but you have to convince people that it's worth sitting there for three hours, because people get annoyed." Then he laughs. "I get annoyed if a show runs more than two hours."
The Gay Play of the 20th Century
In many regards, the daunting Angels in America would seem a logical challenge for a theatre organization that thrives on challenge. It was not, however, The Green Room directors' first choice for their fall slot. "I originally wanted to do The Laramie Project," says Bertelsen, "because the 10th anniversary of Matthew Shepard's death was October 12."
Yet with new developments in the Matthew Shepard case having arisen since the play's 2001 debut, and with an epilogue currently being added to Moises Kaufman's original publication, Bertelsen says, "I just didn't feel like I could do it. I didn't feel comfortable with cutting material or rearranging Kaufman's script. I mean, I never have a problem with deleting lines, but I won't change lines," which Bertelsen felt would've been necessary for a 2008 Laramie Project. "It's not my script to mess with like that."
In memory of Shepard, though, he and Danner still wanted to produce a gay-themed work. "And the other gay play of the 20th Century," Bertelsen says, "the gay play of the 20th Century, was Angels in America. Though I hate calling it 'a gay play.'"
Kushner's Millennium Approaches opens in the fall of 1985, and introduces us to a collection of characters whose lives, over the next five years (and two productions), will gradually intertwine:
· Prior Walter (played, in The Green Room's production, by James Bleecker), a 30-year-old New Yorker recently diagnosed with AIDS;
· Louis Ironson (Danner), an office temp and Prior's lover;
· Norman "Belize" Arriaga (Jason Platt), a registered nurse and Prior's best friend;
· Joe Pitt (Steven Quartell), a Mormon, Republican lawyer;
· Harper Pitt (Tracy Pelzer-Timm), Joe's wife, addicted to Valium;
· Hannah Pitt (Jackie Madunic), Joe's mother in Utah; and
· Roy Cohn (Pat Flaherty), the Jewish, conservative lawyer - and the only real-life figure among the show's leading characters - whose notoriety was sealed during the Army-McCarthy hearings, and whose participation in the courtroom trial for American Communists Julius and Ethel Rosenberg let to their execution.
(All seven actors also play supporting characters in Angels in America, and roles for the shows' eighth cast member, Sheri Hess, include a nurse, a homeless woman in the Bronx, and The Angel.)
A frank, frightening, big-hearted, and oftentimes wickedly funny celebration of life amidst chaos, Millennium Approaches debuted in May of 1990 at the Los Angeles theatre the Mark Taper Forum, and like Perestroika after it, was produced in San Francisco and at London's Royal National Theatre before transferring to Broadway. Angels in America's first half earned Kushner the Pulitzer Prize, the productions received a combined seven Tony Awards (including two for Best Play), and director Mike Nichols' adaptation for HBO - starring Al Pacino, Meryl Streep, Emma Thompson, Mary-Louise Parker, Jeffrey Wright, and Patrick Wilson - earned a record-tying 11 Emmy Awards in 2004.
Like Angels in America, The Laramie Project would have featured its cast performing numerous roles. But Bertelsen and Danner knew that Kushner's epic would be a far greater logistical challenge than Kaufman's drama, with its effects such as books that burst through the floor and the descent of that aforementioned angel. "We both kind of said, 'Can we really do this?'" says Danner. "It was something that both of us felt would be great to do, but ... ."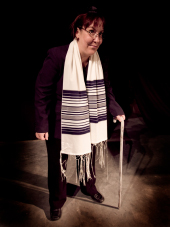 Thankfully, however, technical problems of this sort weren't lost on Angels in America's playwright. "One thing that Tony Kushner writes about," Bertelsen says, "is he doesn't care if you 'see the wires,' or see how it's done ... . He wants you to see the theatricality of the piece."
The production's more fantastical moments will subsequently be handled through staging and sound, and through effects created by lighting designer Jennifer Kingry. As for the set itself - which covers locales in Manhattan, Salt Lake City, and Heaven - Bertelsen says, "We've done the whole thing with about four chairs and two tables, giving the audience just a hint as to where they are, as opposed to creating a coffee shop, or a bedroom, or a hospital room."
Danner adds, "Kushner writes in the [play's] foreword that the show should benefit from a minimalist production. Despite the play he wrote."
A far greater challenge turned out to be securing Angels in America's ensemble, as no less than three actors dropped out of the shows after being cast in September - one because of a family emergency that required a move out of state, and two because of conflicting roles in another area production.
Losing the occasional cast member, though, "has happened with other shows we've done," says Bertelsen, "and the people that we wind up with in the end are always incredible. I don't know how it happens every time, but it magically does. Here's hoping it keeps happening." (It should be noted that on the day of our interview - 15 days before Millennium Approaches' opening - Bertelsen had only that morning recruited Pat Flaherty to play Roy Cohn, and still didn't have an actor for the leading role of Prior; three days later, James Bleecker agreed to take the part.)
With a cast and production elements in place, the only question that remained was "Would people show up?", as Bertelsen and Danner - both openly gay themselves - recognize that some audiences will likely have reservations about the production's subject matter.
"Derek and I have been out for years," says Danner, "and super-conservative people might say that since Derek and I are gay, we're doing a gay show because we want people to accept the gay, quote, 'lifestyle.' Like we want everybody else to be gay." (He adds with a laugh, "Which might be more convenient, but ... .")
"But [Angels in America] isn't just about gay people," Danner continues, "or AIDS, or religion. It's about the country. In a few weeks, several states will vote on whether gay men and women can marry each other in their states. This is something that needs to be talked about right now. And ignoring it is not doing any favors to either side of the debate.
"Yeah, there are gay men in the play. There are gay men next to you on the street and in your workplace, you know? And if the audience isn't willing to hear a story from a gay man, how much are they gonna hear any other story?"
Shotgun Approach
One of the benefits to The Green Room, though, is that its intimate size affords Bertelsen and Danner the opportunity to stage risky plays such as Angels in America, whose titles might not necessarily fill a larger theatre; having only 50 tickets sold at Circa '21 or the Prospect Park Auditorium would make those theatres look empty, but at the Green Room, it's a full house. They're free to experiment with styles and content, and ever since the venue's opening in August of 2007, Bertelsen says, "We just wanted to get all sorts of people into the theatre," and hoped to do so by producing "one of every kind of show."
For The Green Room's first season, says Danner, "we chose a classic play [The Glass Menagerie], a classic musical [Carousel], two new plays [Eleemosynary and The Melville Boys], a fairly new musical [Into the Woods], an edgy musical [Assassins], and a kids' show [A Year with Frog & Toad]." He laughs. "A totally shotgun approach."
(Bertelsen also laughs in explaining the first-year additions of Fully Committed, john & jen, and Jerry Finnegan's Sister after their season had started. "We just kind of decided, 'Oh, we're bored. Let's do more shows.'")
Yet Bertelsen and Danner always made it clear that The Green Room not only couldn't, but wouldn't, be producing "traditional" interpretations of its works. The venue's size (and costs) may prohibit lavishly scaled productions, but as Danner says, "Derek and I aren't personally interested in replicating, you know, a bootleg of Into the Woods. There's just no enjoyment in it for us. There might be for some audiences, but we just don't like to do it."
Consequently, The Green Room's proprietors have occasionally gone unapologetically untraditional: The cast members for last August's Into the Woods played their own instruments and changed costume in full view of the audience, and last November's Carousel was performed as a musical-within-a-musical, and set in the German concentration camp of Theresienstadt.
"There's this understanding, I think - especially with our regular audiences - that we're going to mess with things," says Danner. "We're gonna try to affect them by turning things around," and beginning with Into the Woods' sold-out run, The Green Room's audiences have responded appreciatively to both the venue's unorthodox presentations and its size.
"Every show," says Danner, "we have people saying, 'You know, I always see theatre in a big space with tons of people, and this is so intimate ... . I never really experienced theatre this way. I feel like I'm right there with people.' The best part is always when people come and say, 'You know, I usually don't like theatre. But this was really cool.'
"Of course, when we first started out," he continues, "I constantly had people telling me, 'Oh, it's so great that you're starting this. Maybe one day you'll be able to buy a bigger theatre.' All the time. No one seemed to understand that this is exactly what we wanted. But I never hear that anymore. Because people get that this is what we want, not just what we're settling for."
Getting actors to adjust to the venue's size was its own challenge. "I understand why a lot of people are attracted to Music Guild and Playcrafters," says Bertelsen, who, along with Danner, has been an active Music Guild participant for years. "Because the audiences are so big, and they've been around for 50 years, and ... ."
He laughs. "Well, I'm not saying the Green Room isn't a comfortable space" for performers, "but for a first-timer it's like, 'Whoa, you're that close to the audience?' And why do a show for so few people when you've got a sold-out house at My Fair Lady? But I think that, slowly but surely, more people are coming around and seeing that a 50-seat audience isn't bad."
Even given their 50-seat house, though, The Green Room's proprietors admit there are inherent difficulties in securing audiences. "We don't have season-ticket holders," says Danner. "Generally, the people that are there want to be there either because they love the show, or they love the theatre, or they have family members or friends in the show and they have a vested interest in it."
Yet for an organization with few funds available for advertising, The Green Room has managed to spread word about forthcoming productions through cost-effective means. "There's something to be said for just e-mailing everyone you know and saying, 'Hey, I'm doing a show,'" says Danner. "And I think that having our own space has been extremely positive for us. People know where it is, and can drive by and see a poster in the window for what's happening next. We have something that's constant."
Whatever strategies they employ appear to be paying off; 2008 productions of Fully Committed, john & jen, and Stephen King's Misery played to large crowds, and after two sold-out weekends this summer, Bertelsen and Danner found it necessary to add a third performance weekend for the Stephen Sondheim musical Assassins.
"That was great," says Bertelsen. "To have to add shows, and to have actors who were sad when it closed ... . I just looked at that show, at that whole last season, and was like, 'How do you top this?'"
With both halves of Angels in America being performed in succession, and titles including Doubt, Steel Magnolias, Cabaret, and Hair set for 2009, The Green Room's proprietors may have found a way. "I think our greatest asset," says Danner, "is the mindset that we started with: 'We want to do a bunch of shows. How can we make that happen, and get enough people to support that, and let us do what we love to do?' Because if we went about this trying to make a bunch of money, I don't know if anyone would come, because we'd be caring about money and not the show."
"If there's one thing that I think Tyson and I have achieved," says Bertelsen, "it's just kind of being true to ourselves."
Angels in America: Millennium Approaches runs Friday, October 31, through Sunday, November 9, and the production's second half, Perestroika, runs December 5 through 15. Tickets are available by visiting TheGreenRoomTheatre.com.
For Derek Bertelsen's and Tyson Danner's reflections on past productions at The Green Room, see "Boys, Assassins, and a Frog & a Toad."