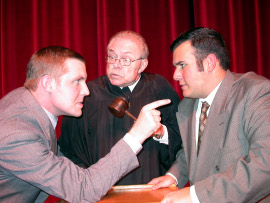 As its storyline was inspired by 1925's notorious Scopes "Monkey Trial," and its original 1955 presentation a response to McCarthyism, Inherit the Wind is one of those theatrical titles that wears its badges of Importance and Social Relevance on its sleeve. And so it isn't until you see the play (or see it again) that you realize (or remember) just how entertaining it is; Jerome Lawrence's and Robert E. Lee's courtroom drama is less a lecture or a harangue than a juicy, if sentimentalized, episode of Law & Order.
Certainly, St. Ambrose University's presentation of the piece - which ran October 3 through 5 - didn't ignore its more thought-provoking elements. (It was, after all, produced in conjunction with the school's year-long educational initiative "The Darwin Project.") But the joy of the show came from these elements being almost incidental to the spirited sense of fun on display; director Corinne Johnson's take on the material seemed less about the age-old debate on religion versus science than about the kick-ass thrill in watching gifted performers tearing into meaty dialogue and robust caricatures. (Even the program was enjoyably cheeky - it was printed on the back of a makeshift hand fan.) Friday's production of Inherit the Wind wasn't Good for You so much as it was just plain good. Really good.
The introduction to the published version of their play finds Lawrence and Lee stating, "Inherit the Wind does not pretend to be journalism. Is it theatre." Is it ever! (At times, it could also be considered soap opera - in one of many fictionalized touches, the drama's John Scopes stand-in has a loyal girlfriend who just happens to be the daughter of the town's closed-minded reverend.) No one can - or at least should - attend any production of Inherit the Wind expecting a historically accurate reenactment of the facts surrounding the Scopes trial, and beginning with scenic designer Kristofer Eitrheim's intentionally artificial-looking Main Street renderings, St. Ambrose's presentation made few claims to vérité beyond designer Dianne Dye's expectedly marvelous period costumes.
In a wonderfully smart move, Johnson stationed the courtroom's witness box center-stage below the judge's bench (at which sat an imperious and commanding Michael P. Kennedy, God bless him) and positioned the jury in the front row of the audience, effectively underscoring the representational nature of the production; this may be a trial, Johnson appeared to suggest, but like the play itself, it's also theatre. Yet in a shrewd, if perhaps unavoidable, decision, Johnson further divorced this Inherit the Wind from its real-life inspiration by having actors John Hannon and Dan Hernandez play their leading roles decades younger than written, which allowed you to view this venerable stage piece with fresh eyes.
Defense attorney Henry Drummond and prosecutor Matthew Harrison Brady - characters based on Clarence Darrow and William Jennings Bryan - are roles that have been famously played (in their later years) by such performers as Spencer Tracy, Jason Robards, Kirk Douglas, Jack Lemmon, and George C. Scott. And so it was a bit of a surprise, at first, to see Hernandez portraying Brady as a mildly exhausted but still vital middle-aged man, and a huge surprise to see Hannon portraying Drummond as an energetic tyro seemingly just out of law school. (The character does still mention having been a lawyer for "a thousand years, more or less.") But not having the actors fight their actual ages - or rather, having them fight their ages only a little - wound up yielding spectacular results; it wasn't just the roles that felt rejuvenated, but the entire debate on evolution itself. (We watched the production with a sense of "This is happening" rather than "This happened.")
With his rat-a-tat delivery and casual effrontery, Hannon's Drummond wouldn't have been out-of-place on TV's Boston Legal or Damages, and that's not meant as an insult. He delivered Drummond's tirades with quick-witted skill, and continually pulled off unusual, eccentric gestures that caught you by surprise; Hannon was able to score a big laugh just in the way he kicked back his heel before asking a potential juror, "So ... how are you?", and at one point during a courtroom scene, he unexpectedly approached the bench and gave the judge's hand a playful, somewhat condescending shake. (I reflexively flinched, expecting Kennedy to smack this impudent little wiseacre with his gavel. Which he did.) I'd say that about half of Hannon's performance was positively brilliant, and the other half was "merely" adventurous and impassioned; the actor - a senior making his first appearance in a St. Ambrose production - was so good as Drummond that you wished he'd shown up years before this collegiate debut. But better late than never.
In many ways, Brady is the trickier role - and certainly possesses the more interesting dramatic arc - and the always-commendable Hernandez seemed to reach new peaks of stage honesty with Inherit the Wind; he gave a delicately modulated portrayal that was cocksure, soulful, and heartbreaking, sometimes in the same breath. (His scene-capper in which Brady breaks down while reciting books of the Bible was especially strong.) As with Hannon, Hernandez's decision-slash-direction to play the role younger than he appears in the text paid off in unanticipated ways - the character's eventual fate packed more of a punch than it generally does - and when Brady and Drummond squared off in the courtroom, the performance fireworks were dazzling; nothing screams Actor Catnip like a good lawyer role, and Hernandez and Hannon attacked theirs with ingratiating, infectious relish.
Fantastically committed turns popped up all throughout this Inherit the Wind. Ryan Westwood, who lent his considerable talents to the Green Room's john & jen and Assassins this past summer, delivered Jeremiah Brown's fire-and-brimstone sermon with devastating fury, and Jovon Eberhart, though quieter, was no less hypnotic as Brady's fretful wife; with little dialogue to do it in, the actress created a marvelously sympathetic, fully fleshed-out character. The excellent Sean Tweedale (as the Scopes-inspired Bertram Cates) and Jessica Denney (as his conflicted fellow teacher and love interest) were terrifically earnest without ever coming across as saccharine. Matt Mercer's friendly bailiff and Grace Allen's radio personality Harriet Esterbrook - her "radio voice" dripping with faux sincerity - added great humor and variety. And in a cast that featured more than two dozen participants (among them such familiar area-theatre names as James Loula, Emily Kurash, Sarah Ulloa, and Mark and Linda Ruebling), even the cameos were topnotch; Mark McGinn's potential juror provided too-brief hilarity, and Will Shaw earned one of the production's biggest laughs with his exquisite reading of "I'm just working at the feed store ... !"
Seth Kaltwasser, meanwhile, portrayed the reptilian-reporter-with-the-heart-of-gold E.K. Hornbeck, a wriggly serpent in Inherit the Wind's theoretical Garden of Eden (and munching an apple, to boot). Hornbeck is anything but subtle - in Lawrence's and Lee's published script, his lines are written in verse - and neither were Kaltwasser or his director: the staging of the character's Act I arrival, and the crowd's initial response to him, was so stylized that you half-expected Kaltwasser, in his dapper white suit, to blurt out "I'm a Mu-sic Man!" and the crowd to reply, "He's a what? He's a what?" His appearance was a happily over-the-top moment, and both the actor's portrayal and Johnson's handling of the character perfectly encapsulated the evening's overall spirit: brash, confident, and blatantly theatrical. It was a mighty Wind indeed.