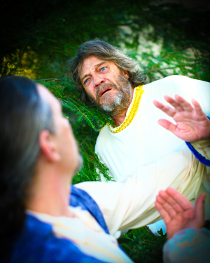 "I think it came from going to church," says area actor Pat Flaherty of his childhood interest in theatre. "Because I'd go to church, and I'd see this guy who was holding everybody's interest through the whole service. It was very dramatic - they'd light the candles and ring the bells and everything - and for a while I thought I wanted to be a priest because of that.
"It turned out I just wanted to be on stage."
It also turned out that the priesthood's loss was, and is, the stage's gain.
To Genesius Guild founder Don Wooten, who has worked with Flaherty since the early '80s, the actor "brings ability, focus, and devotion to every role he undertakes. I don't know where he gets the energy and ambition ... . I can't imagine a director who would not be overjoyed to have him in his cast."
To frequent area actor and director Michael King, a considerable talent in his own right, Flaherty is "multi-dimensional, and his acting instrument is so sensitive and so finely tuned, especially in Shakespearean roles. He has a real willingness to play, and he's always ready to receive new ideas, and to implement those ideas immediately."
As for yours truly, I find Flaherty to be one of the finest, most fiercely gifted stage actors I've ever seen. Years after attending them, I can still vividly recall Flaherty's sometimes haunting, sometimes hilarious, always impassioned portrayals in local productions, and my only disappointment concerning the man is that I didn't get to start writing about his work until 2005.
Over the course of 40 years, Flaherty has triumphed both in lighthearted fare and in some of local theatre's most demanding roles. (He's run the gamut from Roy Cohn in Angels in America to Prospero in The Tempest to Selsdon Mowbray in Noises Off.)
He has also acted for practically every local organization you could name. A brief sampling from Flaherty's résumé includes productions for the Circa '21 Dinner Playhouse (All Shook Up), the Playcrafters Barn Theatre (Moon Over Buffalo), New Ground Theatre (August: Osage County, Under the Radar, Swimming in the Shallows), the Prenzie Players (Troilus & Cressida), the Harrison Hilltop Theatre (The 25th Annual Putnam County Spelling Bee), and the Curtainbox Theatre Company (Glengarry Glen Ross). And that's just his résumé from the past two years.
Even this 24-month listing of shows, however, isn't complete, as it doesn't include the half-dozen works he appeared in for the classical-theatre organization Genesius Guild. Yet with his forthcoming portrayal of the title character in William Shakespeare's King Lear - directed by King and running July 16 through 24 in Rock Island's Lincoln Park - Flaherty is about to embark on what will likely be his greatest Guild challenge to date, enacting what is arguably the greatest stage role in the English language, in what is, inarguably, one of the greatest dramas in the English language.
"And being only 60, I'm still wondering if I'm old enough to just play it," says Flaherty of the Bard's 80-year-old monarch. "I'll have to see how it goes. Being that it's a play, and it is theatrical, people might cut me some slack just as long as I don't bore 'em."
Act I: Moved by Words
Born and raised in Reynolds, Illinois, Flaherty says that even as a youth, "I was always drawn to Shakespeare, frankly."
A young fan of the TV Western Have Gun - Will Travel (featuring Richard Boone as the famed gunslinger Paladin) and the Sebastian Cabot detective series Checkmate, Flaherty says, "Boone quoted Shakespeare all the way through, and it just amazed me. The words coming out didn't make any sense, but they moved you somehow. The same with Sebastian Cabot. He recited Shakespeare, and when he quoted something, it just sat me up straight. I couldn't believe how beautiful English could be."
Although full texts proved daunting ("I really couldn't put more than four or five words together"), Flaherty says that as a youth, "I started reading synopses of Shakespeare. I kept trying to find those words that Richard Boone and Sebastian Cabot used. And I started to realize the meaning was coming from them, from the actors. They had to interpret the words to make people understand them."
After moving with his family to Andalusia at age 15, Flaherty was given his first chance to perform on-stage, appearing in a Rockridge High School production of Angel Street. "I wasn't planning on auditioning," he says. "I went with a friend because he wanted to audition, and I was going for moral support. But after he auditioned, I was asked, 'Do you want to try?' And it looked like fun. So I did. And it was fun."
He continued to act and work behind the scenes throughout high school, and credits Rockridge director Tom Hogue for much of his early affinity for the stage. "He was one of those high-school directors who, when they got crazy about theatre, all of us did. He taught me all the rules, and made sure I wasn't a prima donna." Flaherty laughs. "I went down that path for about two steps."
Flaherty's theatre training continued, post-Rockridge, at Black Hawk College. "I had this amazing oral-interp teacher [Lillian Atchison], and she kind of picked me out from the speech class, and gave me two years of hell. She was awesome. I was sure she hated me the whole time, and she might've, you know? But she taught me how to diagram poetry, and it really helped as far as interpreting lines - learning how to diagram sentences to figure out what they're supposed to sound like."
After serving in the Army from 1971 to 1974 - a period Flaherty calls the "biggest break from theatre I ever had" - he returned to the area, and soon landed a job with the Rock Island Arsenal, from which he recently retired. Pursuing theatre as a career, he says, wasn't a consideration.
"It never, ever entered my mind that you could make any money doing it. And it's still true for me, you know?" he says with a laugh. "It was always the material I was interested in. I just wanted to do theatre. And then I ran into Don Wooten."
Act II: Tripping One's Trigger
Prior to his first involvement with Genesius Guild, Flaherty was already familiar with the Wootens, having taken Black Hawk classes alongside Don's son David. "So I knew Don when I was 19," says Flaherty. "But I was afraid to go to Genesius Guild until I was 30. Oh, I was scared to death of doing Shakespeare."
Instead, after his years in the Army, Flaherty acted in shows for a number of other local-theatre groups, among them Playcrafters, the Richmond Hill Barn Theatre, and "a couple of no-name groups that popped up, did a show, and disappeared.
"So I had enough to keep me occupied," he continues. "If I couldn't get any parts someplace else, I probably would've been up there [with Genesius Guild] a lot quicker. But since I was getting parts, I went ahead and gave into my fear, and just stayed away from Shakespeare, even though that's what I really wanted to do."
Eventually, though, Flaherty found himself underwhelmed with the area-theatre scene in the 1970s. "Theatre here was a little ... candy-ass at the time," he says with a laugh. "You couldn't say 'Jesus Christ,' you couldn't say 'shit' ... . Forget about the 'F' bomb. I mean, forget about it. It just got a little dull, it really did. The shows I was doing, they seemed like they were just ... nothin'. There was nothin' in 'em.
"So it was either go do Shakespeare or just quit theatre altogether, because nothing was tripping my trigger."
At age 30, Flaherty finally auditioned for Genesius Guild and found himself cast ... though not in a play by Shakespeare. With his schedule only allowing for participation in one 1981 production in Lincoln Park, Flaherty's Guild debut was actually in author Christopher Fry's comedy A Phoenix Too Frequent.
"And, boy, I hated that script," says Flaherty, laughing. "It was awful. But I loved it, because being there was a discipline. You know, it was the discipline of that stage out there. You've got that great big aircraft carrier of a stage, and the actors are spread out, and the audience can't hear a whisper, you know. They can't hear normal conversation. So you have to make yourself be heard."
During the Guild's 1982 summer season, says Flaherty, "I think I did every play," including Sophocles' Antigone, the first of many Greek tragedies - performed in traditional period masks - in which the actor would subsequently appear.
"I don't really like the Greeks," admits Flaherty (referring here to Greek tragedies, not Greek people). "The translations are mostly really stilted. But I do them because it's good for me - that discipline thing. And it took me a while to get used to the masks, but now I've kind of gotten to like them. I've started to understand there's really some power in that mask - like in the way you tilt your head - if you use it right."
But the summer of 1982 also allowed Flaherty his first chances to perform Shakespeare with the Guild - in As You Like It and Corolianus - and to truly feel like a part of what he calls "just a bunch of really wacky guys, you know? It really is summer camp for grown-ups. And day care for grown-ups."
Act III: Let's Do It Again
Of the many Shakespeare figures that Flaherty has played at Genesius Guild, the actor says that his favorites include the meaty, richly drawn character parts that the Bard seemed especially generous toward - roles such as Prospero in The Tempest, Lord Capulet in Romeo & Juliet, and Leonato in Much Ado About Nothing.
"Man, his old-man parts are good," says Flaherty. "I think Shakespeare was pretty fond of his older actors. They must have been friends of his. You know, where they could look at the role and say, 'Punch this up, damn it!'" He laughs. "But almost any Shakespearean character role is awesome."
Yet what Flaherty appears to value in the Guild experience above all else are the people he works with - one of them being his wife, popular area actress and Guild veteran Patti Flaherty, to whom Pat has been married, he says with a grim deadpan, "all of my life." (He laughs and adds, "She knows that joke and she hates it. It's been 31 years.")
"The nicest thing about Genesius Guild is the guys and the women my age over there," he says. "All those guys I started with over there are still there: Bob Hanske, and Peggy Hanske, and Mike Carron, and Earl Strupp ... . They're great to work with. They're so much fun.
"And there are no egos allowed over at Genesius Guild," he continues, "because the material is so humbling. You start to think you're pretty good, and then ... !"
Of course, given the frequent challenge of outdoor theatre, Flaherty admits that quite a bit about Genesius Guild can be humbling, especially if the weather isn't cooperating. "It can just be the most uncomfortable place to watch theatre," he says. "The comedies are nice and short, but when you're looking at a three-hour play like Lear, you can start with 150 people [in the audience] and end up with maybe 40. But thank God they do it. They go out there, and they sit through our stuff."
And while the experience can be trying for audiences, it can be even tougher, Flaherty suggests, on those who aren't allowed to leave Lincoln Park.
"It's horrible," says the actor of performing in less-than-ideal outdoor conditions. "It's just horrible. It finally gets so bad that you don't worry about it anymore. You're like, 'Oh, I'm getting bit, oh, I'm sweating, oh, I sure could use some water ... !"
Laughing, he adds, "But we do it, you know? And we all laugh about it afterward. 'We almost killed ourselves tonight!' 'Yeah, that was funny! That was fun! Let's do it again!' You don't really know why, but you do."
Act IV: A Lot There
Flaherty says it was two years ago that Don Wooten asked about his interest in one day playing King Lear's lead, the tyrannical, ultimately tragic ruler who goes mad after banishing his loving daughter Cordelia and unwisely leaving his kingdom to the two daughters who claim to love him best. And as any actor would be, Flaherty was both flattered by, and intimidated by, the thought of portraying perhaps the most complex character in the Shakespeare canon. "I'm almost embarrassed by the curses he shouts at his daughters," says Flaherty. "I wouldn't say those things to a woman to save my life!"
Yet the suggestion didn't become a reality, says King Lear director Michael King, until last summer. "As we were winding down Richard III," says King of 2010's Guild production, "Pat's wife, Patti, at some point made an offhand comment that Pat had been reading Lear quite a bit. And at that point, Lear was not on the schedule. In fact, we hadn't decided on what the season was going to look like.
"But she said Pat had been reading it pretty heavily, and was just burning to do it somewhere. So I approached him and said, 'Hey, would you be interested in putting this together with me directing it?' And he said, 'Hell, yeah.' So I went straight to [Guild Executive Director] Doug Tschopp, and Doug put it on the schedule." King laughs. "And here we are."
Flaherty says that even before he was officially asked to play Lear for the Guild, he had begun memorizing the role, a decision motivated by his 2009 conversation with Wooten. "So I've had plenty of time to study it," he says. "Which is a good thing, too, because there's a lot there."
With actors, directors, and Shakespeare scholars all having different ideas about just how close to madness the 80-year-old monarch is in his opening scene, Flaherty says, "I'm kind of playing him like he's senile right off the bat.
"Everybody knows that he should have retired years ago," he continues, "and so of course, he's going to make a mess of things, because he wants to retire but still wants to be in charge. But I'm trying to point out how childish he is, because otherwise, that first scene doesn't really make any sense. For him to go insane in disowning Cordelia like that, he's got to be at a raving place to start with."
In terms of finding character inspiration, Flaherty says, "Once I got everything memorized, I decided to start looking around at Lears on YouTube. So I've seen [Laurence] Olivier, Ian Holm, Ian McKellen ... . And they're all different." But most of Flaherty's inspiration, he admits, came from a more personal source - his late grandmother.
"She'd begun going into Alzheimer's when she was in her 80s," says Flaherty, "and she was getting harder to deal with - getting very childish, and things like that. So it's a lot about Grandma Flaherty, and her march toward death."
Considering the breadth of the role and its many soliloquies, Flaherty says the memorization process for King Lear was actually a relatively simple one.
"It amazes me," he admits, adding that memorization "has gotten a lot easier than it used to be. There's something about Shakespeare now that I understand. I couldn't tell you what I understand about it, but I read it, I spend time with it, and two days later, the lines are there. It's when they start making cuts - that's what's hard. Because it throws the timing off."
And with performances of King Lear's full text generally running over three hours, Flaherty says it was understandable but unfortunate that cuts to the script had to be made for its Genesius Guild presentation.
"They really didn't cut that many Lear lines to start with," he says, "which is really what makes me feel piggy, because they cut quite a few of Kent's lines, and quite a few of Gloucester's lines. But they did cut some, and when I memorized, I didn't have a cut script. So I fell in love with certain phrases, and if they were gone, it was like, 'Jesus ... !'
"It's taken a little bit of time," Flaherty adds, "but I've finally accepted most all of the cuts. And I'm gradually figuring out how to be a team player." He laughs. "I've got to be a team player. What a pain in the butt it'd be to have this big asshole as Lear."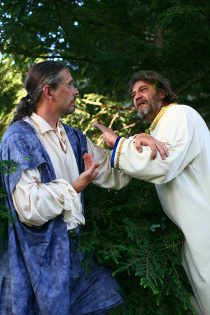 Act V: Nerds
With numerous rehearsals still scheduled before King Lear's July 16 opening, Flaherty admits that he's already more than ready to get the production on its feet. "Mike King's been trying to settle me down," he says with a laugh, "because I've been memorized for two years. I can't wait to test-drive this thing, and he's going, 'You know, we've got a few weeks to go here! Just calm the fuck down!'"
("That's absolutely true," says King with a laugh. "The note that I find myself continually giving to Pat, even this early in the process, is 'Save that, Pat. Let's not push this too hard now.' I mean, he is chomping at the bit to just punch a hole in this role. And I know he will. He is absolutely emotionally and mentally ready for it.")
For all of his antsiness, though, Flaherty says he's thrilled to be spending him time with the ensemble recruited for Genesius Guild's 2011 season. "We've got such a nice mix," he says. "We've got 65-, 70-year-old people up there, and we've got the best high-school kids ... .
"And we've got a great core group of Augustana kids that followed Jeff Coussens [director of June's The Taming of the Shrew] over this year," he adds. "They've been through their baptism of fire, memorizing their Taming of the Shrew parts in 10 days and stuff like that. With that first show, we know they're going, 'What the hell am I doing here?' And then once they get up-to-speed, it's like, 'Well ... I think I can do the next one, too ... ! It's wonderful."
Laughing, Flaherty adds, "Oh, and we've got one kid that's 13. I mean, he didn't look like he could do a damned thing, but then he started to read, and it was like, 'Well, we usually don't take them at 13, but if he's in the neighborhood ... !'
"It's a big commitment," says Flaherty of the Genesius Guild experience, "and we're always losing somebody in shows. But nobody seems to drop out because it's too hot, or the material's too hard, or anything like that. You know, it's just a bunch of people out there suffering, but it's a nice bunch of people.
"We're nerds," he says with a laugh, "and I've met some of the best nerds in the world in Genesius Guild. It's just kind of magical out there."
Genesius Guild's King Lear will be performed in Rock Island's Lincoln Park July 16 through 24, with performances at 8 p.m. on Saturdays and Sundays. Admission is free (although donations are encouraged), and more information is available by visiting Genesius.org.