I fall for Adam Overberg's onstage charm with every new performance. He has a demeanor, a presence, that captivates me, and he proves his diversity as an actor over and over again. With the Harrison Hilltop Theatre's I Love You, You're Perfect, Now Change, though, he adds singing to the long list of talents he possesses, and while his voice may lack polish, Overberg's vocals remain enthralling through his interpretations and comedic delivery.
Yet while my respect for Overberg's work was renewed with Thursday night's performance of musical vignettes, it grew considerably for Cari Downing's. I've never thought her bad in a role, but I've also not thought her great; for me, she's generally hovered between "fine" and "good." Here, however, her knack for comedy is showcased as she sings, smirks, and "accents" her way through the show's look at the humorous downsides to relationships - from the first date to marriage, from parenthood to death. Downing's comedic timing is remarkable in I Love You...; from the inflections on her line readings to her simple lip curls or tilts of the head, she embellishes the script's jokes to great effect.

So, too, does Sara King, but in even more subtle ways. I've long been a fan of King's work, having been won over when I first saw her in Harrison Hilltop's 2009 presentation of The Rocky Horror Show. (And I still marvel at her turn as Lucy in the theatre's Dog Sees God last year - she was the highlight of the show.) There's this slightly acerbic nature to King's delivery that sets her apart from those she acts with, yet instead of it being presented negatively, that dry, slightly condescending way about her is used to add sometimes unexpected, delicate humor to her lines. Personally, I think King is underexposed in the local-theatre scene, and while it's good to see her on the Harrison Hilltop stage so frequently, I would love to see her more often, and in bigger, or at least stronger, roles. I Love You..., however, does give King a chance to shine, showing off her exceptional singing ability and skill for comedy with a hint of darkness.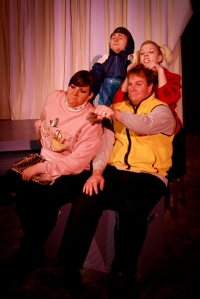 The show's fourth and final cast member, Kevin Grastorf, is unfamiliar to me, this being the first time I've seen him on a local stage (or, perhaps, the first show in which he's really caught my attention). While King's performance is amusingly cynical, Grastorf's performance has an enjoyable, guy-who-could-be-your-best-bud feel to it. His humor has less bite to it than King's, but it's no less pleasing.

Harrison Hilltop's I Love You... marks Matt Mercer's directorial debut, and he's wisely chosen to not overdo the show, which holds up on its own without unnecessary diversions. Mercer seems to have allowed his actors to carry the (not-so-heavy) weight of the very funny script and songs, rather than adding too much specified movement or distracting props; to over-direct, so to speak, would detract from a show that begs to be kept simple. The same is true of the work of music director Danny White and choreographer Kelly Lohrenz, both of whom enhance the actors' performances but don't let the music, vocals, or dancing grab the focus from them. It is a show, after all, about the trials and tribulations of relationships, not an empty showcase for song and dance.

Despite my having so many positive things to say about Harrison Hilltop's I Love You, You're Perfect, Now Change, Thursday's production wasn't perfect. But there wasn't anything really bad about it, either; a few missed notes here and a stumble on a line or two there didn't detract from the effectively funny, enjoyable work of Mercer and his cast.

For tickets and information, call (563) 449-6371 or visit HarrisonHilltop.com.