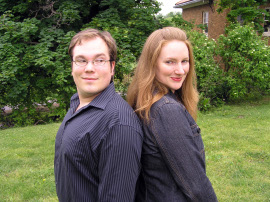 Jason Robert Brown's The Last Five Years is perhaps the best-known, most widely adored American musical that, in all likelihood, you've never heard of. Unless, that is, you're well-versed in modern musical theatre, in which case Brown's two-character, mostly dialogue-free offering probably isn't familiar so much as borderline-legendary.
Detailing the initially passionate, eventually doomed romance between young author Jamie Wellerstein and young actress Catherine Hiatt, this 2001 piece features a significant stylistic hook: As the pair enacts passages from their relationship, Jamie delivers his take on their five-year history chronologically, beginning with their first date; Catherine, meanwhile, presents her side of the story in reverse order, beginning with the couple's breakup; only at the midpoint, when the twentysomethings get engaged after two-and-a-half years together, do their tales converge.
It's a supremely clever spin on a traditional narrative, but it wouldn't be much more than that if not for composer/lyricist Brown's intensely hummable, frequently intoxicating score, and the show's deep wellsprings of joy, misery, and complexly mixed emotions. The Last Five Years is a completely accessible entertainment that also succeeds as an intricately constructed puzzle, and, it should go without saying, Brown's work is like the Holy Grail for musical-theatre performers: You get to be the romantic lead, you get to run the gamut of emotions, and with only the rarest of exceptions, your every number is designed as an ass-kicking solo.
It should come as little surprise, then, that The Last Five Years is being produced by both the Clinton Area Showboat Theatre and our area's Riverbend Theatre Collective, especially since these organizations' artistic directors (Patrick D. Stinson and Allison Collins-Elfline, respectively) are performers themselves. Yet what is a surprise, beyond the shows being staged over the exact same weekends, is how the two versions barely resemble one another. There are superficial similarities - on the lyric "I met my personal Aphrodite," both Jamies, interestingly, make that "hubba-hubba!" hourglass gesture with their hands - but in general, these productions don't look alike, don't sound alike, and definitely don't feel alike. (Adding to the dissimilarities, Riverbend's production, unlike the Showboat's, is performed sans intermission.)
Directed by Stinson, the Showboat's rendition - which I caught on Thursday - finds Jamie (Joshua Sohn) and Catherine (Nicole Horton) each performing on one side of the stage and eventually facing one another during their characters' engagement, at which point they switch positions. Yet the show is anything but visually predictable. In a multimedia addition to the material, words and images are routinely projected onto a center-stage screen, giving the audience a helpful chronology of events ("five years ago," "two years ago," "today"), numerous pithy quotes on life and love (including epigrams by Confucius, Kierkegaard, and Showboat patron saint Lillian Russell), and visuals that complement the songs' settings and lyrics, oftentimes in sensationally enjoyable ways. (A scene of Horton driving is accompanied by a projection of Sohn in the passenger seat, and there's a marvelous effect when Horton, on-screen, slams a door in Sohn's face.)
Yet the technical inventiveness - including the addition of a center-stage (and somewhat clunky) rotating set piece - doesn't add much to the show emotionally; the visuals feel a bit like a way to keep the audience from being bored, and Brown's wordplay and music are already so witty and moving that the projections sometimes merely distract from what's being sung. Stationed backstage, pianist Kate Hennies, guitarist Sean Carney, and bassist Kevin Botkin play the score wonderfully well, and there are funny and touching moments throughout, but presentationally, it's all terribly busy - too busy, I thought, for such a delicate little character piece. I left this Last Five Years happy and impressed, yet still wondered what all the fuss was about.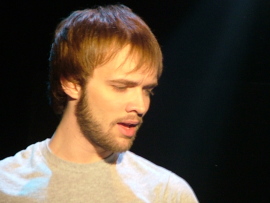 Maybe the production just needed cellos. I attended director Jennifer Kingry's Riverbend production on Friday, and before Jamie and Catherine (Dana Joel Nicholson and Collins-Elfline) made their first appearances, we heard the opening strains of Brown's score being played by not one but two cellists (Carrie Davies and Michael Wahlmann), plus a violinist (Dortha Manning DeWit) and pianist (Robert Elfline). With all due respect to the Showboat's talented musicians, you can't imagine the difference it made. In their hands, Brown's score sounded not just rich but achingly, even hauntingly expressive, and the cellos' absence on the comedic numbers - which Elfine played with dynamically watchable energy - made each new song so varied in feeling that the show's minimalist presentation seemed as explosive as Cats. (Except, you know, a good Cats.)
And the show was no less explosive emotionally. Allowing her actors to address one another directly both before and after their mid-musical duet - most astutely in Jamie's anguished "If I Didn't Believe in You" ballad - Kingry's break from (I later learned) traditional stagings of The Last Five Years paid off handsomely; Jamie's and Catherine's relationship, which is somewhat abstract and deliberately one-sided as a series of solos, was lent far greater texture and resonance through the characters' occasional interaction. This stylistic decision may not have been Brown's choice, but it is, I think, the better choice, intensifying the score's giddiness and heartbreak to overwhelming effect.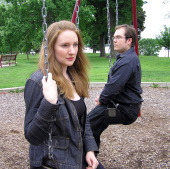 Given their differences, though, Stinson's and Kingry's productions do share at least one thing in common: a close-to-perfectly matched pair of leads. At one point, the Showboat's Sohn and Horton actually achieve perfection, when they both land on the same note on the lyric "I do," and the sound is so breathtakingly pretty you want to die. But the two also share a gift for lightly unforced melancholy and boast superb comic timing - the ever-divine Horton has never appeared more radiantly, deservedly confident - and Riverbend's Nicholson and Collins-Elfline are stunningly fine, both as solo artists and as a pair. Attacking high comedy and devastating anger and sadness with equal gusto, their portrayals walk a fine line between sweeping grandness and acute specificity; you're likely to find their deliveries of certain lines and lyrics lingering in your head for days. (And you may find their deeply felt emotionalism lingering even longer; at Friday's curtain call, Nicholson wasn't the only one in tears.) Clearly, all four are finding themselves fervently inspired by Brown's material, and after back-to-back presentations of The Last Five Years, I'm delighted to officially join their ranks.
For more information on the Clinton Area Showboat Theatre's and Riverbend Theatre Collective's productions of The Last Five Years, visit ClintonShowboat.org and RiverbendTheatreCollective.com.