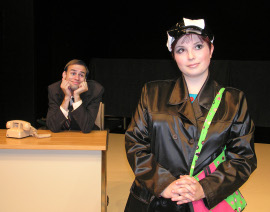 Chris Walljasper isn't exactly a new face in area theatre, as the actor (and recent co-founder of Davenport's Harrison Hilltop Theatre) appeared in Genesius Guild's and Opera @ Augustana's Patience last year summer, the Circa '21 Dinner Playhouse's Buddy: The Buddy Holly Story this past winter, and, most memorably, Carousel and A Year with Frog & Toad for Rock Island's The Green Room.
Yet it's entirely conceivable that audiences for the Playcrafters Barn Theatre's Promises, Promises will watch his performance and, on the drive home, ask one another, "Who was that guy?", because Walljasper is delivering the sort of terrifically engaging and endearing musical-comedy turn that makes you wonder why you haven't seen even more of him.
Directed by Jennifer Kingry, this stage adaptation of Billy Wilder's The Apartment - with music and lyrics by Burt Bacharach and Hal David, and a book by Neil Simon - is a charmingly (and intentionally) retro offering with a playful spirit and a wonderfully game supporting cast. It's Walljasper, though, who has to do most of the show's heavy lifting, and he carries it with invigorating ease; it's easy to imagine audiences new to his work seeing him in future presentations and saying, "Oh, he's the one from Promises, Promises" - and they'll likely be grinning when they say it.
In Playcrafters' latest, Walljasper portrays Chuck Baxter, a mild-mannered, negligible office drone in a New York City insurance company circa 1968. A true patsy, Chuck is routinely coerced into loaning out his apartment to the married, upper-management employees seeking a convenient locale for their adulterous trysts. Yet the man isn't entirely an innocent - despite the occasional inconvenience, Chuck willingly pimps out his pad for the chance to climb the corporate ladder - and Promises, Promises finds him sharing his dejection, irritation, and unrequited love for building-mate Fran Kubelik (Jaci Entwisle) in a running commentary, one that casts the audience as Chuck's confessors, accomplices, and only friends.
Loath as I generally am to compliment Neil Simon, it's a smashing conceit that allows Walljasper to come through with his finest, funniest work in the production. The actor delivers comically anguished narration with unforced honesty, but both the convention and Walljasper's handling of it succeed best when Simon's asides catch you by surprise, and they often do. Chuck isn't above twisting the facts of his recounted tales to give them happier endings - which he subsequently, guiltily admits to - and many of the show's biggest laughs occur when we merely think we're invisible spectators. (In Friday's most hysterical moment, Chuck's apartment "patrons" - played by David Bailey, Andy Davis, Greg O'Neill, and John Donald O'Shea - inched up behind our protagonist with murderous stares, and Walljasper, looking at neither the men nor us, addressed the audience's nervous giggles with, "Yes. I see them.")
Empathetic and witty even when voicing the playwright's clunkier one-liners ("Can you go blind in the nose?"), Walljasper also does a fine job musically; in the words of Randy Jackson, he has a tendency to go pitchy (dawg) during his solos, yet his phrases begin and end beautifully, and the actor has a marvelous bit in his "She Likes Basketball" number when the force of Chuck's happiness causes him to shatter the fourth wall and sing amidst the audience. It's a first-rate piece of musical-comedy direction, one only topped by Kingry's and choreographer Susan Zelknio's joyful staging of "Turkey Lurkey Time," and a lovely take on "I'll Never Fall in Love Again" performed by Walljasper and the radiant, effortlessly touching Entwisle, who completely matches her co-star in stage charisma and winning comic pluck.
With the exception of Greg Cripple's apathetically (and enjoyably) hateful boss, Mr. Sheldrake, and Jim Pearce's incredulously (and even more enjoyably) harried Doc Dreyfuss, the other Promises, Promises characters are designed to pop only intermittently. But the ensemble's popping, while infrequent, is oftentimes madly entertaining. Among a cast that appears to be having a thoroughly good time here, Jamie Bauschka is marvelously down-to-earth (and a giddily amusing drunk) as secretary Miss Olson, and Heidi Pederson - as Chuck's dizzy, fizzy pick-up, Marge - delivers inspiringly fearless, unpredictable readings. She's so agreeably pickled that she seems dipped in brine.
Though Friday's opening-night presentation wasn't without its snafus - notably some erratically functioning body mics, one of which caused Entwisle's Act I solo to be nearly inaudible against the accompaniment - the wide, happy smiles on display suggested utter confidence, and the production also boasted topnotch perks in Stephanie Naab's sensationally period-appropriate wardrobe, and music director's Annie Shortridge's expert on-stage band.
And for someone with a built-in aversion to Neil Simon's sledgehammer-wisecrack style, it was a considerable relief to experience his jokes as tempered by Bacharach's and David's compositions, which lend the presentation true humanism and heart. I'll never enjoy the playwright's works the way most of my fellow theatre-goers appear to, but I gotta hand it to Playcrafters' participants: With Promises, Promises, they've managed to make nearly three hours in Simon's company pass - impressively - in what felt like half that time.
For tickets, call (309) 762-0330.