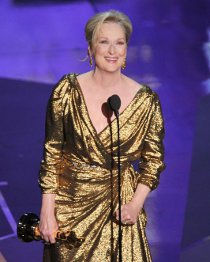 The first trophy handed out at the 2012 Academy Awards ceremony was for Best Cinematography, a prize that I predicted would go to The Tree of Life but that instead went to Hugo. (Seriously, after his undeserved losses for 2006's Children of Men and now the Terrence Malick film, exactly whom does Emmanuel Lubezki have to do to win an Oscar?) But that was actually my second incorrect assumption of the evening, because as soon as host Billy Crystal stepped on stage, I said to the others at my viewing party, "Here comes the standing ovation," and the audience - despite giving the man a warm reception - remained seated. Did the crowd have a collective premonition of just how spectacularly Crystal would bomb last night?
To be sure, his much-anticipated return as host (after a nine-year absence) started on a promising note. After Morgan Freeman made the requisite introductory speech about the magic of movies and such, we were treated to one of Crystal's signature Oscar-night bits - the one in which he inserts himself into clips from Best Picture nominees and some of the year's more recognizable releases - and familiar though this comedic montage was, it still yielded plenty of good things. The opening spoof of The Artist was a tad predictable (at least for those home viewers who actually saw the movie), but there were enjoyable nods to The Help and Bridesmaids, George Clooney and Justin Bieber (!) offered some game self-parody, and one moment, in particular, was absolutely exceptional: Crystal promising a telecast written by some of the youngest, hippest writers in Hollywood ... who turned out to be Moneyball's table of elderly white guys. Overall, the montage was snappy and mostly funny, and was only mildly sullied by Crystal's cameo as Sammy Davis Jr., a stock character that should perhaps be retired once and for all. Crystal got incredible mileage out of this figure in the 1980s, but considering that he's now an elderly white guy himself, maybe he should re-think the blackface routines?
Actually, all throughout the evening, Crystal's material suggested that his writers actually were those Moneyball guys. Jokes about the economy and J. Edgar Hoover and the difficulty in finding a black person in Beverly Hills (in 2012?) fell resoundingly flat, and whenever a gag would fail, which happened often, the visibly off-put Crystal would do everything but loosen his necktie and groan, "Ooo! Tough room!"; it was like Oscar Night in the Catskills. Another of the host's famed bits from the past - the one in which the camera lands on celebrities in the crowd and Crystal verbalizes what they might be thinking - was a dud, with a potentially amusing Martin Scorsese routine ruined by an extremely tardy cutaway. And beyond being not the least bit clever, Crystal's traditional opening medley of Best Picture nominees suffered from such poor sound quality that you could barely make out the lyrics, not that they were funny when you actually could. We knew going in that Crystal - a true legend among Oscar hosts - and his writing team were going to trot out all of the "old favorites" for his ninth stab at the gig. But last night, these favorites just felt old, and lazy, and tired, and as with his Sammy character, Crystal's winky, insufferable self-promotion really should be given a rest. Did he really need to plug his forthcoming movie when it's coming out in November? And not for nothing, but did that montage of classic movie moments really need to climax - literally - with Meg Ryan's fake orgasm from When Harry Met Sally ... ?
In short, in case I've been at all unclear, I thought Crystal was an intense drag on last night's proceedings, which would've been pretty draggy even without him. Barring a few delightful moments with the stars of Bridesmaids, each of whom may be impervious to weak material, the presenters seemed generally uncomfortable with their comic shtick; Will Ferrell and Zach Galifianakis did some uninspired clowning, Jennifer Lopez and Cameron Diaz tried a comically sexy routine that just came off weird, and if you hadn't seen the Iron Man movies, you'd never know that Robert Downey Jr. and Gwyneth Paltrow actually can be an adorable rom-com pairing when they want to be. (Regarding the pairing of a seemingly spray-tanned Ben Stiller and the much taller, much paler Emma Stone, a buddy remarked, "It's like Snooki is presenting with one of the True Blood vampires.") You know something's afoul with an Oscar telecast when even Tina Fey and Miss Piggy can't generate any laughs, and the numerous perfunctory thank-you speeches, most of them sincere but unmemorable, made the night's three-plus hours feel all the longer.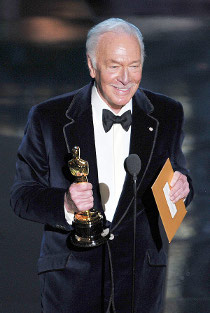 But I refuse to be a complete Debbie Downer about the evening, as there were a few moments of actual magic sprinkled amidst the tedium. That Cirque du Soleil routine, for instance, was positively jaw-dropping. It's the damnedest thing about that group; every time those acrobats show up on an awards show, I expect to be bored silly, and every single time, they perform feats so superhuman that, like their audiences, I'm left with no choice but to stand and applaud. Sandra Bullock, as she has been on each of the past three Oscar telecasts, was sublime, promising to speak in Mandarin Chinese for her presentation of Best Foreign-Language Film, but warning us that it might wind up sounding a little bit German ... which her fluent German most certainly did. (She's charming, she's poised, she's hilarious ... . When is Bullock finally going to get the hosting job?) And more than 12 hours after it happened, I still haven't come down from the high of witnessing members of Christopher Guest's mockumentary ensemble reunite for that skit in which a focus group debates the merits and weaknesses of The Wizard of Oz. Please please please let Guest, Eugene Levy, Catherine O'Hara, Bob Balaban, Jennifer Coolidge, Fred Willard, and all the rest start making those movies again. After a few thousand more viewings of Coolidge railing against Oz's unattractive cast members and Willard prattling on about flying monkeys and Guest suggesting which of the movie's characters ought to be cut ("That's easy. Dorothy."), I'm gonna start getting antsy.
Plus, of course, there were a number of terrifically satisfying wins that helped make last night's affair more bearable. Best Supporting Actor champ Christopher Plummer was expectedly eloquent, and Best Supporting Actress Octavia Spencer, clearly floored by the standing ovation she received, was beautifully emotional, and almost certainly the first Oscar winner in history to end a victory speech with the words "I'm sorry." Best Actor Jean Dujardin concluded his thank-yous with a burst of robust, utterly infectious joy. (I smartly switched my prediction in that category from Brad Pitt to Dujardin, but overall, my last-minute changes in seven categories were a complete wash: In three categories, I wound up guessing correctly; in three categories, I switched from a correct guess to an incorrect one; and my prediction for Best Costume Design - an award that, like Best Picture and Director, went to The Artist - was wrong both times.) Woody Allen, it should go without saying, wasn't on hand to accept his Original Screenplay prize for Midnight in Paris, but I was cheering his victory so loud that I may not have heard his speech had he been there to give one. Flight of the Conchords' Bret McKenzie has an Oscar now! For The Muppets! Two deserved birds with one stone!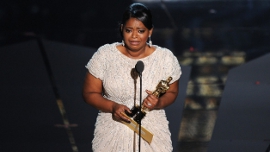 And then there was Meryl Streep. With Viola Davis the seeming Best Actress frontrunner ever since The Help debuted in August, few were predicting this win - she certainly wasn't among the 15 of 24 that I correctly predicted - but could anyone have possibly appeared more stunned by last night's turn of events than Streep herself? After acknowledging a long, rapturous standing ovation, the Iron Lady star said that when she first heard her name announced, "I could hear half of America going, 'Oh God! Not her! Again!'" But yes, it was Streep again, and beyond her win being the evening's biggest shocker, a lovelier, more heartfelt victory speech could barely be imagined. She closed by thanking everyone responsible "for this inexplicably wonderful career" while reminding us, through her elegance and continued excellence, that there's nothing inexplicable about her career, or about Streep emerging victorious for a performance that ranks among her very, very finest. Poor Emmanuel Lubezki may still be waiting, but every once in a while - and despite the frequent disappointment of its ceremonies - Oscar is absolutely capable of doing the right thing.