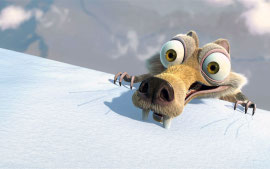 ICE AGE
Movies with charm have been in such short supply this year that the animated Ice Age feels like a shot of pure oxygen. Visually, the film is lacking the detail of a Shrek or a Monsters, Inc., and it's a bit on the goody-goody side, but it's a completely enjoyable, amiable good time at the cineplex, particularly if you've been looking for a movie to take the family to that's less saccharine than Return to Neverland and infinitely smarter than the likes of Big Fat Liar and Snow Dogs.
Set 20,000 years ago, Ice Age is, in many ways, your standard Disney fare, no matter that it's 20th Century Fox's logo that appears before the opening credits; a group of animal travelers, including a woolly mammoth (voiced by Ray Romano) and his foil, an angry sabre-toothed tiger (Denis Leary), attempt to reunite a human baby with the child's father, while trekking across the arctic wastelands. The humdrum nature of the story is enlivened by some gorgeous animated vistas and smart pacing, and, like almost all animated features of late, the talents of an entertainingly eclectic group of vocal performers.
It's rather amazing that it has taken this long to get Ray Romano to voice an animated character, as that seemingly-dimwitted-but-secretly-sharp basso of his is just naturally funny; because his voice is his comic weapon - as an actor, he's not that physically expressive - he's ideally suited to his lumbering, lovable woolly-mammoth character. Leary comes through with welcome, flinty antagonism, and the enjoyable overzealousness of John Leguizamo and the peerless Jack Black is thoroughly amusing. These talents help make Ice Age a sweet treat; they might not be reason enough to catch the film without your kids chaperoning you, but if the young 'uns talk you into taking them, you shouldn't mind a bit.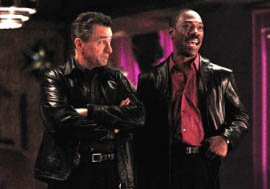 SHOWTIME
It takes almost 90 minutes for the action-comedy Showtime to come up with an inspired sequence - it involves the destruction of a rooftop swimming pool - and by then there are only two or three minutes left in the picture. Before that, we must endure Robert De Niro (performing his comedically grumpy act without the funny lines necessary to salvage it) and Eddie Murphy (overacting so badly that even his character's inherent hamminess comes off as forced) doing riffs on roles they've played dozens of times before, as they portray two mismatched LAPD officers who wind up on their own Cops-esque reality show. To say that reality TV isn't exactly the freshest source for satire is obvious to a fault, but Showtime positively revels in obviousness. The movie features such a barrage of genre trappings that you can't tell if it's parodying cop-flick clichés or simply giving in to them; when Showtime trots out its chief villain, a menacing, slightly fey, accented Euro-trash arms dealer with big teeth and a hissing laugh, it might have made for a marvelous joke if the filmmakers had realized what a silly, retrograde cartoon this character type has become. Instead, director Tom Dey treats him with utter seriousness, as he does with such hackneyed subplots as De Niro and Murphy's dislike-leading-to-respect-leading-to-friendship and Murphy's desire to pass his detective's exam. (The one time I laughed in the movie was when Rene Russo, playing the duo's TV producer, kissed De Niro at movie's end; apparently, their characters started dating when no romance had previously been implied. Hollywood plays matchmaker for the white movie stars yet again.) Mired in formula as they are, genre flicks can only work if either the actors or filmmakers - preferably both - look like they're having fun, but the only feeling to come from Showtime is an overpowering sense of ennui.
THE TIME MACHINE
When, exactly, did Jeremy Irons give up on acting? The question arises after seeing the silly new version of The Time Machine, in which Irons plays Uber-Morlock to Guy Pearce's dreary inventor Alexander Hartdegen. The movie is barely worth detailing - all '50s-era sci-fi cheesiness with lethargic action sequences and an unmistakable Moral shoved down our throats - but it's a little soon after Dungeons & Dragons for Irons to be playing the ham-fisted bad guy in another childish romp in which he's used solely for his mincing, otherworldly Britishness. (You have to go back to 1997's Lolita remake to find the last actual performance Irons gave.) Maybe movies like Showtime have dulled Hollywood's interest in him; with every other European bad-guy character actor in Hollywood doing variants on "the Jeremy Irons type," why waste the money on renting the real thing?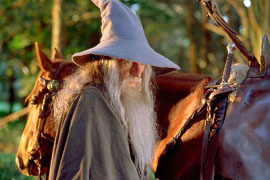 OSCAR PREDICTIONS
Two weeks ago, the Reader published my article on what films I would have loved to see nominated in the major categories at this year's Oscars. But March 24 is approaching and the Academy still hasn't altered its list of nominees to encompass my suggestions, so here are my official predictions in the top categories:
BEST PICTURE: Moulin Rouge. Laugh if you must. But while critics and audiences were divided, those that love it love it, Hollywoodites are aching for more musicals, and never underestimate the voters' desire to reward movies about showbiz; remember Shakespeare in Love's win over Saving Private Ryan? Top honors from the Producers Guild, the Golden Globes, and the National Board of Review will only aid the movie's credibility; while A Beautiful Mind would be the safe, predictable choice and could easily win, I'm guessing the general adoration for Moulin will carry it through.
BEST DIRECTOR: Robert Altman (Gosford Park) in a squeaker over Ron Howard (A Beautiful Mind). The actors' branch that put performer-friendly Steven Soderbergh in the winner's circle last year won't miss this possible last chance - Altman is 76 - to reward the guru of filmed improv performance.
BEST ACTOR: Russell Crowe (A Beautiful Mind). Never mind that he won last year; this is a performance that can't be ignored (both the Golden Globes and Screen Actors Guild rewarded him), and the controversy surrounding the real John Nash will lead to a moving acceptance speech. Condolences to Denzel Washington, whose Training Day performance might have nabbed the Oscar in any other year.
BEST ACTRESS: Halle Berry (Monster's Ball), although Sissy Spacek (In the Bedroom) has been the frontrunner for so long it seems she already won the Oscar months ago. But that's part of the problem; Spacek feels like old news. Berry's win at the Screen Actors Guild might have clinched this horserace.
BEST SUPPORTING ACTOR: Ian McKellen (The Lord of the Rings: The Fellowship of the Ring). While Golden Globe winner Jim Broadbent (Iris) can't be discounted, LOTR has to win one major award, and Hollywood's still smarting about McKellen's loss three years ago to ... ugh ... Roberto Benigni.
BEST SUPPORTING ACTRESS: Jennifer Connelly (A Beautiful Mind). A lock.