In order of recommendation:
THE ASSASSINATION OF JESSE JAMES BY THE COWARD ROBERT FORD
The day after viewing writer/director Andrew Dominik's The Assassination of Jesse James by the Coward Robert Ford, my editor asked me what I thought of it, and I told him I loved it. He asked me why, and I couldn't give him an answer, mostly because its greatness lies in the elusive matter of tonality; this Western feels lived-in and fully realized and alive in ways the entertaining-but-facile 3:10 to Yuma doesn't. Dominik's work is a deliberately paced, serious-minded, mostly plotless period piece that runs some two-and-a-half hours, yet incredibly, it's one of the most enjoyable movies I've seen all year.
Part of its appeal is purely aesthetic. Working with a muted palette that suggests black-and-white photographs that are beginning to yellow with age, that peerless cinematographer Roger Deakins gives the 19th Century visuals a slightly romanticized starkness; in Deakins' hands, monochromatic feels as vibrant as Technicolor. The film's vibrancy, though, extends to Dominik's writing, which is simultaneously terse and graceful, and to his staging - the physical and emotional violence erupts in messy, spasmodic bursts, and the scenes of sustained tension, as we wait for the inevitable violence to occur, are transfixing. (Dominik's use of sound is especially noteworthy; every time we hear the cock of a pistol, we instinctively flinch.)
Brad Pitt's Jesse feels a little anachronistic, but he's thoughtful and haunted here, and among pitch-perfect, unmannered portrayals by Sam Rockwell, Paul Schneider, Garret Dillahunt, and Jeremy Renner, Casey Affleck's work as Ford is positively enthralling, his slow-witted, dangerously unstable hanger-on a triumph of actorly imagination. Given its measured, elegiac tone, Jesse James' underwhelming box-office performance isn't surprising, but it's definitely unfortunate; Dominik's Western is probably the genre's richest offering since Unforgiven.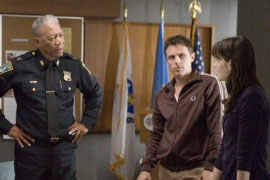 GONE BABY GONE
Casey Affleck also stars in brother Ben's directorial debut, Gone Baby Gone, which the elder Affleck adapted (with Aaron Stockard) from Dennis Lehane's novel. A dramatic thriller involving the search for a missing four-year-old, the film returns the Afflecks to their native south Boston of Good Will Hunting, and it has its share of problems: the mid-film subplot concerning a pair of hideous cokeheads and their pedophile tenant, which briefly turns Gone Baby Gone into a Rob Zombie flick; the too-frequent insert shots of local denizens and their milieu, suggesting a lack of confidence in the established atmosphere; the cynical jabs at the media, with TV news anchors expressing faux concern for the child and subsequently chirping, "And now on to sports!" (Certainly, media-magnet Affleck has reason for grinding this particular ax, but Gone Baby Gone isn't exactly the appropriate forum for it.)
Pinpointing what's wrong with the movie is easy, but pinpointing what's right with it is even easier; for a piece by a first-time director, Gone Baby Gone is fantastically effective. It's filmed with sensational urgency and drive - there isn't even one dull scene - and Affleck, alert to subtle shifts in mood, lingers on the sadness and awfulness without wallowing in it; considering its subject matter, the film doesn't feel at all exploitive. The screenwriters are adept at entertainingly profane tough-guy banter yet also know when their characters need to shut the hell up, and from the leads to the bit players, the movie is acted stunningly well.
Casey provides another fearless, unsentimental portrayal, strong work is delivered by Ed Harris, John Ashton, Amy Madigan, and Titus Welliver, and Amy Ryan, as the missing child's nightmarish, drug-addict mother, delivers what might be the supporting performance of the year - her horrific, pitiable turn is a minor acting miracle. Gone Baby Gone is tough-minded and memorable, and even earns bonus points for originality: Morgan Freeman appears in the film, and there's voice-over narration, yet Morgan Freeman does not provide the voice-over narration. That's gotta be a first.
RENDITION
Substituting the theme of global terrorism for that of global oil practices (which, come to think of it, is much the same thing), Rendition is like Syriana for Dummies. Yet considering how knotty Syriana is, that's not quite the insult it seems. Gavin Hood's multi-plotted pastiche, scripted by Kelley Sane, criticizes American political practices but is careful to provide rationales for everyone's actions - it isn't (merely) a liberal tract - and the complexities are lucid and involving; even the late-film narrative twist transcends its "Gotcha!" effect and engenders a true, and fair, re-examination of the storyline. It's a heartfelt, impressive work, and barring its tragic young-lovers-in-peril subplot, it mostly eschews melodrama. I just wish the movie were more engagingly performed. Jake Gyllenhaal, Alan Arkin, and even the usually magnetic Peter Sarsgaard give dutiful, just-the-facts-ma'am portrayals, and a morose Reese Witherspoon doesn't do anything for an audience; tense and fretful, she comes off like an actress of depressingly limited resources. As for Meryl Streep, portraying a steely, drawling government agent, her cartoon villainy offers a bit of fun, but if feels less like a characterization than snarky attitudinizing, exactly the kind of below-the-belt attack that Rendition, to its credit, mostly avoids.
THE COMEBACKS
In the vein of Scary Movie, Date Movie, and Epic Movie, we now have Sports Mov ... er ... The Comebacks, another crude, obvious, indifferently executed name-that-reference parody, and about half of it is really lame. The other half, though, is really, really funny. I'm biased because I love them on The Office, but David Koechner and Melora Hardin seem to lend some adult wit to the ceaselessly, merrily juvenile shenanigans - Koechner is a valiant slob comic - and at least two dozen gags made me laugh out loud; the playing-field arrival of the Trojans, bursting through an oversized condom, was pretty priceless, as was Jesse Garcia's volatile kid desperate his escape his suburban cul-de-sac. ("There ain't no way out ... unless you back up outta that guy's driveway ... .") The movie is tasteless, shameless, and surprisingly tough to resist.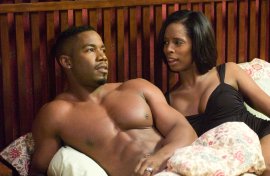 TYLER PERRY'S WHY DID I GET MARRIED?
Tyler Perry is so vital to current African-American cinema and does so many things right that it seems churlish to bitch about the things he does wrong. But, wow, he's a terrible writer. Granting the fact that I'm not exactly the target demographic for Tyler Perry's Why Did I Get Married? - a Big Chill-ish dramedy wherein four couples work out their relationship issues - the writer/director/co-star's subplots are still almost unbearably programmatic, and his dialogue is obvious and exposition-heavy; the characters, continually attacking one another for sins of the past, don't converse so much as recount. Thank heavens, then, for the terrifically game and committed cast (Jill Scott's devout, plus-sized shrinking violet is especially touching, and during the first half, Tasha Smith provides hilarity and electricity), for the happily improvised riffs and moments of true connection, and for Perry's spectacular sincerity, which makes the patchiness more forgivable; his characters may only speak in clichés, but you can't deny that Perry means every last one of them.
THINGS WE LOST IN THE FIRE
During a flashback sequence in Susanne Bier's Things We Lost in the Fire, David Duchovny - whose character's death sets the plot in motion - finds his wife and daughter crying in front of the television, and he asks, "Are you watching that Lifetime movie again?" It turns out that they aren't. But we are. As shell-shocked widow Halle Berry and recovering-junkie best friend Benicio del Toro Face Their Grief and Learn to Grow and all that, screenwriter Allan Loeb clicks off the classy-TV-movie signposts as if using a playbook; every conflict - from del Toro's relapse to Berry's emotional meltdown - arrives exactly on cue. (At several junctures, you think, "Time for the commercial break.") Bier's close-ups, which frequently fill the entire screen with the image of an eye or a hand, provide some visual interest; they're certainly digging deeper into the characters than Loeb's script is. But despite some fine work by John Carroll Lynch and a refreshingly relaxed Alison Lohman, only del Toro, with his eccentric, goofily human naturalism, transcends the sappiness. I'm not predicting an Oscar nomination, but he would've had the Emmy all wrapped up.
WE OWN THE NIGHT
Joaquin Phoenix is one of the most eloquent, affecting mumblers since Brando, but it helps when he has engaging things to mumble. In the cop drama We Own the Night, though, the actor's enervated readings might be explained by writer/director James Gray giving him - and the other performers - so much solemn and achingly clichéd dialogue; Phoenix seems weighed down by the film's symbolic import, and by the end, his swallowed misery is so listlessly evoked that you can barely understand a word he's saying. (Mark Wahlberg, so soon after Shooter, is again doing his I'd-rather-die-than-smile thing. Is anyone else beginning to forget how fast and funny he was in The Departed?) This mopey bummer features almost too many echoes of other, better works (primarily The Godfather) to count, but at least there's one scene I've never seen before: a spectacularly thrilling car chase in the rain, scored only to the metronome of Phoenix's windshield wipers in motion, and viewed (terrifyingly) from within the confines of the vehicle. It's the one truly brilliant passage in the movie, and one of the few almost completely devoid of dialogue. Coincidence?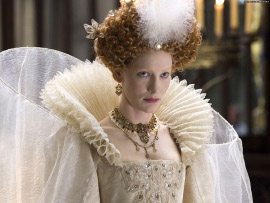 ELIZABETH: THE GOLDEN AGE
In Elizabeth: The Golden Age, the follow-up to 1998's Virgin Queen bio-pic, Cate Blanchett acts up a storm. The movie itself merely blows. I wasn't a fan of the alternately inert and hyperactive original, either, but it certainly wasn't as ridiculously grandiose and emotionally florid as this offering; between the hysterically portentous dialogue ("Why be afraid of tomorrow when today is all we have?"), the C-grade Masterpiece Theatre scheming, the distractingly fraudulent CGI inserts, and Clive Owen's Walter Raleigh making goo-goo eyes at the camera while Blanchett's Elizabeth all but licks her lips and mutters, "Yum-my!", Shekhar Kapur's sequel is watchable only for its corpulent excess - even the costumes seem less like historically accurate re-creations than haute couture from the world's most costly drag show. Elizabeth: The Golden Age feels like the Pedro Almodóvar-iest movie Pedro Almodóvar never directed, but one in which all the laughs are unintentional.