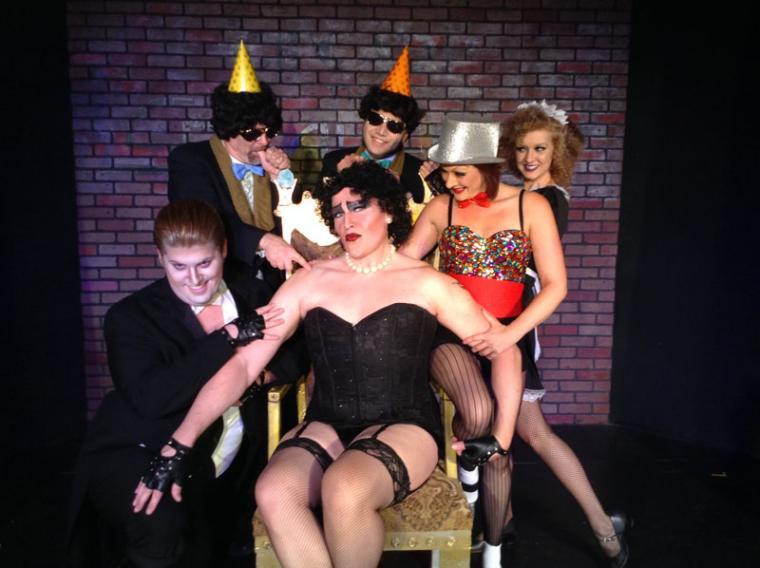 In an October filled with local theatre that includes the likes of Shakespeare, Sam Shepard, and Flowers for Algernon, I was shivering with anticipation: What show would I be assigned this month? Could I handle the depth and power of a classic? Finally, the e-mail came, and I was given the sweetly daunting task of examining one of the most astounding, bucket-list theatrical works I could ever review. Yes! Yes!! YES!!! Thank the theatre gods! I could finally revisit my late teens to dissect the '70s cult classic The Rocky Horror Show!
So you've never seen the Show? No worries, because you can pop your cherry at the Circa '21 Speakeasy, which is hosting this wild presentation through Halloween weekend. Many are familiar with its celluloid cousin The Rocky Horror Picture Show (non-italics mine), which gained disciples around the globe with its midnight-madness movie-house showings that found audience members participating in the on-screen action, performing right along with the film and bringing their own props and costumes to enhance the experience.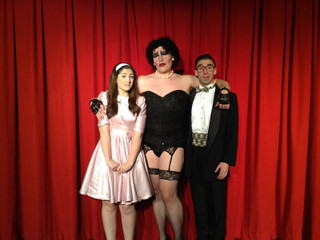 In both its stage and screen versions, Rocky Horror is a nearly incomprehensible musical mash-up of B-grade science-fiction and fright flicks from the mid-20th Century. The story tells of gullible young ingénues Brad and Janet, who are driving through a torrential storm when they have car trouble and take refuge in the castle of the mad, transvestite scientist Dr. Frank-N-Furter (a.k.a. Frank). This gloriously perverted doctor has an insatiable sexual appetite and introduces the couple to his latest creation, a Frankenstein-esque creature named Rocky Horror who is the perfect male specimen. From there, the plot gets even more freakish with tap dancing, a chainsawed delivery boy, a wheelchair-bound Nazi, shadow-puppet sex, and space aliens. Just another typical night of musical theatre in the Quad Cities.
With its book, music, and lyrics by Richard O'Brien, the Speakeasy's Rocky Horror Show is dynamically directed and choreographed by the real-life married duo of Bret and Erin Churchill, who created this effective yet minimalist stage version. They obviously had great fun directing the schlock out of this nymphonic symphony of gory campiness, with special mention also going to Randy Rhoten for his delightfully spicy, if rather conventional-for-Rocky-Horror, costumes.
Move over Barry Bostwick, because there's a new Brad in town, and his name is Joey Boos. An actor perfectly suited for the role, Boos provides the ideal mix of wide-eyed cheesiness and solid talent, and as Brad's fiancée Janet, Leslie Munson beautifully dovetails the character's virtue with her newly sexually awakened persona to deliver an alluring yet sweet take on the role. Playing the intimidating role of Frank, meanwhile, is a very comfortable-seeming Dion Stover, who plays the character with his own sense of power and vamp without becoming a Tim Curry wannabe. As he made his first entrance in the song "Sweet Transvestite," the audience nearly came unglued when he peacocked across the stage in his high heels and man-sized bustier.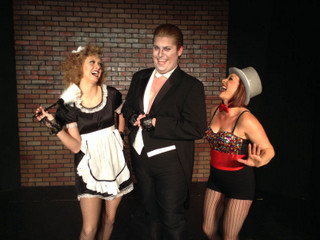 Every single cast member was entertaining to watch, and definitely appeared to be having as much fun as the audience. Becca Meumann-Johnson, cast as Usherette and Magenta, brings a wonderful vampiness to the stage, and in the role of Riff-Raff, Nicholas Munson not only had the pipes to sing the demanding score, but was delicious in his creepy portrayal of Frank's hunchbacked lab assistant. Doug Kutzli's wry narrator pushed the story along with a fantastic dryness that he utilized frequently, with simple deadpan expressions, when heckled from the audience. And in her role as Columbia, Sara Tubbs chewed up the scenery and nearly stopped the show with her tap solo during the "Time Warp."
Those who've seen Rocky Horror, either on-screen or -stage, know going in that they're in for one hell of a ride, as the audience freely participates by yelling out (at times profane) lines at the actors. At October 8's 7 p.m. performance, I found myself singing songs and heckling a time or two for the first time in decades, and nearly everyone jumped to their feet to participate in that iconic "Time Warp" dance – even with the diverse crowd ranging from hipsters to grandmas to drama jocks to 50-somethings reliving their glory days. (You might also consider purchasing a prop bag at the door – it's only two bucks – that provides you with all the sanctioned necessities and how-to instructions on fully immersing yourself in the experience.)
Make no mistake: This show is not for the kiddies. So call a babysitter, because you have to be at least 18 to get into the 7 p.m. performances and 21 for the 11 p.m. The Rocky Horror Show is rowdy, bawdy, R-rated, full-contact theatre that supplies a boisterous laboratory concoction of equal parts drag show and B-movie schlock, and duly earned a raucous, opening-performance standing ovation.
The Rocky Horror Show runs at the Circa '21 Speakeasy (1818 Third Avenue) on October 15 and 28 at 7 and 11 p.m., and on October 29 at 11 p.m. For more information and tickets, call (309)786-7733 extension 2 or visit TheCirca21Speakeasy.com.