In the 11-week period between June 1 and August 12, I saw 28 area productions. And how did you spend your summer vacation?
Considering the overall great time I had last summer, though, I was hardly dreading this relentless schedule. I'd spent 10 whole months eagerly anticipating my return to the Clinton Area Showboat Theatre (CAST), Mt. Carroll's Timber Lake Playhouse, and - for Genesius Guild productions - Rock Island's Lincoln Park; the summer-theatre triad would be responsible for 17 of those 28 offerings. (Summer 2006 would also provide my introduction to Eldridge's Countryside Community Players, whose Cinderella I missed last year.)
In order of occurrence:
June 2: Thoroughly Modern Millie (Timber Lake). I couldn't be happier about being back. The show is tremendous fun, but I especially relish getting acquainted with this year's summer-stock cast. Some - such as the expert Justin Sample and Ella Mouria Seet - I already adored in 2005. Some - Courtney Crouse, Sarah Dothage, Abby Haug, Ben Mason, Sean Riley - I'll be adoring for the next two months. (And Meredith Gifford's performance as the faux Asian Mrs. Meers is astonishing; six months later, a friend and I still routinely cackle over her stereotypically accented "Ohhh ... how sa-a-ad to be awr a-rone in duh rorld!")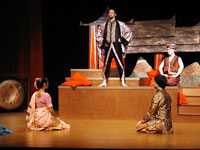 June 9: The King & I (CAST). Damn. This one doesn't really work for me. Despite what will be a positively stellar Clinton ensemble - one that includes Benajmin Cole, Colin Douglass, Allison Hendrix, Nicole Horton, Paul Luoma, Maggie Mountsier, and Cassandra Marie Nuss, all of whom will deliver at least three sensational performances apiece - I leave feeling bummed. For my review, I come up with what has become my most oft-quoted headline: "Disappointed? Yes, Siam." For two weeks, I pray that I won't have to come up with another just like it.
June 10: The Mikado (Genesius Guild). It's so cold on this night that people are actually wearing gloves. Kudos to the Guild and Opera@Augustana participants for making it feel like spring. (Special accolades to Jonathan Schrader and Michael Callahan, who sing divinely and are funny as hell.)
June 15: The Philadelphia Story (Timber Lake). I have no idea what's going on here. It doesn't seem like the cast does, either.
June 23: The Mousetrap (CAST). Spectacularly clever and funny. My worries are assuaged! The Showboat's back in business, baby!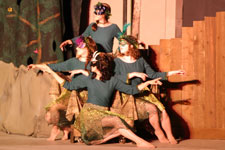 June 24: The Tempest (Genesius Guild). As Prospero, Pat Flaherty pulls off something that's really difficult to convey - majestic eccentricity. Nearly every element of this production - the Guild's best of 2006 - is similarly grand and charmingly goofy, especially the performances of Wilder Anderson, Kai Swanson, James J. Loula, and Jonathan Gregoire, the last of whom will go on to be fantastic in the Guild's productions of ... well ... everything.
July 1: Urinetown (Timber Lake). Perhaps the best time I have at any area theatre all summer. The show's built-in irony seems a perfect match for this batch of stunningly gifted comic actors, and technically, the production couldn't possibly be bettered. As part of an effort to raise funds for the special effects in Timber Lake's forthcoming Wizard of Oz, the concession stand sells Urinetown toilet paper. I happily buy some.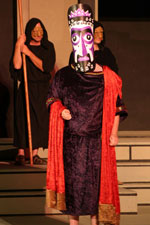 July 8: Seven Against Thebes/Antigone (Genesius Guild). As a whole, both casts demonstrate incredible vocal confidence, which - truth be told - is something you can't always say about the actors in Genesius Guild's productions. Maybe wearing masks helped.
July 12: Anything Goes (CAST). So hilarious, so inventive, so fully satisfying that the crowd routinely bursts into applause not just in the middle of musical numbers, which would be deserved enough, but after jokes. (Rob Engelson's performance as Evelyn Oakleigh makes me cry with laughter.) This magnificently cheeky production is the last CAST show to be directed by artistic director Jay Berkow, who will step down from his position at the summer's end. He's currently teaching theatre in Michigan. Michigan is lucky.
July 13: Tom, Dick, & Harry (Timber Lake). Generally, I don't enjoy slapstick farces. I absolutely enjoy this slapstick farce. The show's director, the wildly gifted Brad Lyons, also helmed Millie and Urinetown. I'm officially curious what he can't do.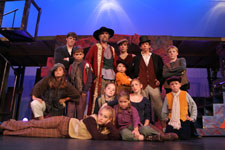 July 15: Oliver! (Countryside). Let's just say I leave looking forward to next summer. Loved the North Scott Fine Arts Auditorium, loved the audible excitement of the audience, loved the technical elements ... really didn't love the show.
July 22: The Comedian (Genesius Guild). The performance - with particularly excellent work by Mike King and Candice Gregg - is quite good. The audience - which seems overrun with chattering children who can't find a seat to their liking - is beyond annoying.
July 27: The Wizard of Oz (Timber Lake). With so much focus on the technical razzle-dazzle and so little focus on elements such as "character" and "charm," I quickly resent buying the toilet paper.
July 28: Incredible Sex (CAST). Funniest show I saw all year. All three of them. (The production is a trio of Rich Orloff one-acts: Oedi, Women in Heat, and Mars Needs Women, But Not as Much as Arnold Schecter). In a season of incredible performances, Jeffrey Fauver's turn as the nerdiest of nerds - hands down, the most riotous area work of 2006 - was so inspired that I'll never forget it. ("Oh, n-n-n-o-oh!")
August 5: The Birds (Genesius Guild). With the exception of Ballet Quad Cities' Ballet Under the Stars two weeks hence, this will be the last time that I get to enjoy founder Don Wooten's Genesius Guild introductions, as he's retiring after 50 years with the organization. The Birds is fine. Wooten is great. His presence will be much missed.
August 10: Cabaret (CAST). A strong, sometimes deeply unsettling finale to the Showboat's summer, the show gets better and better the more I dwell on it. By the time I've completed the 50-minute drive home, I totally miss the Showboat.
August 12: Ain't Misbehavin' (Timber Lake). An electrifying end to the season, featuring some intimidatingly talented guest actors. Memories of The Philadelphia Story and The Wizard of Oz have long vanished. I'm already counting the months until my next summer-theatre adventure. Less than 10 to go.