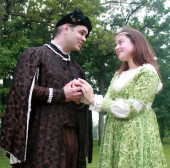 More than a third of the area productions I attended this year - a whopping 35 of them - I saw in the 91-day span from May 17 to August 15. And more than half of those shows - 19 in all - were produced by a combined five theatre organizations: Rock Island's Genesius Guild, Eldridge's Countryside Community Theatre, the Clinton Area Showboat Theatre (CAST), Mt. Carroll's Timber Lake Playhouse, and Davenport's newly established Riverbend Theatre Collective. My experiences with this quintet formed a fascinating theatrical journey, one boasting plenty of highs, occasional lows, randomly bitchy Web-site comments ... .
In order of occurrence:
May 17: Elegies, A Song Cycle (Riverbend). The debut offering by artistic director Allison Collins-Elfline's company features a batch of lovely songs, enthusiastic work by Patrick Gimm, Jackie Madunic, Dana Joel Nicholson, and Collins-Elfline herself, and is my first exposure to the vocal chops of Music Guild veteran Bryan J. Tank. By the end of the opening number, I totally understand why I'd been hearing raves about his Jekyll & Hyde and Scarlet Pimpernel performances for years.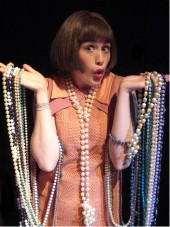 May 29: Thoroughly Modern Millie (CAST). It's always a kick returning to the Showboat, even if this is the third summer in a row I'm seeing this musical. The production isn't bad - and Alison Luff and Dallas Milholland are excellent - but among Millie's annual area presentations, this one still winds up being my third-favorite.
June 6: West Side Story (Timber Lake). A pretty good first act leads to a really great second act, but I'm less stoked by the show than I am by seeing so many talents familiar from previous summers. Look, there's Jeremy Day, and Samantha Dubina, and Justin Banta, and ... . Holy crap, is that Heather Herkelman from last summer's Anything Goes at Music Guild?! Awesome!
June 19: You Can't Take It with You (Timber Lake). Like Millie, this is another show I'll be reviewing for the third time now, and perhaps sensing how acquainted most audiences are with the material, the cast performs at near-warp speed. You know that Schoolhouse Rock song "Three is a Magic Number"? It's kind of a lie.
June 20: The Compleat Wrks of Wllm Shakspr [abridged] (CAST). Joshua Estrada and the Showboat's artistic director Craig A. Miller are very funny in this three-man Bard satire. Ryan Schabach is so outrageously demented and unpredictable that I don't know whether to give him a standing ovation or the number for a really good psychotherapist.
June 21: The Sound of Music (Countryside). My first Countryside experience since 2007's spectacular Seussical finds me enjoying some lovely vocals and visuals, but overall, the production is just ... weird. The tempos are all too slow, several actors are delivering lines to the audience rather than each other, and Act II opens with a reprise of "Lonely Goatherd," which wouldn't be bizarre if the song hadn't been cut from Act I.
June 22: Kimberly Akimbo (Riverbend). Veteran performer Peggy Freeman is giving a wholly believable performance as a 16-year-old, frequent Prenzie Players Jaci Entwisle, Dustin Oliver, Aaron Sullivan, and Denise Yoder are in modern dress, and after three nights of Shakespeare, Sycamores, and "Do, Re, Mi," I'm now listening to characters scream "Fuck!" at one another. It's heaven.
June 22: The Comedy of Errors (Genesius Guild). Two shows in one day! I'm a madman! Happily, several actors here are, too, and in the Guild's post-Ballet Under the Stars season-opener, Jonathan Gregoire, Kevin Wender, Michael Schmidt, and others deliver nutty, inventive portrayals. (Molly McLaughlin, Grace Pheiffer, and Lisa Pilgrim, for their parts, are great madwomen.) And the production even begins with puppets. Why are so many people afraid of Shakespeare?
June 28: After last week's five-show marathon, I'm enjoying a work-free weekend out of state ... and seeing an absolutely fantastic production of the musical Honk! - featuring onetime Circa '21 actor Patrick Walters - at the Weathervane Playhouse in Newark, Ohio. Yeah, even on vacation I'm at the theatre.
July 3: All Shook Up (Timber Lake). I remember the Broadway reviews being so dismal that I made a mental note to avoid this Elvis Presley pastiche if at all possible. Never, ever trust reviewers. (Except, you know, sometimes.) After a shaky start, it winds up being one of my favorite shows of the summer - loopy, fast-paced, exuberant, and showcasing hysterical leads in Samantha Dubina and Brandon Ford. And how is scene-stealer Heather Herkelman? Awesome!
July 5: Electra (Genesius Guild). A devious, delectable soap opera, with Andrea Braddy giving a performance (and this is meant as a compliment) that wouldn't be out of place on Desperate Housewives. The show also has masks, the fabulous Susan Perrin-Sallak, and a 75-minute running length. Why are so many people afraid of Greek tragedy?
July 12: Sweeney Todd, the Demon Barber of Fleet Street (CAST). As the lights dim, I'm thinking, "Exactly how are they going to pull off this show?" Two-and-a-half hours later, I'm given my answer: "Extraordinarily well, thank you." Easily the best-looking CAST production I've ever attended, and one of the best-sounding, the experience is bliss, and while I own DVDs of Angela Lansbury and Patti LuPone in the role, I can't honestly say that either makes a better Mrs. Lovett than Dallas Milholland.
July 18: The Foreigner (Timber Lake). A slapstick farce by Larry Shue, which means I probably won't like it. But starring Jeremy Day, Jenny Guse, Kitty Karn, and other Timber Lake talents, which means I probably will. The "will"s win out.
July 19: Children of Eden (Countryside). Colorful, imaginative, and wonderfully sincere, the show features a heartbreaker of a performance by the gifted Alison Scherer, and the staging of Abel's death is so unnerving that it makes one of the kids in the crowd cry. Plus, Brian Nelson plays God. 'Nuff said.
July 20: As Bees in Honey Drown (Riverbend). A production of hits and misses, with superior comic work by Maggie Woolley and Matt Moody among the hits, and some confusing staging and odd, echo-chamber acoustics among the misses. Reader employee Stephanie Burrough, though, appears in the show topless, with a violin covering her chest. I greet her at work on Monday chiming, "I-I-I saw you na-a-aked!" (Even though I really didn't.)
July 20: Romeo & Juliet (Genesius Guild). Another Sunday-with-Riverbend-and-Genesius-Guild two-fer! Most of the acting here is fine or better-than-fine, but the styles are all over the map, and my lukewarm review of the show engenders an online debate that somehow leads to my being outed on the Reader Web site. Why are so many people afraid of the Internet? Oh, wait, I think I know why ... .
July 31: The Producers (Timber Lake). Forgiving me my "I-I-I saw you na-a-aked!" teasing, Stephanie accompanies me to the Mel Brooks musical, where both of us are routinely in tears from laughing so hard. I consider composing a list of the year's 10 funniest stage moments for my year-end coverage, but since at least eight of them would be from this production, I figure there'd be little point.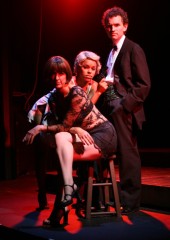 August 1: Chicago (CAST). After Sweeney Todd, my expectations for Clinton's season-closer are almost unreasonably high. Scratch that; they are unreasonably high. And while the production is an overall good one, during those occasional moments when there's a bum note or a jumbled lyric or an unsynchronized bit of choreography, I'm reminded that an imperfect Chicago is a pretty pointless Chicago. The show sure looks great, though.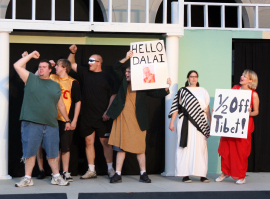 August 2: The Clouds (Genesius Guild). Don Wooten's annual, season-ending burlesque, chock full of puns and wit and wacky musical numbers, and as goofily entertaining as you could want. Afterwards, a friend points out that my name wasn't mentioned during Wooten's good-natured skewering of local theatre critics. I don't know whether to be insulted or relieved.
August 15: Church Basement Ladies (Timber Lake). A musical-comedy I wasn't crazy about when I saw the show in 2007, which means I probably won't like it. But starring Jeremy Day, Jenny Guse, Kitty Karn, and other Timber Lake talents, which means I probably will. The "won't"s win out. After my review is published, a Web-site poster comments, "Wow ... somebody took an extra crabby pill today." Just imagine when I see the show a third time this March!