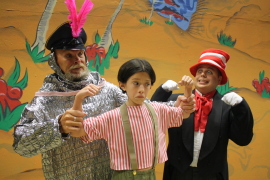 On Thursday night, I attended Quad City Music Guild's preview performance of Seussical, and if you include St. Ambrose University's 2008 production of the one-act Seussical Jr. - and I most certainly do - it was the third time I'd seen this show in as many years. (Eldridge's Countryside Community Theatre produced its version in the summer of 2007.) If theatres would only oblige, I'm reasonably sure I could see it, and without any complaint, every year for the rest of my life.
I love Seussical. Absolutely love it. I think I'd love it in a box; I think I'd love it with a fox. I think I'd ... . Okay, I'm done. But that's the sort of babbling happiness this show inspires in me (and apparently, based on the reactions of fellow audience members over the years, in lots of others). It could hardly be classified as a great musical; it's too aimless and unassuming and silly to be much more than a delightful diversion. But man oh man is it ever delightful.
Without being strictly beholden to Dr. Seuss' imaginings, show creators Lynn Ahrens and Stephen Flaherty deliver the author's signature wit, humor, and sentiment through disarmingly unfussy, utterly charming means. The "plot," such as it is, is really just a commingling of Horton Hears a Who!, Gertrude McFuzz, and other works in the Seuss canon, with guest appearances by such beloved characters as the Grinch and Yertle the Turtle. But Seussical's book is smart and snappy, with a healthy dose of agreeably mean-spirited humor (thank you, Cat in the Hat), and Ahrens' and Flaherty's score is consistently excellent. It's the rare show in which its signature number ("Alone in the Universe") and signature refrain ("A person's a person no matter how small") grow more and more lovely the more they're repeated - I've yet to reach Seussical's close without getting teary-eyed - while its most subversively comic number ("How Lucky You Are") becomes funnier and funnier with each new reprise.
The musical's deliberate simplicity also allows designers to go to town with unusual and creative choices, and Music Guild's take on the material, lovingly directed by Andy Davis, showcases a bunch of talents working at peak invention. Greg Bouljon's cheerful, candy-colored set resembles a children's book sprung to life, with the unveiling of Whoville - its walls unfolding like an accordion's flaps - actually reminiscent of a life-sized pop-up book. And wife Mary Bouljon's costume designs are similarly outstanding. (I've never been to the Bouljons' house, but I bet it's beautiful.) A fascinating, frisky blend of the understated and the enjoyably outré, the wardrobe effortlessly suggests Dr. Seuss' familiar figures without, for instance, Horton saddled with a trunk or Gertrude with a beak.
Taken with Steve Parmley's frequently gorgeous lighting, which is especially fine during the delicate "Solla Sollew" ballad, Music Guild's Seussical is one terrific-looking show, and with Josh Hahn leading a first-rate, 15-piece orchestra, it's a mostly terrific-sounding show, too. (Yes, Thursday's presentation did feature a few body-mic glitches here and there, but since it was still technically a rehearsal, they're not worth complaining about.) My only serious grievance with the production would be with a roughly 20-minute patch in Act II, in which the collective energy seemed to vanish amidst too many low-key songs, storyline distractions, and unnecessary detours. As much as I adore Seussical, it might actually work a bit better in one-act form; the Christmas-pageant sequence and scenes with the gruff General Schmidtz and his cadets feel easily excisable. But it's tough to get worked up about receiving too much of a good thing, and the cast - performing Ann Morman's kicky choreography with gusto - rallied for a joyously exuberant finale.
Yet for all of the grown-up gifts on display, would you believe the production is nearly completely stolen by a fifth-grader? Watch Emily Baker's performance as the de facto audience surrogate, JoJo; trust me, you'll believe it. A dynamically adventurous presence with impressive vocal pitch (especially considering her age), young Baker is an effortless scene-swiper here, focused and honest and, in her airborne "It's Possible" ballet, as graceful as can be. And better still, she's really funny, routinely attacking the Cat for his shenanigans with wonderfully mature invective. (JoJo's incensed admonishment to her troublemaking acquaintance - "And you won't go away!!!" - is a gasp-inducing comic surprise.)
Baker is a true hoot, and her adult co-stars aren't exactly slouches, either. (Any production that casts the sensational Erin Lounsberry, Ryan Mosher-Ohr, and Sydney Crumbleholme in non-speaking ensemble roles is hardly at a loss for talent.) The priceless Jenny Winn adds another to her seemingly endless series of glorious Guild portrayals, playing the short-tailed Gertrude with a perfectly calibrated blend of daffy awkwardness and lovelorn hysteria. (On Thursday, Winn's rendition of "Love Song for Horton, # 437" was a fourth-wall-busting riot.) John Weigandt is unfailingly adorable as Horton the Elephant, and Andrea Kapusinski - superb in Music Guild's Evita last summer - delivers a bawdy, condescending Mayzie Bird; both could stand to be more emotionally expressive in their dialogue, but their expressiveness when singing easily makes up for it.
There are expert harmonies by the Bird Girl quartet of Abbey Donohoe, Hillary Pieper, Kelly Thompson-Reyes, and Sarah Walker. There's infectious fun in the (literal) monkeyshines of Ian Heaton, Jens Hurty, Nicholas Munson, and Tommy Ratkiewicz. There are strong vocals and vigor from the likes of Heather Roman, Michael Schmidt, Kevin Pieper, and Katie Casey. And in Eric Reyes' Cat in the Hat, there's something that no production of Seussical should be without: a jolt of totally unconcealed, unapologetic lunacy.
Speaking with an insinuating, sing-song-y breeziness and gently gliding around the stage as if he owned the joint (which is just what cats do), Reyes' fixed grin and surface pleasantness occasionally mask the fact that this character is absolutely bughouse loco, and his moments of almost shocking comic meanness - sneezing on the residents of Whoville, tossing Horton on the auction block - are what prevent Sessical's sweetness from turning saccharine. Reyes is a delirious, madly engaging comedian in Music Guild's latest, and in the most dementedly inspired of the show's many inspired moments, the Cat, sporting sunglasses, enters playing the piano, rocking and smiling like Ray Charles, yet singing with the voice of Louis Armstrong. Now that's crazy.
For tickets and information, call (309)762-6610 or visit QCMusicGuild.com.