All told, I thought this year's Academy Awards telecast was awfully satisfying, and I'm not saying that because I predicted 18 out of 24 categories correctly.
Yup. 18 out of 24.
Tying my personal best.
And three of my incorrect guesses were in the short-film categories, where no one knows what the hell is going on.
But I digress.
After last year's Hugh Jackman-hosted stunner, there was almost nowhere for this year's Oscar ceremony to go but down, and the marvel of last night's telecast was that it didn't; show producers Adam Shankman and Bill Mechanic easily met the intimidatingly high standard set by 2009 predecessors Bill Condon and Laurence Mark. And truth be told, there was reason to doubt: Wasn't Shankman - one of the judges from TV's So You Think You Can Dance - quoted as calling the Oscars "the best-dressed reality-competition show on TV"? (Advance promotion for the telecast promised, "You've never seen Oscar like this," and that's just what many of us were afraid of.)
Well, anyone who worried that this year's affair was going to be as crass as Shankman's sentiment needn't have feared; the three-and-a-half-hour broadcast was swift, smart, and entertaining from word go. Actually from lyric go, as the on-stage introduction of the 10 nominees for Best Actor and Actress (and the first of numerous standing ovations) was quickly followed by an enjoyably cheeky production number with Neil Patrick Harris. Aside from homophobes and those who hate musical theatre - parties that I'm guessing overlap a bit - is there anyone out there who doesn't love the guy? Watching Harris in all of his song-and-dance glory was utterly delightful, just as it was when he presided over last year's Tony and Emmy ceremonies, and I thought he gave an outstanding audition for his inevitable role as Oscar host in years when Jackman isn't available.
Not that a repeat performance by this year's hosts wouldn't be welcome, too. After descending from the ceiling and stepping down to greet the crowd while holding hands (a nice touch for those thinking, after Harris' bit, that the Oscars still weren't gay enough), Steve Martin and Alec Baldwin were quick-witted and polished in their repartee, with their sharp gags outnumbering their groaners by about a 15-to-one ratio. As hoped for, the It's Complicated co-stars gave Meryl Streep an affectionate joshing - there was an especially funny wisecrack about her collection of Hitler memorabilia - and her nominated peers were similarly razzed, with everyone but George Clooney appearing to have a grand time. (Seriously, why did the man seem so dour all evening? Did he have a premonition of Up in the Air's surprising loss for Best Screenplay Adaptation?) The hosts had wonderful throwaway lines all throughout the night - I particularly liked Martin's introduction of Miley Cyrus and Amanda Seyfried as "two young actresses who have no idea who we are" - but they deserved major kudos for pulling off the traditionally dicey Oscar opener with such aplomb. That, and for the Paranormal Activity spoof, which was just riotous.
Happily, though, there were plenty of laughs even when the hosts weren't around. After she and Martin briefly stole last year's ceremony with their introduction to the screenplay Oscars, Tina Fey did it again this year with a new presenting partner, Robert Downey Jr., who I'm now praying lands a 30 Rock appearance in the immediate future. (Mock-squabbling over the contention between actors and writers, Downey called the art of screenwriting "a collaboration. A collaboration between handsome, gifted people, and sickly little mole people.") In a cleverly filmed segment, the "stars" of the movies nominated for Best Animated Feature were shown being interviewed by an off-screen Barbara Walters, with Clooney's fantastic Mr. Fox throwing a diva fit and Up's eternally hilarious "Squirrel!" bit getting a welcome reprise. As for Ben Stiller, bless his fearless heart, he brought the house down in full Avatar regalia, hissing and clicking a Na'vi translation of "This seemed like a better idea in rehearsal," and putting to rest the myth that James Cameron doesn't have a sense of humor. (With Avatar grosses at two billion and counting, of course, he's laughing all the way to the bank.)
Plus, there were a number of production highlights even beyond the jokes. The Shankman-choreographed dance routine, accompanied by samplings of the Best Original Score nominees, was mostly spectacular, and in one of the evening's film montages, it was nice seeing horror flicks receive some rare recognition. (I was, though, scratching my head at some of the inclusions. Beetlejuice? Edward Scissorhands? Just how delicate are the Academy's sensibilities?) Shankman and Mechanic held on, halfway at least, to last year's finest inspiration, with the leading actor and actress nominees being saluted by former co-stars; the reunions, of sorts, between The Fabulous Baker Boys' Jeff Bridges and Michelle Pfeiffer and The Shawshank Redemption's Tim Robbins and Morgan Freeman were especially gratifying. And as someone who was in high school at the same time the characters in Sixteen Candles and The Breakfast Club were, the tribute to the oeuvre of John Hughes was terrifically moving - a great reminder that no one is making movies like he did, but someone certainly should be. (Seeing all those Brat Packers on stage, by the way, was great, but with Anthony Michael Hall, Judd Nelson, Molly Ringwald, and Ally Sheedy in attendance, might I ask: Where the hell was Emilio Estevez?!)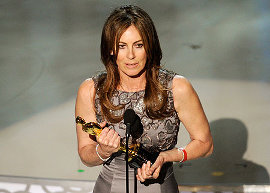 The Oscar telecast was so strong, in truth, that its few disappointments weren't at all the fault of the producers. (The friend I watched the show with did, however, find serious fault with Downey's bow tie, the dresses worn by Fey and Zoe Saldana, and the gown attached to Jennifer Lopez, which I agreed did look a bit like it was designed for Siamese twins.) As far as obvious gaffes went, the only one I noticed occurred prior to the award for Best Cinematography - the one category in which you'd expect to see film clips somehow came with none - and the presenters were charming and sincere ... except for Kristen Stewart, who maybe should've popped a cough drop before strolling on-stage.
And, of course, there was practically no end of deserving victors, with The Hurt Locker managing a triumphant six wins, including the evening's biggie. (You realize you have no excuse not to rent it now, right?) For her part, history-making Best Director Kathryn Bigelow was as radiant and humble as we knew she'd be, while Mo'Nique - the first Best Supporting Actress winner that I can recall ever to receive a standing ovation - accepted her prize with expected eloquence and grace. Best Actress champion Sandra Bullock, another standing-ovation recipient, gave another of her lovely, touching, funny speeches ("Did I really earn this, or did I just wear you all down?"), and Christoph Waltz happily continued the Academy's recent trend of awarding Best Supporting Actor to the year's most enjoyable über-villain. As for Jeff Bridges, obviously the night's most popular winner ... . Well, what can I say? The dude abides. "If you would like a transcript of tonight's show," Martin deadpanned during the ceremony's opener, "you should really think about getting a life." Noted. And I'd still like a transcript of the show.