GOSFORD PARK
In Robert Altman's Gosford Park, set in 1932 England, a group of well-to-do guests is invited to a country estate for a shooting party, with their numerous servants in tow, and find their weekend disrupted by the murder of their host.
Everyone appears to have a motive for doing it (although the fact that he's played by the ever-vile Michael Gambon is reason enough for me), but whodunnit? The genius of the film is that no one much cares: not the guests, all of whom have familial/financial contempt for the man; not the servants, who have been treated abominably by him; not even the police, led by an incompetent klutz (Stephen Fry) eager to get the hell out of there. In breeding and station, guests, servants, and the working class are worlds apart; in their mutual loathing or disrespect for the host, they are all equal.
Despite some jarring anachronisms - were Hollywood performers in 1932 really into Method acting? - and some muddled sound design in the opening 15 minutes, Gosford Park is a sensational entertainment, featuring a wily, complex script by Julian Fellowes and Altman's patented, virtuoso direction of large ensembles. Filled as it is with roughly two dozen major characters, picking out a favorite is an impossible chore, so I'll keep it to six: Eileen Atkins, Alan Bates, Jeremy Northam, Helen Mirren, Emily Watson, and the incomparable Maggie Smith are especially fine. The film might seem a genre trifle, but it boasts tremendous production design and surprising emotional heft, and might be the most sheerly enjoyable British period piece you've ever seen.
THE ROYAL TENENBAUMS
The way I see it, you'll either find yourself laughing all throughout Wes Anderson's The Royal Tenenbaums or staring in utter bewilderment at the goings-on. I laughed all throughout. Those who found Anderson's and co-screenwriter Owen Wilson's last effort, 1998's Rushmore, overly stylized and precious will be in utter hell here; the rest of us will find ourselves a little closer to heaven. This mostly plotless endeavor concerns a trio of childhood geniuses (Ben Stiller, Gwyneth Paltrow, and Luke Wilson) who have, in one way or another, been destroyed by the expectations and unintentional cruelty of their father, Royal Tenenbaum (Gene Hackman). When Royal, nearing death, asks for reconciliation, this dysfunctional family finds itself sharing a home once again, where all manner of petty grievances and ugly betrayals return to the surface. And yes, it is a comedy.
Sharing a spirit with J.D. Salinger's short stories involving the Glass family, Tenenbaums adopts a novelistic approach; segments are broken down by chapters, fittingly bookended by a prologue and epilogue, and each one is so rich in character detail and transcendent dialog that it's a little dizzying. Wes Anderson just might be the most confident comedy director alive. He outlines his characters and themes in big, bold strokes and walks an amazing tightrope between the hilarious and the poignant; his cast, fittingly, responds to this approach with fully lived-in portrayals, each hysterical and heartbreaking in equal measure. Hackman comes through with his most masterfully detailed comic work yet, which is saying a lot, but the entire cast is remarkable: Stiller, Paltrow, Luke Wilson and his brother Owen, Anjelica Huston, Danny Glover, Bill Murray, and Seymour Cassel are flawless. From opening to close, The Royal Tenenbaums is the comedy of the year, and oftentimes, it feels like the book of the year, too.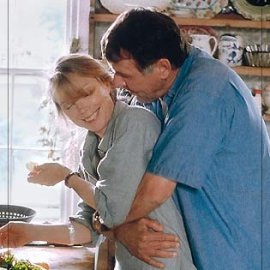 IN THE BEDROOM
Filled as it is with supple direction, a real feel for time, location, and detail, and a couple of marvelous performances by Sissy Spacek and Tom Wilkinson, it's impossible not to recommend seeing the domestic drama In the Bedroom. Yet I can't be alone in thinking that the movie itself doesn't quite work. Set in the lobster-fishing village of Camden, Maine, the film details the affair between 21-year-old Frank (Nick Stahl) and the older, not-yet-divorced Natalie (Marisa Tomei), and the nightmare that results when Natalie's estranged husband (William Mapother) shows up to win back his wife's affections. Spacek and Wilkinson play Frank's parents, whose lives are permanently altered by the affair as it stirs up years-long resentments that threaten to destroy their marriage, and who eventually take terrifying measures to restore their life of "normalcy." Debuting director Todd Field shows an enormous gift for dramatizing silence, the looming threat of violence, and ambiguity; your feelings toward all of In the Bedroom's characters change from scene to scene, and Spacek and Wilkinson paint a harrowingly realistic portrait of a marriage they didn't even realize was troubled.
Although you never quite believe that Stahl and Mapother are connected with the film's working-class, New England setting, the movie remains first-rate until its mid-film explosion, when it takes a turn for the sensational and becomes, sadly, a pulpy revenge fantasy. In the Bedroom is the damnedest experience. Its emotions remain startlingly true, but the material becomes formulaic; even the film's acting centerpiece, featuring Spacek and Wilkinson's emotionally violent battle, feels rote - she's uptight and controlling, he's ineffectual and lenient, that sort of thing. And without giving the ending away, it must be said that far too much of the last 20 minutes requires huge leaps of faith, as logic all but vanishes. (Basic questions the film's finale raises - like, "Where'd he get the gun?" - are ignored, and some critics appear to find greatness in that.) In many ways, In the Bedroom is a masterpiece of mood, and it certainly deserves to be seen, but it winds up a frustrating, unfulfilling work; the critics calling it the movie of the year appear to have left the theatre long before the closing credits.
IMPOSTOR
It's easy to see why Gary Fleder's Impostor was once withheld from distribution; intended for a summer 2000 release, it would've arrived on the heels of Battlefield Earth, another sci-fi work based on a relatively notable literary source, and who needs comparisons with that piece of crap? The bigger question is why Impostor was released at all. Based on Philip K. Dick's futuristic short story, it features Gary Sinise as a scientist who might or might not be an alien terrorist, and the film consists of one endless chase in which a team of military officials, led by a hammy Vincent D'Onofrio, attempt to hunt him down; it's a low-grade Fugitive with high-tech surveillance, and with all traces of tension and excitement sucked out. The movie is pretty tough to sit through, but its fine cast includes Madeleine Stowe, Mekhi Phifer, Tony Shalhoub, and Lindsay Crouse, and it does feature an amusing opening in which we're witness to a few Conveniences of the Future - voice-operated TVs and showers ("A little warmer, please") - and a surprisingly juicy conclusion; it's just the 80 minutes in the middle that make you yawn.