Before composing my annual list of adored movies from the past year, I gave serious thought to continuing the presentation I initiated in the first year of COVID, with write-ups on 20 favorites from 2020 followed by 21 favorites from 2021. Certainly, there were 22 winners from 2022 to emphatically celebrate, yes?
Well … yes and no. I absolutely could have pushed the format further, even though that way madness lies: No one wants to be reading detailed descriptions of my 100 favorites in the year 2100. (Though I promise to give $10 to anyone who winds up doing so.) And to be sure, there were plenty of titles to rave about. But as opposed to the last two years in which streaming and legit-movie-theater experiences tended to blend in ways that made every film experience, even the greatest of them, a wee bit forgettable (to date, I don't own a single 2020 or 2021 feature on Blu-Ray or DVD), my 10 favorites this year were so clearly my favorites that it felt almost rude to cite them alongside additional films I very much enjoyed that didn't feel essential. The top-10 below, to me, feel essential.
So with the inclusion of numerous runners-up, the inevitable bottoms of the 2022 barrel, and tips of my nonexistent cap to the two 2021 releases – the incandescently fine Drive My Car and the transfixing foreign/animated/documentary hybrid Flee – that would've easily appeared on this list had I gone a different route, here are the best of the best. Beginning with the one boasting a protagonist/antagonist who, to her eventual detriment, knows she's the best of the best.
1) TÁR. My favorite scene in writer/director Todd Field's riveting psycho-drama – my favorite scene of the whole movie year – is the subtlest of tours de force. Composer/conductor extraordinaire Lydia Tár is leading a guest master class at Juilliard, offering her thoughts on classical and modern composers to a couple dozen graduate fellows, among them Max (the one-scene wonder Zethphan Smith-Gneist), a violinist and budding composer clearly nervous in Lydia's presence. And who wouldn't be nervous? The lady's an EGOT winner! She was a pupil of Leonard Bernstein – whom she refers to as "Lenny"! For a while, things go well: Lydia is witty and appears comfortable; the students are uniformly engaged. But then, after Lydia suggests to Max that he consider conducting one of Bach's Kyries rather than the Anna Thorvaldsdóttir piece he's working on, the young man admits that he's "not really into Bach," adding that "as a BIPOC pangender person, I would say Bach's misogynistic life makes it kind of impossible for me to take his music seriously." Big mistake, Max. With Lydia's voice dropping what sounds like an entire octave, she begins to respond to this perceived insult – Max using identity politics to dismiss a legendary artist's entire canon – with barely concealed insults of her own. She takes potshots at Thorvaldsdóttir, Edgard Varèse, and Jerry Goldsmith (tossing in a racist joke as punctuation); she mocks current standards of political correctness; she snidely suggests that Max will never rise higher than the dreaded rank of guest conductor. Finally, Max can't take it anymore, gathering his score and leaving the auditorium with a quiet, pointed "You're a f---ing bitch." But Lydia is unshaken. "And you," she retorts, "are a robot."
We're given so much in this electrifying, 10-minute sequence that's shot without a single edit: fascinating insight into the emotional language of classical music; intellectual tension between historical beliefs and au courant, 21st-century sensibilities; Cate Blanchett playing a piano concerto as both Glenn Gould and Schroeder from Peanuts would. What we most get, though, is understanding of Lydia Tár as an artist whose decades of acclaim and influence have made her an untouchable – or so she thinks. Much of Field's staggeringly rich screenplay concerns the after-effects of a former apprentice's suicide and the question of whether Lydia, a self-described "U-Haul lesbian," used her name and standing to secure sexual favors in exchange for career advancement. Yet as TÁR morphs from character study to something akin to a horror film, you realize that it's really a movie about power, and about Lydia's nightmarish downfall as this woman who has always been steadfastly in control contends with forces beyond her control: faraway screams, doorbells, a mysteriously ticking metronome; devastating actions by independent-minded protégés; professional and personal comeuppances as years of ruthless decisions based on self-interest catch up with her. Blanchett's ravaged, ravishing portrayal as Tár is one for the ages. But Field's capitalized, italicized TÁR is a movie for the ages, too – so smart, scary, funny, and ultimately overwhelming that its two hours and 40 minutes go by in a flash. After numerous viewings, even the intentionally meandering final half-hour that I was initially unsure about now feels like a perfect segue to its conclusion, in which the monstrous Lydia Tár finally gets an audience with a group of fellow "monsters" – patrons who, fittingly and deservedly, barely register that she's there.
2) Everything Everywhere All at Once. Until TÁR debuted mid-fall, I couldn't imagine that any 2022 release would unseat Daniel Kwan and Daniel Scheinert's exhilaratingly inventive, gobsmackingly original mind-blower as my favorite of the year. Just because one miraculously did, however, doesn't mean I love EEAaO any less – and I'd argue that it's not a film to love so much as one to fall in love with. As Michelle Yeoh, in a career-peak performance, travels the mutiverses and kicks plenty of ass on her road to personal fulfillment, the mending of her fractured family, and the annihilation of a life-gobbling "everything bagel," you might routinely realize that you have no earthly idea what's going on. (Hot-dog fingers? The Crazy Rich Asians premiere? Raccacoonie?) You can rest assured, though, that the writing/directing Daniels duo absolutely does, and subsequently, you happily strap yourself in for the ride as their assurance and wizardly imagination appear to grow in tandem with events growing nuttier and nuttier. By the time Yeoh and Jamie Lee Curtis were playing piano with their feet and a pair of rocks with googly eyes were making long-delayed amends, I was a weepy wreck – and this after I'd been laughing for almost two solid hours.
3) Decision to Leave. If there's a common attribute to the top five movies on this year's roundup – beyond, obviously, my adoration for them – it appears to be a long running length. At 139 minutes, writer/director Park Chan-wook's continually evolving mystery romance is actually the shortest of the five … and that's rather surprising, considering that it feels like a spectacularly involving Hitchcock pastiche and its equally spellbinding sequel rolled into one. The first half of Park's bewitching South Korean entertainment could easily be its own feature-length release, its tale of a sleep-deprived detective (Park Hae-il) and the mysterious potential killer he falls for (the luminous Tang Wei) filled with alluring, clever, frequently hilarious set pieces and boasting some of the most abjectly playful filmmaking of the year. (I cannot fathom how Park pulled off that interrogation-room sequence in which the literal focus on the cop and his interviewee keeps shifting.) Yet after delivering a hugely satisfying wrap-up to its whodunit, Decision to Leave starts up again, deepening the themes and character detail with a dazzling saga of thwarted love and complex motivations that can stand toe to toe with Vertigo. I adored watching this thing. Reading it was also a blast.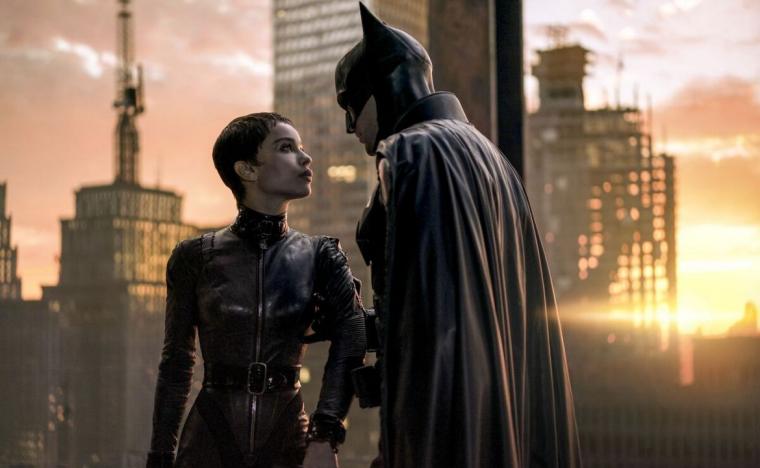 4) The Batman. Relieved as I am to learn that Henry Cavill has to seek new employment opportunities, I really don't care about the recent, James Gunn-mandated shakeups in the DC Cinematic Universe – so long as, going forward, Matt Reeves and Robert Pattinson are allowed to make as many Batman movies as they want. (And yes, I understand that The Batman isn't technically affiliated with the DCU, but please don't message me about it. Again: I don't care.) Because while I pray that the film's writer/director and star also take part in less IP-friendly projects, their collaboration on this latest iteration of the Dark Knight resulted in the most wholly enthralling comic-book universe I've entered since, well, The Dark Knight – a world in which a superhero adventure is indistinguishable from a first-rate serial-killer opus by David Fincher, and where the dominant motifs are tension and escalating dread. Every teasingly lurid shot by cinematographer by Greig Fraser is like sickness of the soul come to life, and although the movie is bleak, it isn't oppressive – not with phenomenally vivid performers such as Pattinson, Zoë Kravitz, Jeffrey Wright, Paul Dano, John Turturro, Andy Serkis, Peter Sarsgaard, and an unrecognizable Colin Farrell around.
5) Elvis. All hail the King! Meaning, of course, Austin Butler, the now-31-year-old who was tasked with channeling Elvis Presley – in the icon's kajillionth on-screen rendering – for Baz Luhrmann's bio-pic and just effing slayed it. I may have seen two or three stronger performances in 2022. None of them, however, were as thunderously exciting as Butler's, whose mixture of lip-synched and actual singing to tunes including "That's All Right," "Trouble," and "Suspicious Minds" was grin-'til-it-hurts magnificent, and who enacted the commonly known passages in Presley's life with an unwavering sincerity that eradicated decades worth of bio-musical tropes. Even Butler's one and only reading of the King's oft-imitated "Thankyouverymuch" felt and sounded revelatory. You may have to already be in the tank for Luhrmann to wholly enjoy his latest whirlwind of pop music and questionable imagined history. But the Moulin Rouge! junkies among us, as well as a bunch of normal people, found this two hours and 40 minutes of flabbergasting fun – a dynamic, stunningly enjoyable show-biz roller coaster that you want to ride again and again and again. Hey, I even liked Tom Hanks' geographically unplaceable accent when playing Colonel Tom Parker. So I'm clearly deep in the tank.
6) Aftersun. During the first half-hour of writer/director Claudia Wells' astounding breakthrough, you may wonder if you're not actually watching a movie, but a home movie, with much of what we're witness to late-'90s camcorder footage of a 30-year-old father (Paul Mescal's Calum) and his 11-year-old (Frankie Corrio's Sophie) as they tan, swim, and goof around at a two-star Turkish resort. You gradually understand, though, that Aftersun is really a memory piece set in the present, with the now-adult Sophie reminiscing on what was likely her last-ever trip with her depressed, evidently deceased dad. And upon realizing that, every lightly funny, sad, uncomfortable moment that follows begins to blend into a devastating study of delayed adoration and grief. Yet thanks to Mescal's and Corrio's soulful realism and effortless chemistry, that grief leaves you feeling less miserable than cleansed. I saw Wells' movie only once two months ago, yet can still picture a dozen-plus glorious scenes in full, the most beautifully painful ones including Sophie's self-conscious karaoke solo of her traditional "Losing My Religion" duet with Dad, and hung-over Calum helplessly sobbing as he recognizes the extent to which he let his child down. Aftersun is spirited, wrenching, and damned close to perfect.
7) The Banshees of Inisherin. In the world according to Martin McDonagh, no one really ends up happy. Unless, that is, you're a McDonagh fan, in which case even a largely downbeat tragicomedy such as The Banshees of Inisherin can leave you almost giddy with joy. I'm not backing down on my original assessment that this fable about Irish besties in 1923 who have a singular, eventually debilitating falling out is one of its creator's most instantly accessible – and therefore somewhat safe and timid – entertainments. But repeat viewings thanks to its earlier-than-anticipated HBO Max arrival have left me adoring everything I previously enjoyed even more: Colin Farrell's heartbreaking sweetness as the nicest dim bulb on the isle; the rock-solid candor and sharp tongues of Brendan Gleeson and Kerry Condon; the unexpected ache and hilarity of Barry Keoghan as a village idiot who's far sharper than he appears; the instantly quotable dialogue; the narrative oomph; the gorgeous fields of green. It's an ideal distillation of its writer/director's talents (plus a few of his faults), and earns added kudos for some of the finest animal acting in all of 2022. A Best Supporting Actress pitch for Jenny the donkey wouldn't be totally out of line.
8) Pearl. Considering how many sequels and prequels moviegoers are annually subjected to, I suppose it was inevitable that at least one would land on this list. If you don't count The Batman or my number-10 below, one did. But had you asked me last January, I never would've predicted that the followup I'd be most obsessed with would be a low-budget shocker that expanded on a grubby little horror flick that hadn't come out yet. Such was one of many miracles that writer/director Ti West and his co-scripter muse Mia Goth produced with this ballsy, unforgettable continuation to West's solid but lesser March release X. It would be enough for the film to be the jaw-dropping time-travel experiment it is: a work set in 1918 that's designed to look like a '50s Technicolor melodrama that finds people donning face masks and living in fear of the pandemic – just like now! But in the screen performance (and uninterrupted 10-minute monologue) of 2022, Goth makes her small-town sociopath so deeply moving and empathetic that you remain steadfastly on her side even while West's achievement explodes all genre rules and conventions. Like its hypnotic anti-heroine, Pearl is lyrical, funny, heartbreaking, and utterly terrifying.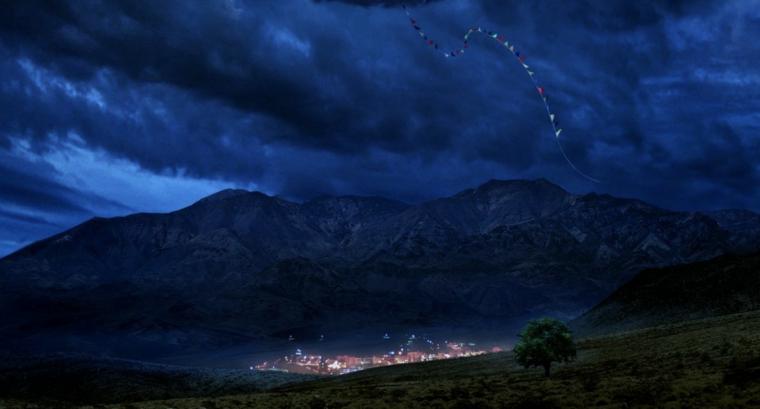 9) Nope. Based on its trailers – and those plentiful previews seemed to keep promoting a different angle – the lingering question regarding writer/director Jordan Peele's latest was initially "What the hell is it?" Following the movie's July debut, however, it became apparent that we were asking the wrong question, because "What the hell isn't it?" would've led to a less-wordy answer. A sci-fi adventure that's also a horror film that's also a raucous comedy that's also an untraditional Western that's also a Hollywood parable that's also a biting commentary on the Instagram generation that's also a deserved reclamation of Black history, this genre-melder is the year's second release that deserved to be titled Everything Everywhere All at Once. It's also about as much fun as I had at the cineplex (twice) all year, with Daniel Kaluuya and Keke Palmer superb as siblings who recognize the perfect shot as the key to financial freedom, Hoyte van Hoytema giving Spielberg's cinematographers a run for their money, and Peele offering up the single scariest, and oddly saddest, screen monkey I've seen in ages. Peele is now three-for-three in getting his works on my year-end list. May the stream continue until the count reaches thirty-three.
10) Marcel the Shell with Shoes On. Did anyone else find this an especially weird year for animated outings? Minions: The Rise of Gru, the Despicable Me franchise's fifth installment, made the international top five with grosses of close to a billion dollars. Thanksgiving's big-budget Disney outing Strange World couldn't find an audience to save its (lack of) soul. This year's Animated Feature Oscar front-runner, Guillermo del Toro's Pinocchio, got a brief, cursory release before landing permanently on Netflix. The Toy Story offshoot Lightyear made $115 million domestic even though no one I know even remembers that it exists. And the year's hands-down finest animated achievement, for my money, is at least 70 percent non-animated. Such are the bizarre times we live in. Just bizarre enough for writer/director Dean Fleischer Camp's Marcel the Shell with Shoes On to make my top 10 through its riotous inventiveness, narrative cleverness, emotional poignancy, and titular portrayer Jenny Slate's incandescent readings an an ambulatory, cognizant, one-inch shell who learns that the world is neither as small nor as huge as he imagines it is. And let's hear it for Isabella Rossellili's heart-stoppingly lovely cadences as Grandma Connie, whose distinctive Swedish-Italian accent is easily explained by her grandson: "She's from the garage."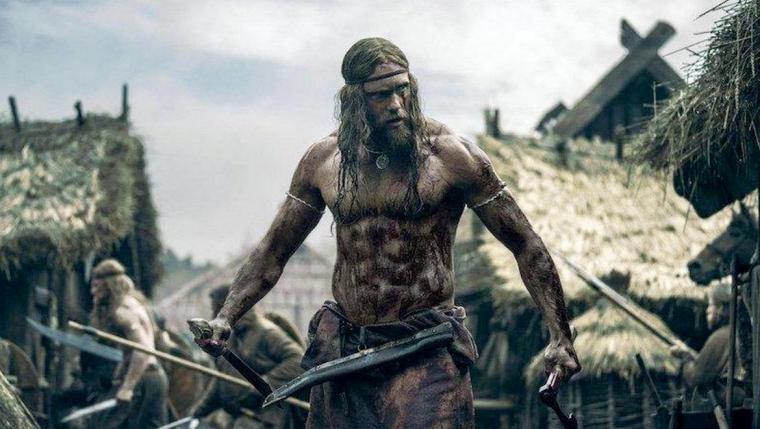 Next in Line:
11) The Northman. Now that Robert Eggers' brutally exhilarating action-drama has been streaming for months, can we publicly agree that Nicole Kidman is the movie villain of 2022? Nearly everything about this period bloodbath is magnificent, starting with Alexander Skarsgård's ferocious central performance. Kidman, though? She needs to go. In a good way.
12) Jackass Forever. More than 10 months after the film's debut, I can safely assert that I didn't hear more deserved, rollicking audience delight than I did at the Jackass team's latest – a series that gets funnier and funnier, and scarier and scarier, the closer Johnny Knoxville and company get to late-middle-age.
13) Bros. Nicholas Stoller's under-viewed gay love story was what so many rom-coms should be and rarely are: crazy-horny, and utterly hysterical. Here's hoping mainstream audiences stream it, because sexual heat and hilarity of the kind Billy Eicher and Luke Macfarlane deliver don't come around often enough to be taken for granted.
14) All Quiet on the Western Front. My God: World War I's foot soldiers were so freaking young. That was my chief takeaway from Edward Berger's sublime, harrowing adaptation of this literary classic. Which isn't to say that the movie's thunderously fine editing, production design, makeup, and score haven't taken up residence in my brain, as well.
15) Glass Onion: A Knives Out Mystery. Daniel Craig needs to play Benoit Blanc forever. And Rian Johnson needs to keep making these beautifully, comically twisty entertainments forever, especially if he can keep securing talents comparable to Janelle Monáe, Kate Hudson, and Edward Norton. Bonus points for the Zoom cameos to make theatre fans instantly well up.
16) Vengeance. I've never been a B.J. Novak fan – not even when he was on The Office. You know what cured my indifference? His writing, directing, and starring in an unassumingly brainy dark comedy that imagines him as the entitled d-bag many of us forever presumed him to be. Go figure.
17) The Menu. That director Mark Mylod gave us the most mouth-watering image of a cheeseburger I've ever seen on-screen might have been enough to secure this ultimately sad comic thriller placement on this list. The canny script and gorgeously realized performances by Ralph Fiennes, Anya Taylor-Joy, and others merely sealed the deal.
18) The Woman King. In an extraordinary year for female supporting performers, Thuso Mbedu, Lashana Lynch, and Sheila Atim were fabulously fierce, moving, and funny in Gina Prince-Bythewood's gorgeously structured and plotted historical action drama. In what other movie would Viola Davis' traditional excellence in a most atypical role almost be considered an afterthought?
19) Triangle of Sadness. The midsection is messy, regardless of the vomiting. Given the scalpel-like precision of Ruben Östlund's satirical targets, though, and the joyously caustic performances by Harris Dickinson and the wondrous Dolly De Leon, the first and third sections are divine, making this the rare bell curve to resemble a smiley face.
20) Puss in Boots: The Last Wish. December brought us new releases by James Cameron, Damien Chazelle, Sam Mendes, Darren Aronofky, Kasi Lemmons, and Noah Baumbach. My favorite was a long-delayed sequel to an animated kiddie comedy from 2011 that I didn't like featuring a cricket who sounded like Jimmy Stewart. Movies are endlessly surprising, aren't they?
10 Runners-Up to the Top 20: Armageddon Time; Avatar: The Way of Water; God's Country; Honk for Jesus. Save Your Soul; Infinite Storm; The Outfit; The Phantom of the Open; See How They Run; She Said; Till.
10 Runners-Up to Those Runners-Up: Confess, Fletch; Devotion; Dog; Good Luck to You, Leo Grande; Good Night Oppy; Hustle; RRR; Three Thousand Years of Longing; Top Gun: Maverick; Watcher.
10 That I Didn't Expect to Enjoy as Much as I Did: The Cursed; Family Camp; Gigi & Nate; Halloween Ends; Jurassic World Dominion; Marry Me; Minions: The Rise of Gru; Orphan: First Kill; Sonic the Hedgehog 2; X.
10 That I Didn't Expect to Dislike as Much as I Did: Black Panther: Wakanda Forever; Bones & All; Brian & Charles; Call Jane; Crimes of the Future; Doctor Strange in the Multiverse of Madness; Empire of Light; The Fabelmans; Men; Moonage Daydream.
10 That Could Easily Have Been My Least-Favorites of the Year: Ambulance; Cha Cha Real Smooth; Fantastic Beasts: The Secrets of Dumbledore; Firestarter; The Invitation; Morbius; Uncharted; Unplugging; Where the Crawdads Sing; The Wolf & the Lion.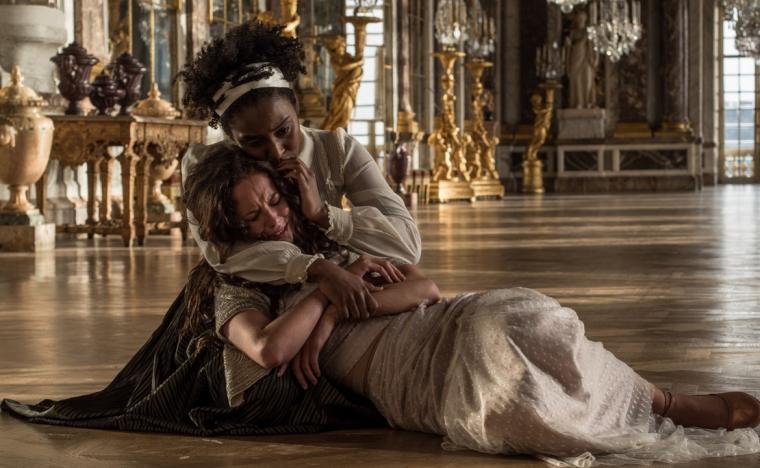 But My Actual Least-Favorites:
10) The King's Daughter. Had this dull, ridiculous mermaid adventure been released not long after its completion eight years ago, the film would've been quickly forgotten. Instead, it'll live on as featuring the last-ever screen appearance by the late, great William Hurt. He'd probably laugh at that. I just wanna cry.
9) The Whale. Brendan Fraser is marvelous. Everything else is Moby Dreck.
8) Jeepers Creepers: Reborn. The best thing about movie-going post-2019 is that irrefutably abysmal flicks have tended to go straight to streaming. Incredibly, this flabbergasting horror dud – with its zero-percent Rotten Tomatoes rating – didn't.
7) Ticket to Paradise. George Clooney and Julia Roberts have charm and charisma to burn. Burning it, in truth, would've been preferable to employing it for this insufferably clueless, back-patting comedy hit.
6) Black Adam. Aw-w-w-w … you mean there might actually not be a sequel to this exhaustingly prototypical DC Studios bummer? But I'd already saved it space on this list for 2024!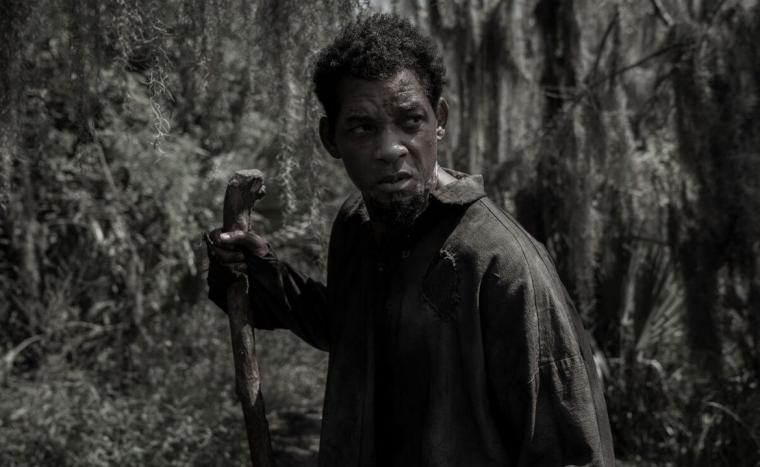 5) Emancipation. 12 Years a Slave refashioned as The Fugitive by way of a latter-day Rambo. And even worse than that sounds.
4) The Gray Man. Netflix insists that this heavily jokey spy thriller for Ryan Gosling and Chris Evans was one of the service's biggest smashes in ages. I have yet to meet anyone who remembers a thing about it.
3) Strange World. Turning Red goes straight to Disney+ but this piece of self-congratulatory woke lunacy gets a primo Thanksgiving release?!
2) Babylon. Exhibit A for why major studios, henceforth, will give second, then third, then fourth thoughts to writing big checks to esteemed, Oscar-winning directors for their passion projects. It's not just that Damien Chazelle's movie will lose a bunch of money. It's that his movie sucks.
1) Spirited. God curse them. Every. One.