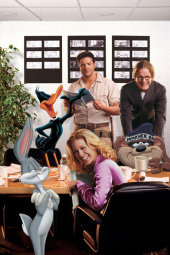 Although I'm sure some of you are wondering if Dr. Suess' The Cat in the Hat is as thoroughly obnoxious as its trailers indicate, I'll begin assessing the major holiday releases next week. Until then, here's a look at the pre-Thanksgiving leftovers ... .
LOONEY TUNES: BACK IN ACTION
About an hour into Looney Tunes: Back in Action, there's a sequence so startlingly clever that it almost makes sitting through this overzealous, laugh-free movie worthwhile. In the scene, Bugs Bunny, Daffy Duck, and their human companions (Brendan Fraser and Jenna Elfman) embark on some hijinks in the Louvre - for reasons passing understanding - and find themselves hounded by Elmer Fudd. In an attempt to evade him, Bugs and Daffy hop inside Dali's The Persistence of Memory, where Fudd's shotgun becomes, as it should, a useless, liquidic mass. (Alas, so do Bugs and Daffy.) Our cartoon heroes and their nemesis then enter Munch's The Scream, and then Seurat's A Sunday Afternoon on the Island of Grande Jatte, and a few others, and Bugs does a brief recitation on the fundamentals of pointillism, and everything about the sequence is so deliriously gonzo that you want to applaud. It's a marvelous scene, harkening back to the heyday of Warners' shorts, with their often-astounding combination of lowbrow slapstick and highbrow wit.
There is nothing - literally nothing - that amusing in the rest of Back in Action. The film already has a huge strike against it in that cartoonish mayhem with human actors almost never works (Who Framed Roger Rabbit and Monkeybone being exceptions); action that's quick and ferocious in animated form is usually, as it is here, monotonous and unfunny with real sets, props, and performers. But beyond that, Bugs, Daffy, and company prove to be incredibly tiresome over the course of 90 minutes - you wish they would just shut up already - and they're not helped by the humans, including poor Steve Martin, who have been directed by Joe Dante to be shrill, one-note hysterics. (Only Joan Cusack, with her lopsided line readings, provides a few minutes of levity.) Like many of the Warners' shorts, Back in Action is self-referential to the point of no return - we're constantly, intentionally aware that we're in a movie - but that, too, is a slippery slope; gags about product placement and animated clichés and storyline predictability (Fraser to Elfman: "Shouldn't we be falling in love right about now?") don't work if they're rammed down your throats as obviously as they are here. Barring that one great scene, Looney Tunes: Back in Action is a mess, and I officially feel no guilt for spending the last seven years avoiding Bugs Bunny's Space Jam.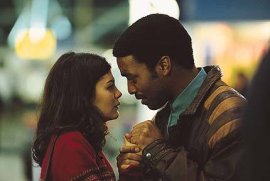 DIRTY PRETTY THINGS
I'm usually so jazzed by the prospect of getting an art film to the area that it pains me to admit when a few of them are a little ... well, dull. Unfortunately, such is the case with Stephen Frears' Dirty Pretty Things, which has finally hit the Brew & View after a successful art-house run in larger markets this summer. A meditation on the hardships of illegal aliens in the guise of a thriller - the British killer is accidentally murdering illegals who want to sell their bodily organs on the black market - Frears' work features an occasional tense moment, and the film is supremely well-lit by Chris Menges. Yet very little happens in Dirty Pretty Things, and what does happens very slowly and with very little subtlety; Chiwetel Ejiofor's and Audrey Tautou's characters are bathed in a dreary sentimentality that's not far removed from pity, and the movie's first hour is criminally short of energy. The film finally gets a fine, creepy rhythm going in its last two reels, but by then you may have lost the will to care.
TUPAC: RESURRECTION
Tupac: Resurrection features a fascinating come-on - this documentary on the late Tupac Shakur is, through an astonishing blend of interviews and voice-over, actually narrated by the acclaimed/reviled actor-rapper himself. Director Lauren Lazin has amassed some remarkable footage of the artist in a relaxed light; Shakur comes across as an earnest, talented, driven man with a wonderful smile and great, self-deprecating humor, which makes his eventual murder all the more tragic. But beyond this novel approach - a true-life twist on William Holden's Sunset Boulevard narration - the film itself holds little interest; we don't glean much from Shakur that we couldn't discover in a Rolling Stone interview or on TV's Hard Copy. Part of the reason for this, I'm guessing, is that much of this material was appropriated for Nick Broomfield's documentary Biggie & Tupac; the details of Shakur's death are so thoroughly breezed over in Tupac: Resurrection that I half-expected a title card onscreen telling us to rent Broomfield's movie for the rest of the story. But, outside of biographical information, we don't learn a helluva lot from Shakur himself, either. The film's first half is overloaded with traditional rise-to-fame tales of the Behind the Music variety, and by the time we get to the horrors that made his name notorious - the accusations, the arrests, his time behind bars, his signing with "Suge" Knight's label, his legendary rap battles - we realize that we've seen and heard it all before; the film itself becomes a kind of greatest-hits package. It's put together competently, but Tupac: Resurrection, despite valiant efforts, is a lightweight look at a man who was anything but.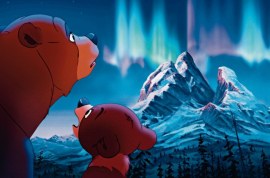 BROTHER BEAR
Last autumn, I attended back-to-back screenings of the Hannibal Lecter thriller Red Dragon and the VeggieTales movie and thought it was the oddest double feature I'd ever sit through. Of course, at that time I hadn't anticipated an evening devoted to a Tupac Shakur documentary and Brother Bear, a Disney cartoon scored by Phil Collins. (Imagine the dreams I had that night.) If, like me, you were tempted to skip this latest - and, for the foreseeable future, last - hand-drawn animated work from the Disney assembly line, rest assured that the results aren't nearly as saccharin as you might expect. Yes, this tale of a Native American who magically turns into a bear is terminally cute, and hearing the leading character speak with the smart-alecky tones of an over-privileged white kid (Joaquin Phoenix, to be specific) is pretty offensive. Yet there are laughs to be had - I never thought I'd want to hear Dave Thomas' and Rick Moranis' Canadian "hoser" act again, but it's pretty funny in the form of two animated moose - lessons about tolerance that are rather cannily presented, and it has a surprisingly gripping storyline, one more Shakespearean than anything the studio has previously attempted. With the exception of its spectacularly weird, wrongheaded ending, Brother Bear goes down painlessly and often pleasurably. If only the same could be said about Phil Collins' inane, intrusive tunes. Where's Tupac when you really need him?