Last year, as a way to help compensate for the dispiriting everything of 2020, I altered my annual recap of 10 favorite movies and mentions of dozens of others by focusing solely on 20 awesome works that brought me cinematic joy. A 20 for '20, if you will.
But even though movie-going habits got sli-i-ightly back to normal in 2021 – A $250-million-weekend smash! A bunch of other comic-book and sequel hits! Movies for grown-ups that grown-ups refused to show up for! – the year for admirers of the silver screen still felt off enough that returning to my traditional way of doing things seemed impractical. Three of my absolute favorite 2021 releases, for instance, were movies that won Oscars for the 2020 film year, so some sort of compromise felt necessary.
So welcome to my 21 for '21 – a list of 21 cinematic favorites from 2021 (even if they were technically 2020 releases, and even if they didn't literally play at cinemas), along with 21 runners-up, and, because I'm only in half-bitchy critic mode these days, 10-and-a-half citations for the most egregious offenders of the past 12 months. As with last year's trip down memory lane, I've also paired the first 20 into thematically or presentationally similar double-feature options if you wanna kill two figurative birds with one four-to-five-hour stone. You maybe won't want to in the case of inclusions nine and 10. But I digress.
(1) and (2): The French Dispatch and Licorice Pizza. A pairing that, with apologies to Orson Welles, I like to call "The Magnificent Andersons." Although both Wes Anderson and Paul Thomas Anderson (no relation) released their debuts in 1996 – Wes with Bottle Rocket, P.T. with Hard Eight – neither producer/writer/director has crafted quite as many feature films over a quarter-century as you might presume. (The French Dispatch is Wes' tenth, while Licorice Pizza is P.T.'s ninth.) And not all of them succeed to this super-fan's satisfaction; I still find The Life Aquatic with Steve Zissou and Moonrise Kingdom overtly precious even for Wes, and despite several tries, I still can't get fully on-board with P.T.'s Punch-Drunk Love and The Master. But when the Andersons are working at A-game level as they are here, there are few artists whose works make me quite so elated – especially when, as with these superior 2021 achievements, just one of their great movies feels like a bunch of different great movies assembled in a tidy, two-hour-ish package.
That's almost literally the case with The French Dispatch, Wes' deliriously clever anthology – three short films, two super-short films, and an adieu – designed as the contents of the titular, fictional literary magazine. I devoured it cover to cover. If you've seen even two of the filmmakers' whimsically moving offerings over the years, you know what to expect: enormous casts of gifted performers most likely led by Bill Murray; complex emotional states delineated with the lightest of touches; production design so ravishingly yummy you don't know whether to marvel at the images or lick them. Yet the sheer, expansive variety of what Wes gives us here as he blends color with black-and-white, live action with animation, hilarity with heartbreak, and stunning intelligence with joyously ridiculous slapstick puts his latest in an unmissable class by itself. Only in a Wes Anderson – only, in truth, in The French Dispatch – could Jeffrey Wright's inspired channeling of James Baldwin sit comfortably beside Owen Wilson accidentally riding, and crashing, his bike down the steps to a subway terminal. If more movies did that, what a happier world this would be.
The world of Paul Thomas Anderson's Licorice Pizza, meanwhile, is crazy-happy – this despite romantic woes, an oil crisis, a lot of acne, and the realization that Bradley Cooper is so coked up he might just kill your entire family. (It's actually Cooper's character Jon Peters – professional hairdresser and onetime Barbra Streisand beau – who makes the threat, but either way it's scary … and awfully funny.) Leads Alana Haim and Cooper Hoffman, both in their movie debuts, make for a dreamy pair of not-quite-lovers as their youths Alana and Gary navigate growing up and getting wise amidst the perilous pleasures of 1973 Hollywood. But their frequent (mis)adventures are so specific and beautifully shaped that P.T. Anderson's retroactive bear hug oftentimes suggests a full season of a first-rate sitcom in a zippy 130 minutes. Here's the episode in which Gary jump-starts his waterbed business! Here's the one that finds Alana working for a closeted politician! The one with Sean Penn as a drunk acting icon! The one with the van's backward slide through the Valley! The one with the sibling rockers from Haim playing sisters – with their real-life parents playing their parents! As a foodstuff, "licorice pizza" would no doubt be gross. Ditch the quote marks, though, and add some italics and capital letters, and it's bliss.
(3) and (4): Nomadland and The Power of the Dog. Just because I'm pairing Chloé Zhao's supremely elegant and haunting new-West elegy with Jane Campion's supremely elegant and haunting old-West elegy doesn't mean I think we'll have two consecutive years of Best Picture champions by Oscar-winning female directors. But ya know: Ma-a-aybe. If you've been shying away from last year's victor (currently streaming on Hulu) because the thought of a house-less Frances McDormand barely eking out an existence between minimum-wage jobs sounded depressing, the exact opposite turns out to be true. In its low-key way, Nomadland is legitimately thrilling, because Zhao and her unimpeachable star understand that people, in all their messy contradictions, are thrilling. And as McDormand's Fern gets to know a succession of wearily hopeful travelers (portrayed by mostly non-professional talents effectively portraying themselves) in post-economic-meltdown America, their glorious life spirit comes to seem as majestic and full of possibility as the wide-open spaces lovingly captured by cinematographer Joshua James Richards. Since February, I've watched and adored Zhao's film a good half-dozen times. A half-dozen more and I might get the memory of Eternals out of my head forever.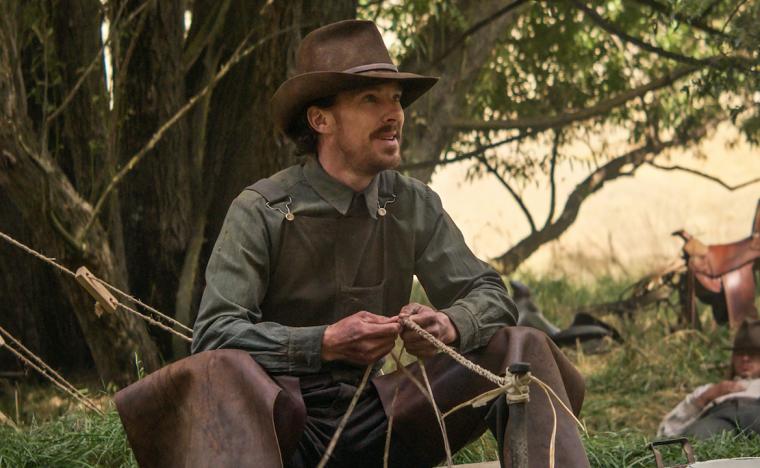 If Nomadland is a picture of the West as it is, Campion's The Power of the Dog (currently streaming on Netflix) is a picture of the West as it was – at least in the mind of the cruel cattle rustler and avowed manly man Phil Burbank, a role fearsomely enacted by Benedict Cumberbatch. It still feels too soon in the movie's release for spoilers. Suffice it to say, though, that Burbank's blowhard posturing, while a hit with his supportive and uncomprehending cronies, isn't fooling everyone. Not Jesse Plemons' sensitive brother; not Kirsten Dunst's terrorized bride; and definitely not Kodi Smit-McPhee's genteel teen, none of their mutual recognition of the cowboy's delusions making the man any less repellant, or deeply frightening. A slow boil that quietly grows scalding-hot, Campion's exceptionally well-written, -performed, and -designed chamber drama – easily her best work since 1993's The Piano – is as hypnotic as Jonny Greenwood's sinister score. It's also educational. As I've learned, when encountering a Phil on the range, do your best to maintain a safe distance. But even then, always wear gloves.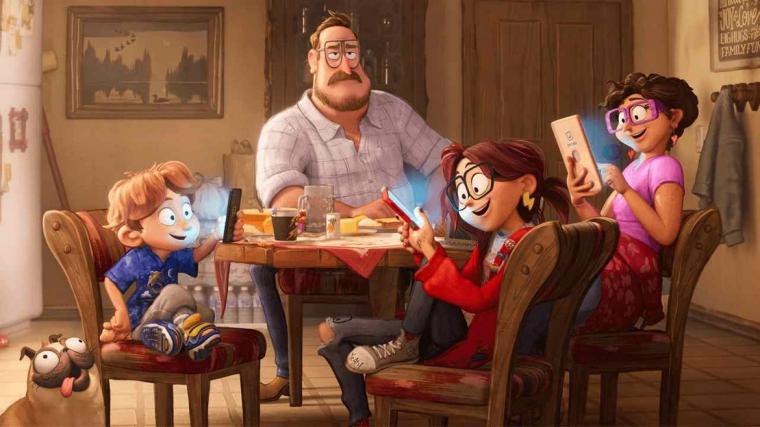 (5) and (6): The Mitchells vs the Machines and Spider-Man: No Way Home. One I saw, and have subsequently seen over and over, from the comfort of my couch. One I saw in the most giddily packed auditorium I've been in since three Christmases ago. Yet both films had me routinely laughing out loud, literally dropping my jaw in excitement, and fighting back tears – occasionally submitting to them – with a force to make my ribs ache. Now that's entertainment. Seven months after it debuted on Netflix, I don't think I've been as colossally entertained by a 2021 movie the way I continue to be at The Mitchells vs the Machines. It's the year's most hysterical animated release, as well as the format's cleverest, sweetest, and most continually surprising one. A straight-to-streaming sci-fi action comedy featuring a precocious teen, malevolent robots, a cross-eyed pug, and a vocal lead for Danny McBride? No thank you, I initially thought. A trillion-or-so viewings later, my attitude is now Yes please!!!, given writer/director Mike Rianda's skillful fashioning of a parable for escalating technological upgrades and devotion that's also an uproarious family slapstick that's also a wittily imaginative rescue mission that's also an emotionally honest tearjerker about a kid going off to college. I can't imagine ever not loving this one. I'd also gratefully adopt Eric and Deborahbot 5000, but they've already got it pretty good.
Considering how tight-lipped I want to remain about Power of the Dog, which hit Netflix on December 1, I should probably say absolutely nothing about director Jon Watts' Spider-Man: No Way Home, the billion-dollar-plus global sensation that premiered, if you can believe it, barely half-a-month ago. (See my online review if you want spoilers. It's loaded with 'em!) So let me instead just reference my opening-day audience that laughed throughout, sniffled frequently, made continued vocal acknowledgment of loads of Marvel callbacks and guest stars, and broke into applause a full five times during the screening before applauding again after the final credit cookie was consumed. I may not have taken part in the clapping. But at Watts' tremendous example of fan service that's also wholly satisfying blockbuster escapism in its own right, that doesn't mean I wasn't feeling – and silently contributing to – the love.
(7) and (8): West Side Story and Encanto. All told, fans of movie musicals were spoiled rotten in 2021. (So were fans of music documentaries – see numbers 19 and 20 below.) Yet despite the significant pleasures of In the Heights, Sing 2, tick … tick … Boom!, et al, it was this two-fer of late-in-the-year titles that got my cinephilic soul a-dancin'. In truth, like most of us probably were, I was nervous about the prospect of Steven Spielberg rebooting West Side Story. The notion of him fixing some of the original's problematic, culturally insensitive casting was noble and all, but could the guy's first stab at a feature-length musical – one of history's most iconic feature-length musicals, no less – possibly match its Oscar-hoarding 1961 predecessor? It turns out, however, that Spielberg didn't match it. He transcended it. Boasting one showstopping solo, duet, and ensemble number after another, and with its score and lyrics delivered with playfully enthusiastic reverence, the Bernstein/Sondheim compositions were explosively ebullient as Spielberg brought his customary wizardry to "America," "Cool," "Gee, Officer Krupke," and loads of other timeless tunes. As grand as this West Side Story was, though, it was also disarmingly intimate, and in completely unanticipated ways. Who could've predicted that screenwriter Tony Kushner would, wisely and refreshingly, get away with so much dialogue between Puerto Rican characters that wasn't forced to be subtitled? Speaking as a patron who couldn't translate everything being said yet didn't need the subtitles, this marvelously emotional presentation ensured that we always understood – and more importantly, understood what it meant.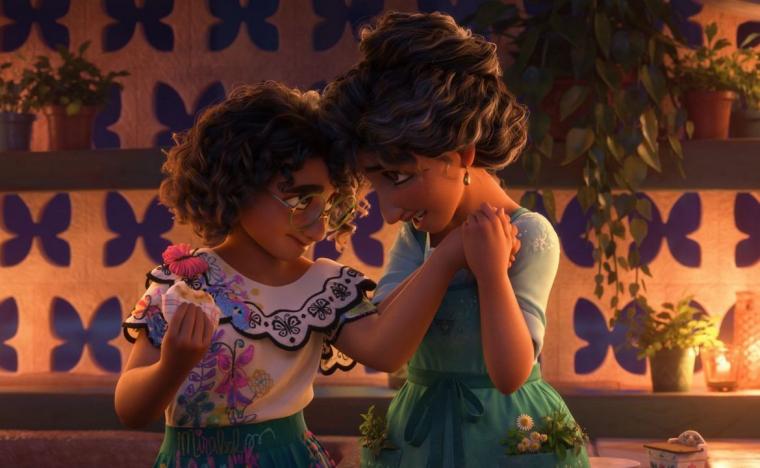 Even with In the Heights and Hamilton to his credit, Lin-Manuel Miranda isn't at Bernstein/Sondheim level … yet. But a few more scores like Encanto's and we might have to reevaluate that notion. Disney's most thoroughly satisfying animated musical in nearly three decades, this dazzlingly colorful wonder by directors Jared Bush and Byron Howard is about a magical Colombian house and, our "normal" protagonist Mirabel aside, its magically gifted denizens. But its true magic came courtesy of the richly drawn family saga that carefully, cannily explored the links between hard-won triumphs and traditions of the past and the desperate need to forge one's own path in the present. Lyricist Miranda's and composer Gernmaine Franco's songs, meanwhile, were a knockout blend of expository invention, aching ballads, and goofy comic numbers that simultaneously revealed character and furthered the narrative, as every show tune worth its salt absolutely must. I've now listened to "We Don't Talk About Bruno" more times than a 53-year-old without grandkids reasonably should. I should probably be embarrassed by that, right? Nah.
(9) and (10): The Father and The Humans. Even though I'm pairing many of my 2021 favorites in potential-double-feature format, don't think I'm necessarily advocating that they be watched that way. Take this particular pairing, for example. Both of these dramas with gallows humor are, I think, magnificent. But they're also claustrophobic, and frequently painful, and if you have a loved one suffering from dementia, as I do, one of these Broadway adaptations might be more than enough for one sitting. That being said, I don't know that I'll ever get enough of The Father. An Academy Award-winning tour de force for Anthony Hopkins, playwright Florian Zeller's intentionally disorienting direction and incisive, equally Oscar-lauded screenplay (co-written by Christopher Hampton) make you feel as though you're losing your bearings right along with the octogenarian lead. Yet a more empathetic deep dive into the troubling landscape of dementia I've never seen, and the heartbreak of Hopkins' downward spiral and Olivia Colman's confusion is made bearable through profoundly confident and clever dialogue, performances, compositions, and production design that make the film, if not strictly "enjoyable," at least consistently transfixing. Plus, you know: Hopkins. Damn. Presuming a posthumous sentimental win for the late Chadwick Boseman, it was terrible judgment on the producers' part to conclude the Oscar telecast with the Best Actor category. But no one can say the ultimate victor wasn't deserving.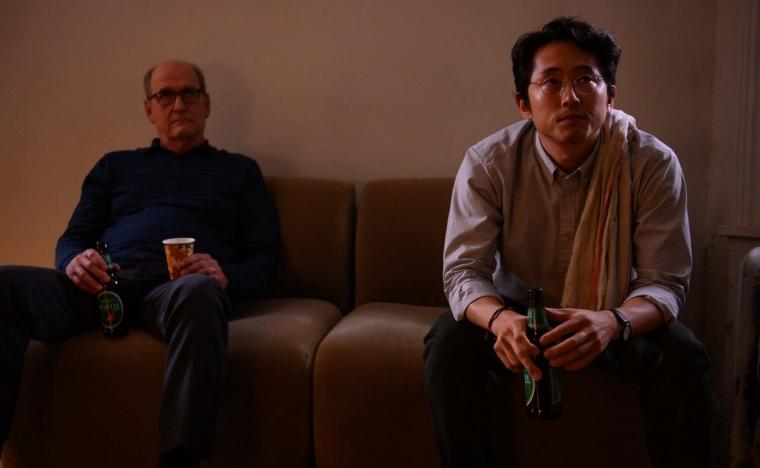 Perhaps thankfully, dementia only plays a supporting role in writer/director Steven Karam's The Humans, where it affects a wheelchair-bound grandmother played by June Squibb. Her scenes are tough to endure. Then again, the whole movie is tough to endure – or would be, that is, if the remarkable ensemble completed by Richard Jenkins, Jayne Houdyshell (reprising her Tony-winning role), Amy Schumer, Beanie Feldstein, and Steven Yeun weren't giving such exhilarating performances amidst Karam's considerable black-comedy despair. That's six collective characters, and as this clan gathers for Thanksgiving dinner in a ramshackle two-story apartment, you're given a treasure trove of family secrets, resentments, hidden health issues, extramarital excursions, and "cheerful" backstabbing to make you grateful for the worst family gathering you've ever endured. Yet there's actually an unnamed seventh character – the apartment itself – that might prove the most fascinating. As the relatives squabble and conceal, the home itself appears to be creaking, groaning, and dismantling in tandem with the miseries of its human residents, giving this penetrating drama and vicious comedy the added kick of a high-class haunted-house flick. It's an amazing place to visit. I'm overjoyed that I don't have to live there.
(11) and (12): Passing and C'mon C'mon. For when you want to escape your color-filled life for the cinematic artistry of black-and-white. Rebecca Hall's masterful Passing, the writer/director's vibrant adaptation of Nella Larsen's 1929 novel, presents us with two Black women (acted with extraordinary grace by Tessa Thompson and Ruth Negga) who are able to pass as Caucasian in pre-Depression Manhattan, with their complicated relationship mirrored in the vast complexity of their individual situations. Insightful, gripping, narratively adventurous, and sometimes downright horrifying (especially in the undisguised racism of Alexander Skarsgård's obtuse husband to Negga), Hall's feature-length directing debut also boasts the most ambiguously disturbing finale I saw all year. It took me three rewinds and I'm still not convinced of what happened … which is as it should be.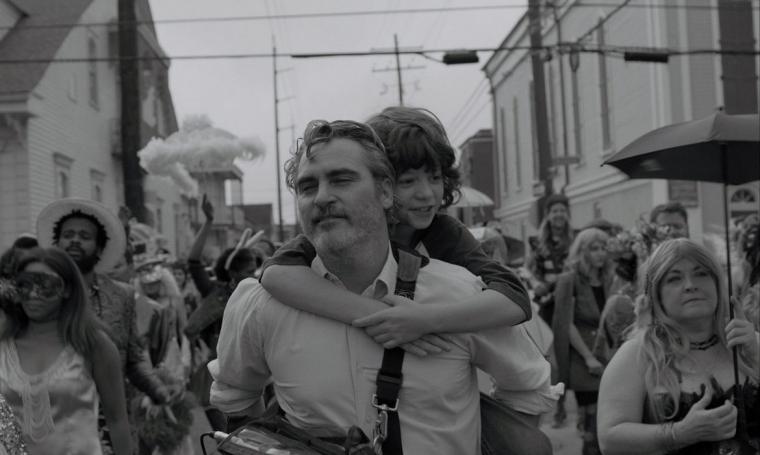 Employing black-and-white photography for charm rather than neo-realism, writer/director Mike Mills' C'mon C'mon delivers what might be the special effect of the year: Joaquin Phoenix being completely convincing as a relatable, endearing, rational human being! As the weeks-long guardian to an estranged nephew played by the effortless young scene stealer Woody Norman, Phoenix is as soulful and sweet as he's been since he was 14-year-old Leaf Phoenix in 1989's Parenthood, and the film itself is a sensitive yet impressively tough-minded celebration of familial love, willing sacrifice, and passages from literary works that should probably become instantly required reading in Oprah's Book Club.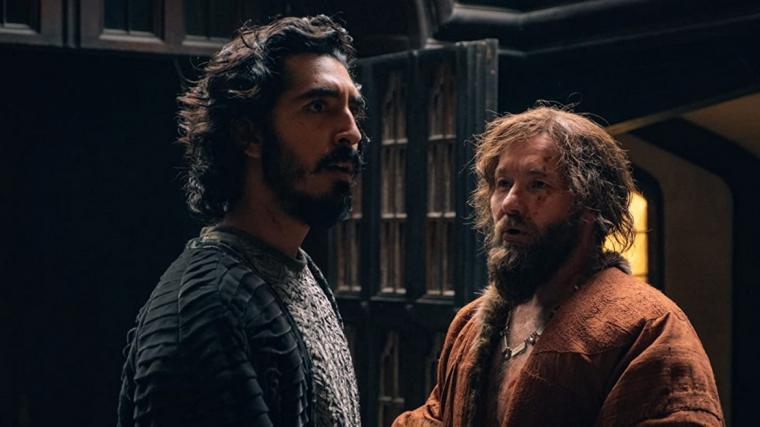 (13) and (14): The Green Knight and Judas & the Black Messiah. For when you're feeling like a fraud and want to feel better about yourself. No character in 2021 movies may have gotten in over his (soon-to-be-lopped-off) head more than Dev Patel's Sir Gawain, The Green Knight's feckless and cowardly hero who accepts a dare for stupid reasons, and embarks on a quest for even stupider reasons. But as written and directed by David Lowery, Gawain's gorgeously harrowing Arthurian trek is thrillingly, and perhaps unforgettably, weird, this moody anti-adventure boasting a talking fox, naked giants, a headless Lady in a Lake, bodily secretions of every imaginable type, and two Alicia Vikanders for the price of one.
Patel plays a fictitious fraud. LaKeith Stanfield, in Judas & the Black Messiah, plays a formerly flesh-and-blood one. As Stanfield's FBI informant Bill O'Neal grudgingly enacts the undercover assignment of spying on Black Panther chairman Fred Hampton (deserved Academy Award winner Daniel Kaluuya) in the late 1960s, writer/director Shaka King's spellbinding and affecting bio-pic-slash-dramatic-thriller begins to seem like a tragic, historically honest take on Scorsese's The Departed. It also emerges as a riveting showcase for Stanfield and Kaluuya, whose title characters were somehow both deemed "supporting" figures on Oscar-nomination day. You know. Like those "supporting" title characters in Thelma & Louise.
(15) and (16): Dune and Free Guy. For when you want to enter, and briefly stay in, whole new worlds. Of course, if you read Frank Herbert or are a David Lynch completist, you're already up-to-speed on the world of Dune. But previous exposure to this sci-fi behemoth might still not prepare you for the visual wonders that writer/director Denis Villeneuve and his sterling creative team supply. And even familiarity might not prep you for the storytelling coherence of this lavish genre offering – a quality much appreciated by someone whose eyes tend to instinctively glaze over at discussion of House Atreides versus House Harkonnen and whether Spice is really just high-grade weed.
No hallucinogens are necessary to enjoy director Shawn Levy's Free Guy, the visually transporting, comically rich tale of a video-game figure who gradually discovers that his entire world is a lie. It's been a rough movie year for Ryan Reynolds (see wa-a-a-ay below). But he's as sharp and winning here as he's ever been, Jodie Comer is revelatory as the human who falls for an avatar, and the ceaseless parade of genius-level in-jokes and pricey effects successfully employed for laughs is topped only by the slithery presence of Channing Tatum, who, to our enormous benefit, apparently didn't get the memo that he wasn't actually starring in Magic Mike III.
(17) and (18): Candyman and Lamb. For when you want to get divinely freaked out. Initially, a remake of Candyman felt up there with a remake of West Side Story among "Do we really need this?" releases for 2021. But while we may not have needed it, I'm grateful that we got it, because writer/director Nia DaCosta's shivery horror yarn about everyone's favorite hook-handed serial killer (co-written by Jordan Peele) brought thematic depth and modern-day relevance to its not-insignificant bevy of jolts. It also cemented Yahya Abdul-Mateen II's promise as a wildly charismatic movie lead, even when the actor was doing his best impression of Jeff Goldblum at the end of The Fly.
There's far less blood shed in writer/director Valdimar Jóhannsson's Lamb. But I almost wish there was more, given that I'd then have a better sense of whether this Icelandic freakout was a fright film, a lost-child lament, or the nuttiest of Nordic comedies. Whatever this singular outing is, it's miraculous – a story of two grieving parents, one half-sheep/half-human hybrid, and the creatures (four and two-legged) who know in their bones that Something Ain't Right. Jóhannsson's craftily edited animal "performances" here are as strong, and surprising, as any I've ever seen. Including the one by the animal wielding the shotgun.
(19) and (20): The Sparks Brothers and Summer of Soul (… or, When the Revolution Could Not Be Televised). For when you want a movie that more accurately suggests the greatest of greatest-hits albums. It is to my massive shame that I haven't yet seen Peter Jackson's Beatles documentary mini-series on Disney+. Maybe someday I'll subscribe to Disney+. In the meantime, I'm more than content to keep returning to this thunderously fine pair of music-centric documentaries that can be respectively viewed on Netflix and Hulu. Director Edgar Wright's The Sparks Brothers blends new interviews with ingratiating Sparks musicians Ron and Russell Mael, recollections from some two dozen of their biggest (famous) fans, and archival material to paint a resplendently cinematic portrait of uncompromising artists whose interest in keeping their fans happy was secondary to keeping themselves happy – which, it turns out, is exactly what fans (and I'm now euphorically among them) needed to be happy. In 2021, Wright also gave us Last Night in Soho, and the Maels gave us the songs in Annette, and this was their most exemplary film achievement by far.
If The Sparks Brothers is one specific group's personal "best of" album, director Ahmir "Questlove" Thompson's doc on the 1969 Harlem Cultural Festival is like one of those old K-Tel compilations that gave us two LP sides of tunes by disparate yet seemingly complementary artists. And Jesus, what artists! I would've only been one year old at the time of the concert dates, and I'm still irrationally mad at my parents for not bringing me to an event featuring performances by Stevie Wonder, Nina Simone, Sly & the Family Stone, Mahalia Jackson, The 5th Dimension, and loads of other essential pop, soul, gospel, and R&B musicians. Questlove's dizzying remastering of the experience, however, augmented by current reminiscences from the likes of Marilyn McCoo and Billy Davis Jr., more than makes up for my absence. You don't just want to see, hear, and feel Summer of Soul. You want to hug the ever-lovin' crap out of it.
(21): Barb & Star Go to Vista Del Mar. For any time, anywhere, under any circumstances. Silliness is oftentimes its own reward. And the rewards are copious in director Josh Greenbaum's and screenwriter/stars Kristen Wiig's and Annie Mumolo's indescribable hoot (it's on Hulu!) about two Midwestern pals who travel to Florida for some R&R and unwittingly foil a nefarious mastermind's plan to suffocate the beach with mosquitoes. Nope: Not kidding. Greenbaum, Wiig, and Mumolo sure are, though, and this delirious verbal and visual riot that clocks about 10 jokes per minute is one of the smartest, looniest goofball endeavors the 21st century has yet delivered. Whether you've been unknowingly pining for a salute to middle-aged best-friendship or an exacting dissertation on the name "Trish" or a talking crab voiced by Morgan Freeman whose character name is Morgan Freemond, this is clearly the movie for you. (It's also the movie for the late-blooming Jamie Dornan fans among us; the Fifty Shades of Grey hunk may get an Oscar nomination this year for Kenneth Branagh's Belfast, but he deserves one even more for his ingenuous himbo who belts a power ballad while doing cartwheels and crushes on a gal who looks like Dr. Evil.) I demand sequels ASAP. Barb & Star Find the Bar Sub-Par. Barb & Star at the Tartar Bazaar. And, for Jaws devotees, Barb & Star in the Yard Not Too Far from the Car. That one sounds funnier with an Amity Island accent. But even in their Nebraskan cadences, I know Wiig and Mumolo would crush it.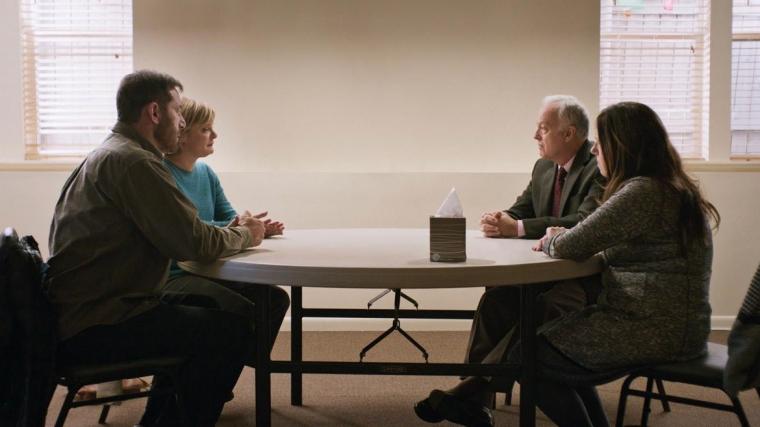 21 Runners-Up to the 21 Favorites: The Card Counter; The Eyes of Tammy Faye; F9: The Fast Saga; In the Heights; King Richard; Mass; Minari; MLK/FBI; My Octopus Teacher; National Champions; No Time to Die; One Night in Miami …; Nobody; A Quiet Place Part II; The Rescue; Roadrunner: A Film About Anthony Bourdain; Spencer; Tina; The World to Come; Wrath of Man; Zola.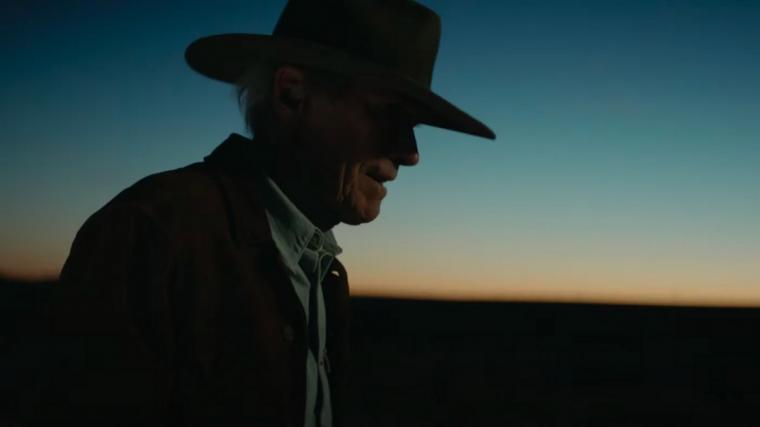 And the 10-and-a-Half Bottoms of the Barrel … .
10.5) Heaven. In truth, this was the worst cineplex release I saw this past year. It's the worst I've seen in several years. But as the film is a micro-budgeted pro-faith drama by people no doubt doing their best, I'm sure God will forgive it. Even if I won't.
10) The Woman in the Window. A Rear Window-y thriller with quite the talent pool: Director Joe Wright! Screenwriter Tracy Letts! Amy Adams and Gary Oldman and Julianne Moore! And you can't blame the pandemic on this dull, silly, convoluted stinker being quietly shuffled off to Netflix.
9) Godzilla vs. Kong. The first major release in 13 months to get a significant number of movie-going butts back in theater seats. Proof that after a year in relative hibernation, blockbuster-minded crowds will pay good money to see absolutely anything.
8) House of Gucci. Overcooked ziti with generous helpings of cheese.
7) Eternals. A true first: Marvel movie as oil painting. But slightly less fun to watch for two-and-a-half hours than an actual oil painting.
6) The Marksman. Liam Neeson with a gun. I know! How does Hollywood keep coming up with such fresh ideas?!
5) Cry Macho. In Clint Eastwood's latest, "Macho" is the name of a young teen's literal cock. And that's the least of the film's offenses.
4) Space Jam: A New Legacy. Message to the "content" providers at Warner Bros.: I hate you.
3) Tom & Jerry. Seriously, Warner Bros. content providers: I hate hate hate you.
2) Hitman's Wife's Bodyguard. Insultingly derivative and stupid action-comedy nonsense from June in which Ryan Reynolds looked as miserable as I've ever seen him …
1) Red Notice. … for five whole months.